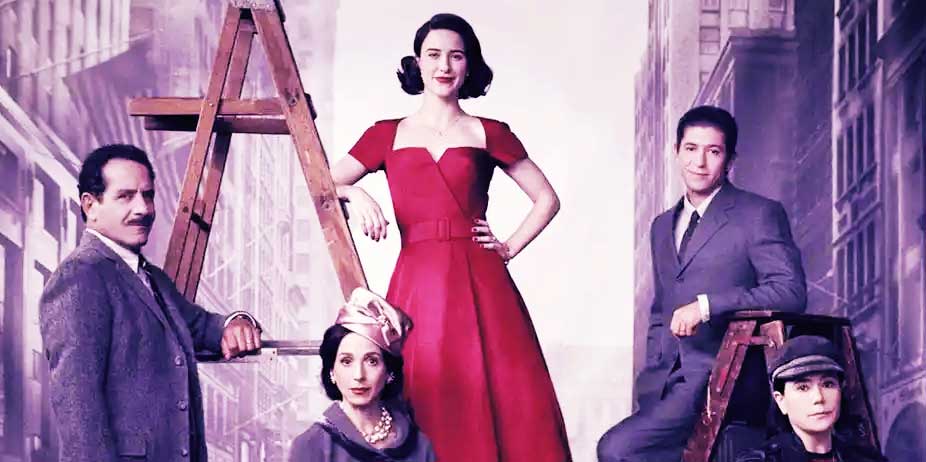 The Marvelous Mrs. Maisel, Season One (2017)
Someone's true nature shines through when there are no barriers to hold them back; what The Marvelous Mrs. Maisel reveals about its Gilmore Girls creator, Amy Sherman-Palladino, is a witty mind and a profane mouth.
Midge Maisel (Rachel Brosnahan) has done everything right (well, almost) in 1950's New York. She went to college then got married and had two kids. Her husband Than (Matteo Pascale) wants to be a stand up comedian, and like a good wife, she takes her notebook along to meticulously record the laughs and help him figure out how to get more. Each night, she sneaks off as soon as he goes to sleep to "put on her night face," then wakes up earlier than him to take it off, tousle her hair, and wake up utterly gorgeous.
And then one night, after she tells him to be a little more impulsive in his act, it bombs. And he calls it quits. Packs up her suitcase and leaves to be with his "dumb as a turnip" secretary. Midge is so mad, she walks into Susie (Alex Borstein)'s bar (without the usual brisket to bribe for a stand up spot) and her hilarious rant about her husband leaving her gets her arrested for profane language and indecent exposure. But it caught Susie's attention, who bails her out. They have a career to build!
The series follows the ups and downs of a scandal in the period among wealthy and bickering Manhattan Jewish families (with Marin Hinkle, Tony Shalhoub, and other notable faces as their parents) while Midge explores her comedic side, goes to work in a department store, bombs, and then turns one of the biggest stand up comics in the business against her with another rant. Oops.
The storyline here is solid and the acting is terrific; Rachel is perfectly cast, and believable as a charming but also bossy, loud-mouthed, and obnoxious comic (as one male audience member calls her a "dumb b*ch" as he leaves, she fires back, "Who told you?!"). There's themes of female equality and feminism, while taking some good natured digs at the 1950's lifestyle; Midge went to college, but mostly just to get a husband, and majored in Russian Literature, which prepared her for… nothing. She complains about female suppression, she talks about being oblivious to anything below her hoity toity street, she fusses about the perfect parties and makes cracks about Jews liking good deals, and she can get away with it due to the funny, often heartwarming writing.
The costumes are marvelous and the period music adds a nice touch, but this is far from a tasteful show. I was disappointed how often the show relies on profanity, vulgarity, and crassness rather than cleverness to earn laughs; it's a lazy point in otherwise snappy dialogue. Where there's one f-word, there may be ten in a row. It never got any funnier to me, it just irritated me. When you find a funny show, you want to recommend it to your friends. This one, I can't. And that's a shame, because it has charm but no class.
Sexual Content:
A woman runs around naked from the top down, with dye on her privates (we see her bare side / back); a couple have premarital sex against a tree (clothed) after he proposes; a woman goes on about her breasts and then bares them in public (all in episode one); in the finale, we see a bunch of cabaret girls walking around in an extended scene, naked except for tiny pasties. Lots of sexual references, conversations about parents doing it, etc.

Language:
Foul. 104 f-words. 52 s-words. 12 uses of Jesus / Christ's name. 10 GDs.

Violence:
A man punches another man repeatedly in the face.
Other:
We see a man urinating in the street (not graphic); Midge's mother consults a fortune teller several times.