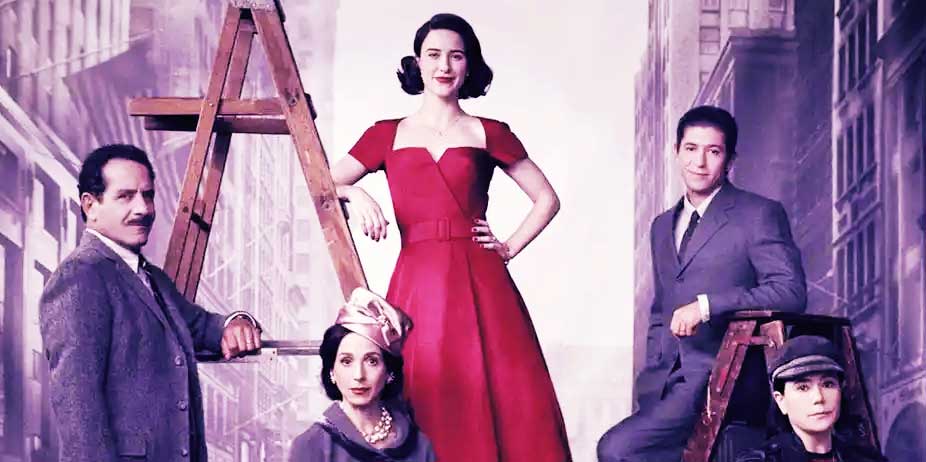 The Marvelous Mrs. Maisel, Season Two (2018)
I sometimes wish when watching a film or television show that I could share it. But with Mrs. Maisel, I can't. Because none of the classy women I know who would find this so funny, and charming, and sweet, would ever debase themselves with the utterly profane language that pollutes the script.
Midge Maisel (Rachel Brosnahan) has a serious problem. Her mother has left her father and gone to Paris. And her father seems oblivious to the fact that it's not temporary. Busy working the telephone desk at a local department store since being banished from the cosmetics counter, Midge has not told any of her coworkers about her night job, which is standup comedy. Her manager, the foul-mouthed, street-wise, tough-talking Susie (Alex Borstein) is all about getting her the "big gigs" … but Midge has to put it all on hold to fly to Paris, track down her errant mother, force her father to act civilized, and hopefully bring both of them back home one day soon.
While her ex-husband, Joe (Michael Zegen), works on maintaining the family business, Midge frets about her secret. She wants to clue her parents in, but isn't sure how or when might be the right time. The comedian she skewered on stage for redundant jokes has not forgotten her name, or where Susie lives. And it's tough to catch a break, even if you're offering a few laughs.
If there's one shining gem of a storyline in this charming series, it's the annual family vacation to the Catskills. Midge goes there to have a good time and meets a potential Mr. Right, except it all starts out wrong. And Susie shows up with a plunger and ten tons of attitude and nobody notices she's there. It's a riot. The writing sparkles, the costumes are fabulous, the side characters reach epic levels of absurdity and… there are some embarrassing moments too, thanks to Midge's total tactlessness and tendency to run off her mouth when she gets nervous.
Never, ever invite her to a wedding.
The series is cute, even though sometimes the jokes run too long. (I can only take so much of her father before his humor wears thin.) And it suffers from a problem most scripted television has of the season feeling long when not a lot is happening. The better moments are actually the more normal ones – Midge running a coat check room, Midge refusing to sleep on a hotel bed, Midge digging around in a closet for a few thousand bucks (hidden by her paranoid relatives). And, other than a nude model with his privates obscured, there's no sex and no real nudity, which means the only hang up is the anachronistic f-words. That phrase is entirely modern; a housewife from this period using it every other word is more reflective of a foul-mouthed Hollywood executive than a 1960's comedian. It's an effort to be edgy and modern but all it really does is spoil the series for me recommending it to my mother, which is a shame because it might make her laugh.

Sexual Content:
People draw a nude model (his privates obscured). References to sex; it's implied through dialogue a woman is sleeping with a man, since she always wants to go back to his place instead of having dinner. Lots of jokes about sex and/or making babies, sometimes about female reproductive cycles.

Language:
Tons of f-words. Six abuses of Jesus' name in some form, a couple of uses of GD. Other vulgarities and profanities.

Violence:
A couple of men threaten a woman with violence. Some fistfights.

Other:
A woman visits a fortune teller and demands she reads tea leaves or the palm of her hand or... something. Anything, really. Characters engage in adultery (while separated, seeing and sleeping with other people).