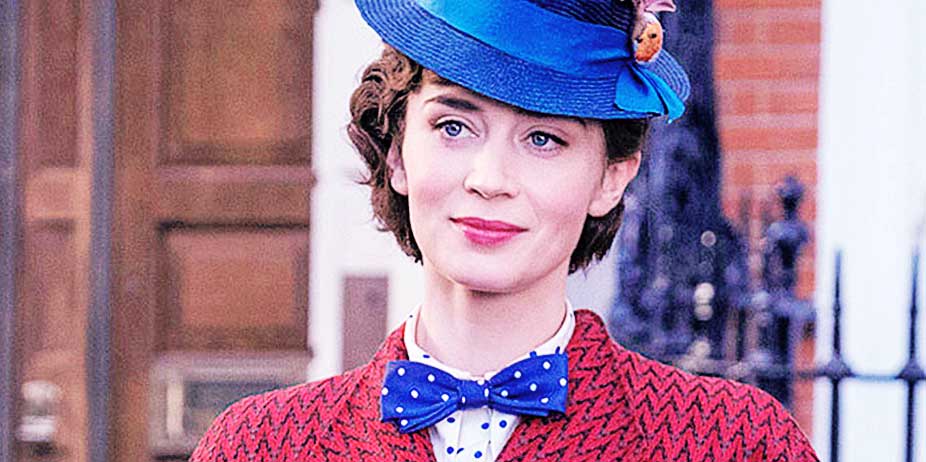 Mary Poppins Returns (2018)
Reviewer: Charity Bishop
The original film has been part of my life for as long as I can remember. I grew up singing A Spoonful of Sugar and wishing Mary Poppins would fly into my life with her talking umbrella and bring a hint of magic with her in the process. I'm delighted to say as an adult, the sequel fifty-odd years in the making is well worth the wait, and an enchanting experience in its own right.
Since the death of his wife, Michael Banks (Ben Whishaw) has struggled to find his happiness. He's also at a loss about what to do with their finances, since his wife stretched every farthing. But her illness took most of their savings and caused him to take out a loan from the bank. He's missed three payments, so the bank intends to repossess his home unless he can pay off the entire loan in a week. Frantic to help their father, his three children Anabel (Pixie Davies), John (Nathanael Saleh), and Georgie (Joel Dawson) put their heads together to figure out what to do.
While searching the attic for his father's old bank drafts, Michael tosses out a familiar taped-up green kite. A gust of wind catches it, carries it through the park and... as his children catch up to it, brings Mary Poppins (Emily Blunt) down to earth. Shocked at their state of affairs, she unites forces with a lamp lighter named Jack (Lin-Manuel Miranda) to return magic and hope to their lives, in the process sparking a bit of romance for someone else.
The film follows all the beats of the original cinematically, complete with a hand-drawn illustrated sequence, but also throws some new and special things into the mix, including a lot of references to the original film -- some are more obvious (the neighbor and his cannon and the bank manager) and others are cleverer (Michael finds his old snow globe and various lines reference earlier lyrics). There are hidden surprises for the audience in the form of cameos throughout. Colin Firth appears as a banker. Disney fans will love the balloon lady. The film is gorgeous to look at, full of exquisite costuming design and atmospheric London streets. In a brilliant stroke, the costume designer includes outfits in the animated sequence that look hand-drawn. The musical numbers incorporate some Parkour as well, in the form of energetic gravity-defying moves. And the climax, which involves Big Ben, is a delightful treat. Emily Blunt doesn't try to follow in Julie Andrews' footsteps, but makes the role her own -- giving her Mary a severe tone but a twinkle in her eye. Miranda also makes a fine hero, and the role showcases his talents well. But, the music itself isn't quite as energetic or memorable this time around.
One of the wonderful things about it is how you can see Mary orchestrating events throughout, maneuvering the Banks family in clever ways into discovering the truth for themselves, in learning lessons about family and optimism, and then she whisks out of their lives as quick as she came, without even a note of gratitude. It's a delightful treat and the most fun I've had in months. Go see it on the big screen. You won't regret it.

Sexual Content:
A song references a woman in her birthday suit. Several flirtatious remarks ("He's lit her fire!").

Language:
None.

Violence:
The Banks children face perilous situations at the hands of villains who attempt to kidnap and silence them.

Other:
Mary Poppins uses magic to entertain the children and teach them lessons.