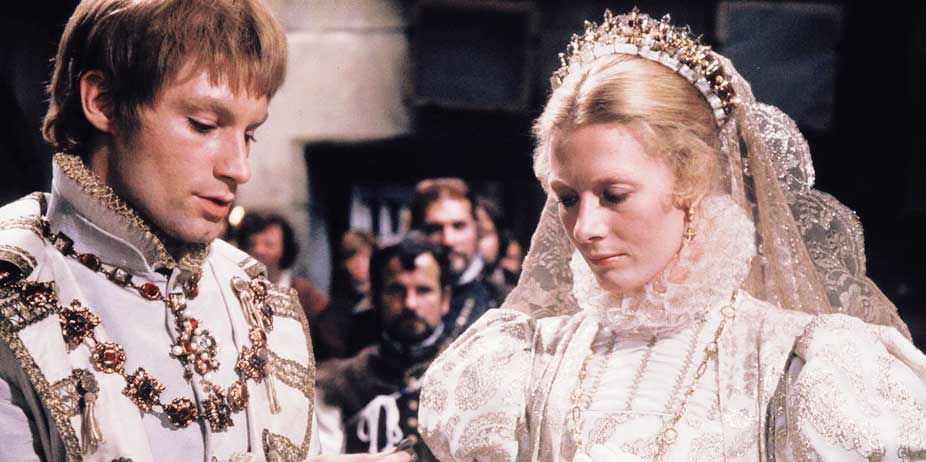 Mary, Queen of Scots (1971)
Most of what comes to mind when Mary, Queen of Scots is mentioned in conversation is her brutal death at the hands of her cousin Elizabeth I. What most people do not realize are the circumstances and power struggle that led to this much-lamented execution. This film, while taking dramatic license, is quite a remarkable glimpse into the life of both monarchs, without bias and enough emotion to make you ponder long after it has ended.
Wrongly scorned and shunned for her role as wife to the sickly King Francis (Richard Denning), his wife Mary (Vanessa Redgrave) is forced to abandon the French court after his death, and returns to Scotland. The small but powerful nation is under the thumb of her illegitimate brother James Stuart (Patrick McGoohan), who desires to use her as a political pawn while keeping most of the power for himself. Resistant to his plans, Mary schemes to reclaim her power. Certain of the lords are in favor of her reign, since they share her Catholic faith, while others favor her brother and his Protestant ways. With the assistance of Rizzio (Ian Holm), a consort between her alliances in Rome and those of the Scottish court, Mary is able to banish her brother to the border and take full power, a fact that causes her royal English cousin no small amount of grief. Queen Elizabeth (Glenda Jackson) fears Mary's supporters may attempt to oust her from the monarchy and place the Queen of Scots upon the throne.
From scandal to court intrigues, the cousins do intellectual battle with one another as Mary struggles to maintain strength despite her youth and inexperience, and the much wiser Elizabeth deliberately sabotages her efforts to seize the British throne. Manipulating Mary into a disastrous marriage to the sexually ambitious Lord Henry (Timothy Dalton), Elizabeth is certain his antics will lead to the ultimate downfall of her cousin, in the meantime underestimating the effect Mary will have upon her in the end. It is true that this story cannot have a happy conclusion, however much it plays the martyr for its empathetic but ultimately foolish lead. It paints a realistic image of Mary as being misguided and abused, and her cousin as quick-tempered and regretful of what time and practice has forced her to do. Both are realistic in that sense, for it is well documented that Elizabeth was of a jealous and temperamental nature, and that Mary made an unfortunate marriage.
It is not an entirely factual account, since liberties have been taken in order to further the plot, but the most obvious deviation comes in the form of several meetings between the two monarchs. I did not mind since I was hoping to catch a glimpse of two such formidable woman in the same room, and their scenes together did not disappoint. I was extremely impressed with the acting, particularly that of Redgrave, whose Mary was both strong and superior as well as impressionable and empathetic. You cannot help lamenting her end, even when she went to it with a smile on her face, in the assurance that her death would further the cause of her faith. I also appreciated the fact that the film did not openly favor either monarch over the other, but it gave fair credit to both, and their faults as well as their virtues. It's also beautifully costumed.
There is some concern for families of younger children to be aware of, namely the fact that Henry was an open bisexual and his interest in male companions is hinted at in a couple of different scenes. It's implied that he has an affair with Rizzio, but the two are never openly affectionate beyond speaking in delicate terms of their alliance. Conversation among the lords references Henry's liking for "whores and young boys." He also insists upon bedding his reluctant wife, and she is forced to drug him in order to prevent from being forced. In the follow-up scene, Mary is shown in the embrace of Lord Bothwell (Nigel Davenport). He lies her on the bed and kisses her, intimating that they went further. (Mary later confesses her sin toward the end of her life, and atones for her "mistakes.) There are numerous uses of the term "b*stard" in reference to illegitimate heirs, and both queens are slandered as "whores."
I was surprised at the level of violence present in the film, particularly one scene in which a man is stabbed multiple times, while Mary is forced to watch him suffer and die. The first few blows are concealed from the audience, but we watch him writhe and moan while others are driven into his back, shoulders, and torso. There are several executions, though we do not see the fall of the axe, and someone is strangled after having escaped an explosion meant to kill him. I enjoyed it for what it was, perhaps even more than the company's earlier project of Anne of the Thousand Days, and one further point of interest is that Jackson appeared not only here as Elizabeth Tudor, but in a miniseries produced that same year as well. Whether this performance inspired her hiring or it was merely the greatest coincidence in history, we may never know, but a single glimpse of her in this will prompt you into immediate fascination with the golden age.