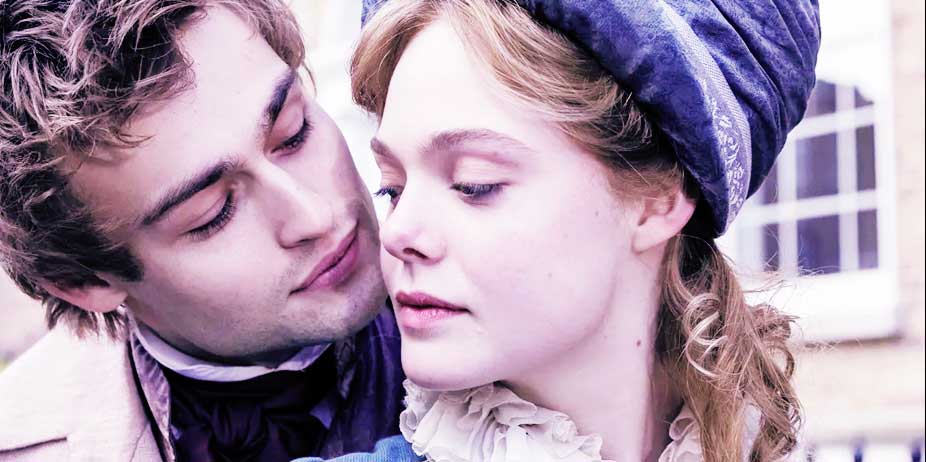 Mary Shelley (2018)
At only eighteen years old, the daughter of two progressive, liberal-minded writers created Frankenstein, the result of a stormy weekend with Lord Byron, her future husband and current lover, Percy Shelley, and their friend Dr. Polidori. It became an undisputed classic, its horrific tale of an abandoned Creature beloved and feared by millions. This film explores its conception within Mary's life experiences.
Sixteen-year-old Mary Wollstonecraft Godwin (Elle Fanning) spends much of her free time writing dramatic stories in the corner of her father's bookshop or on her mother's grave. She absorbs the words of others and spits them out into gothic tales. Her stepmother (Joanne Froggatt) does not appreciate this, and to keep peace in the household, her father (Stephen Dillane) sends her to Scotland for a few months. There, she meets young Percy Shelley (Douglas Booth) – celebrated poet, romantic, atheist, and free-thinker, who shares her liberal ideas ("I think people should live as they choose").
When her sister Claire (Bel Powley) falls ill in London, Mary returns home… and soon, Percy shows up on their doorstep to seek an apprenticeship with her father. Their romance unfurls amid longing glances, shared scribbles, and many ideas about life… until she finds out, he has a wife and daughter. The illusion falls apart, and the decision Mary makes will shape their lives forever.
The literary Mary Shelley was the original queen of Goth, with morbid interests and eccentricities, most of which the film leaves out. Here, she's a passionate, open-minded, and spirited future authoress who also stands on her own beliefs. Elle Fanning turns in an exquisite performance; subtle emotions flicker across her face, allowing you to glimpse Mary's internal world even in her silences. She gives us a peaceful but fierce Mary, ever-watchful and aloof, but also frank in her views and unapologetic over her choices. The supporting cast is excellent, with Stephen Dillane as a grounded former idealist, who for all his public professions cannot stand by his lofty ideals. Booth makes a charming, soulful Shelley, both libertine and poet. And, Lord Byron is at his most cruel.
The atmosphere is lovely, the costumes mostly appropriate for the period (even if there's a bit too much loose hair flying about). The story moves along at a decent pace, finding good moments to stop and dwell, and casting the events of her book in a new light. It doesn't shy away from the consequences of her choices, nor the heartache it causes one and all. Mary and her sister reap what they sew, for themselves and others. The score is moody and memorable. I do not know that it captured the true essence of Mary, but it is a feminist story about a bold young woman struggling to find equal footing in Regency England with her male contemporaries. Society tolerates the immorality of men, but condemns it in women. It welcomes innovative ideas from the male mind, but rejects it from the female mind. Poor Mary must publish Frankenstein without her name on it, at first, a reminder of the society she lived in, and what a radical she was for her time.
Sexual Content:
Three relatively tame sex scenes (clothed, but in the first, she shows a lot of flesh above her corset; the first involves passionate kissing and pleased facial expressions; the second has subtle movement; the third involves them undressing one another). References to illegitimacy, open marriages, and threesomes. Percy and Lord Byron are both libertines; when a man makes unwanted advances to Mary, she is upset when her lover tells her she can have as many lovers as she likes. An unmarried woman falls pregnant. Lord Byron welcomes Percy with a kiss on the lips.

Violence:
A child dies after being exposed while ill to the rain (off-screen). A woman punches a man who tries to force a kiss on her; a man punches another man in the face (blood drips from his nose); a reference to suicide.
Other:
Discussions about how religion is outdated and holds people back; encouragement of immoral lifestyles.