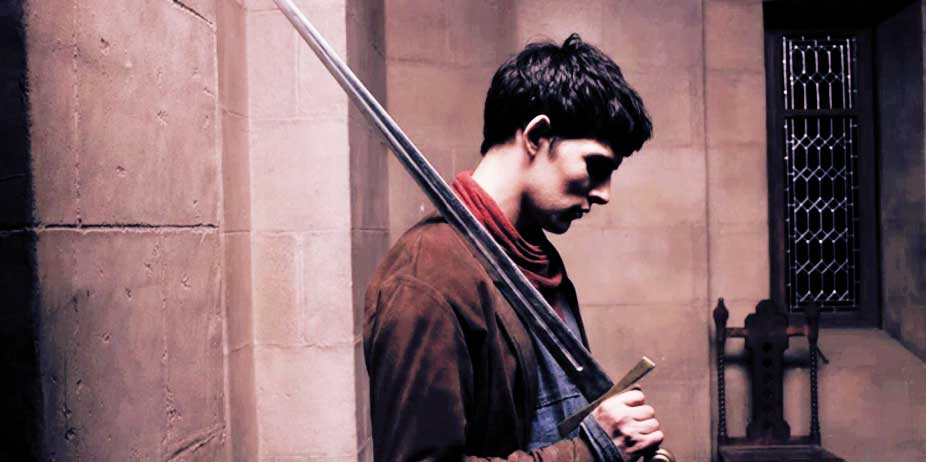 Merlin, Season Two (2009)
Reviewer: Rissi C.
Although I am not a researcher of the medieval ages, the Arthurian legend has always interested my cinematic pursuits. It has therefore disappointed me not to have found one I've liked without any reservations. Watching this BBC originated series didn't come easily since I continually put off purchasing the sets in favor of other things. Now in its third season, this may not be the most serious, philosophical translation, but it is loads of fun. Since their original airing, I have since gotten them on DVD and have come to enjoy them for what they are.

King Uther (Anthony Head) continues his reign in Camelot where magic -- no matter its kind, whether used for the greater good or evil -- is punishable by death. The kingdom has uncovered a hidden treasure buried beneath the castle in the tunnels. Always wanting to make his kingdom richer and the best of the neighboring empires, Uther orders it unsealed, little realizing the consequences. When one of the workers enchanted by a large blue stone mysteriously drops dead it sends the rest of the crew fleeing the scene and court physician Gaius (Richard Wilson) in a query as to whose tomb the King has invaded. Young wizard, Merlin (Colin Morgan) is still living in secret of his gift lest he should be persecuted; he is servant to the hot-headed, crown prince, Arthur (Bradley James). His destiny has been foretold as Arthur's protector which is something Merlin takes very seriously.

When a stranger (MacKenzie Crook) appears and tries to make Merlin look bad, he is soon banned from the castle even though his gifts as a sorcerer tell him something is wrong with this man… something that could be detrimental to Camelot. Intertwining into an unknown enemy, before long Lady Morgana (Katie McGrath) is having nightmares again – nightmares that become telling visions to her dark future. Before anyone can respond, Camelot comes under attack by evil, a spirit who has embodied another in order to complete his reign of terror. Gaius becomes convinced of this tomb's potential ruin after his translation of the inscription, but Uther refuses to listen. Meanwhile, Morgana's servant, Gwen (Angel Coulby) and Arthur are starting to discover each other… with threatening results.

Thank goodness for the SyFy channel! It may air some things I have no taste for, but because it owns the rights to the U.S. airings of Merlin, I love it! After the first season aired on NBC -- which I did catch a handful of times, that network dropped the family-aimed series in favor of something different and the former picked it up for American viewers. Whenever a British show struggles to be picked up by a network here, there is often lots of trouble distributing it on DVD or it is a much longer wait; thankfully in the case of Merlin, neither is the situation. The second family-friendly show to appear from BBC in a matter of years (the first was Robin Hood) this might not be my favorite of the two, but I am excessively fond of it. Right from the premiere, this season felt "bigger." There were better directions of comedy and at the same time it seemed darker (if that makes any sense). Mainly superior topics are the more familiar things beginning to take shape -- Gwen and Arthur's awareness of another opening the infamous love triangle of Lancelot, Arthur and Gwen, Lancelot makes his second appearance, a Round Table parallel, and Merlin comes into his own -- more so than before, while the ladies are missing a great deal more than series one. In a sense this is a really creative series because it shows a side of the legend we've not seen. Most the time, the legend is already well-established into Arthur's reign. For me, it was fun to see a writers' take on the origins of the fable, no matter how fictionalized.

Although it is aimed towards families, you should be aware that dozens of things happen which may be scary for younger viewers. Numerous creatures come alive terrorizing the citizens of Camelot and killing many of them. Magic is the driving force and Merlin is often using it, but only for good. Some evil magicians do rise who pose threats. There are one or two near executions. If I had to pick on one real failing of the series it would be the special effects. Most the time, they are obviously not well done, most especially the interaction with the Great Dragon (voiced by John Hurt); the scenes just look "fake." The costuming is… interesting to say the least. It is a blend of overt modern and ancient times. Most the time, I am raving against it because it all looks way too relatable to today's clothing but that doesn't mean that the gowns aren't gorgeous! Several look made of silk material and are far brighter than usual. Mainly where it suffers is in the accessories -- the jewelry doesn't look rustic, if there even were jewels worn as depicted, and the men wear a lot of leather. The bulk of the series is meant for a younger crowd and maintains a fresh-faced cast, which is likely where they get off in dressing their actors in such modern-leaning clothing.

I just cannot find much to take issue with about this series -- I find myself enjoying it far too much for that. Humor has a better control this time and it effortlessly merges into something of greater import -- such as Arthur's attempt to cook turning into a realization nothing could happen between he and Gwen. One of the sweetest episodes finds Merlin experiencing the blush of first love, and while it does get a little "creepy" (circumstances surrounding his lady), the end manages to be touching as does the finale plus "Sweet Dreams" is a laugh a minute. Casting was well done and I am glad that no one has left yet but new faces have become regulars, such as Emilia Fox while Charles Dance (Mr. Tulkinghorn from Bleak House) guest stars. By far, this is my favorite take on the popular fable. For the most part it is clean and the scripts take us farther back than most Camelot legends thus far have.