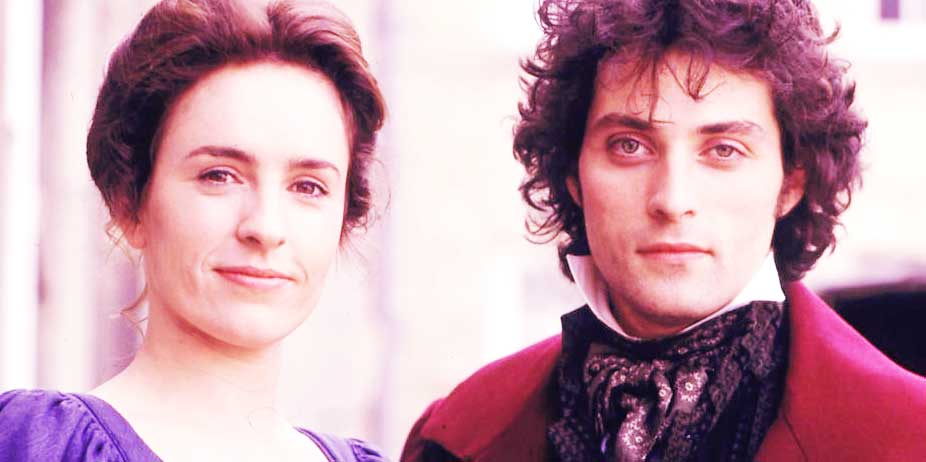 Middlemarch (1995)
Although not my favorite adaptation of a George Elliot novel (that honor belongs to Daniel Deronda), MiddleMarch is a fascinating glimpse into the small town lives of various young people caught up in the impossible expectations of others. The series cannot be classified in a single sentence, but mostly it is about shattering preconceptions and learning to find a way through adversity.
Most of the story centers around the intelligent and ambitious Dorthea (Juliet Aubrey), who longs to be of some use in the world, who has no interest in wearing jewels simply because she owns them, and hopes to put her book learning to good use. She is quiet and sensible where her sister is more flirtatious and fun loving, and it comes as no surprise when the local Reverend Casaubon (Patrick Malahide) decides that she will make him an able wife and companion. Her liking for him, and her hopes that together they can make great cultural advancement through his studies, encourages her to accept his offer of marriage, but Casaubon seems more interested in his research than he does his wife, leaving her on her honeymoon to wander the streets of Rome alone. There, she chances to meet his spirited cousin Ladislow (Rufus Sewell), the proverbial black sheep of the family and an aspiring artist with no great ambitions.
While Casaubon remains distant from his cousin, Dorthea strives to improve her marriage and make herself useful. In the meantime, the small country town of Middlemarch where she grew up has seen the introduction of a new physician. Dr. Lydgate (Douglas Hodge) does not take long to settle himself among the inhabitants of the town, or to find new patients. He even has no true interest in marriage... until he meets and falls in love with the beautiful Rosamond (Trevyn McDowell), who seems not to realize that a small country doctor should live within his means. Then there is the son of a local landowner, Fred Vincy (Jonathan Firth), who wants nothing more than the hand of his favorite young woman in marriage, but Mary (Rachel Power) will not have him unless he finds an actual profession and stops gambling away his life savings.
The result is an astoundingly complicated miniseries with so many minor characters that you really do have to see it more than once in order to follow all of the storylines. I found it somewhat tedious in places and it seemed that the series would have profited from being condensed even more in order to highlight the six main characters more than the slew of townspeople that surround them. Even so, these plot points served an ultimate purpose in determining where various characters wound up, so I cannot complain too heartily. The production value is quite good even though the transfer onto DVD has caused some players to distort the image. (I did not have that problem, but several of my friends did.) It is quite atmospheric but sometimes the characters behave so badly that you want to slap some common sense into them.
Problematic content is limited to a dozen or so mild profanities and some marital flirtations, passionate kissing, and the like. Dr. Lydgate helps his wife undress on one occasion and they have rather a steamy kissing scene together. Dorthea suspects a married woman is involved with a man other than her husband; the woman admits that she considered it, but the man would not behave so dishonorably. There are some moral calamities and the presence of gambling, but overall it is a tame experience that should suit most costume drama fans just fine, so long as they remember to pay close attention, less they miss some of the faces involved in the entwining plot lines.