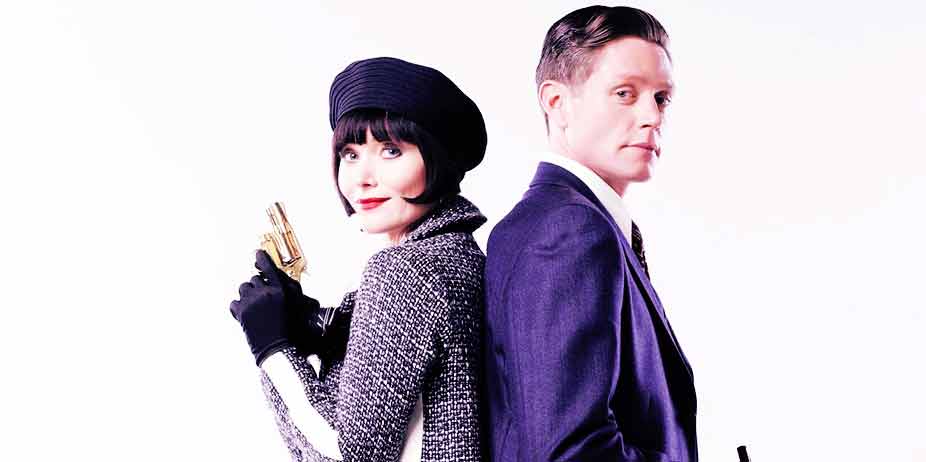 Miss Fisher's Murder Mysteries, Season Two (2013)
Reviewer: Rissi C.

One episode into the first season and I was sold on this high-class series, so when the chance came to get my hands on season two, I leapt at it.

Proud of her Catholic faith and respectable position with her employer, Dot Williams (Ashleigh Cummings) is shocked when her sister Lola (Anna Bamford), a showgirl, appears on their doorstep seeking the help of lady detective Phryne Fisher (Essie Davis) in uncovering who murdered her friend. Skeptical about Miss Fisher taking the case, Dot struggles with the desire to help her sister and being faithful to her religious beliefs, which rejects everything about Lola's new lifestyle. Meanwhile Detective Inspector Jack Robinson (Nathan Page) is dealing with a complication of his own: his ex-wife Rosie (Dee Smart) has requested he take over a case that involves her father accused of murdering a girl found inside a locked room. His investigation intersects with Miss Fisher's, much to their surprise...

I'm delighted I found this series and will never be able to legitimately answer why it took me so long to give it a shot. Fortunately, for all its dazzling fun, season two raises the stakes in the will-they-or-won't-they scenario between Jack and Phryne; first by heightening the sparks between them and then introducing us to Jack's ex-wife, who is actually a likable character. What makes meeting the former Mrs. Robinson so affable for the die-hard shippers is that while she may be having trouble coming to terms with Jack's friendship with Phryne, there are no signs from Jack that he wants to still be married to her – thank goodness for this small satisfaction. Instead of a bitter ex returning to cause problems, I saw her introduction as more of a peek into Jack's past and with exception to perhaps one instance, she never morphed into an unbearable sort of character like the typical stereotypes.

Like any good retro drama, this one has the best of everything. The atmosphere, dialogue, sets, costumes (Essie pulls off all of her ensembles) and automobiles are spot-on sensational. The producers have inserted a consummate brilliant cast to pull it all together – Essie and Nathan are magic. This romantic song-and-dance has been done hundreds of times yet these two own it in an unforgettable way, making every look, near kiss, and interaction unforgettable. Surrounding them is a brilliant supporting cast including the charms of Dot and Hugh, the occasional appearance of Jane (Phryne's young ward), and the amusing antics of cabbies Bert and Cec. Everyone puts their best foot forward with their respective roles and in collaboration with everyone behind the scenes this production is the quintessential "complete package."

During the 13 episode second season, we visit the talkies, the fast-paced world of racing (Phryne champions her women's rights principles), high class fashion and make a stop in a creepy little vineyard town. While watching these installments, much to my dismay, I learned that a third season order is in danger – the actors have been quoted as saying that usually by now they'd be filming a next season; despite top ratings, the network is in limbo about renewing it. It's a shame because the quality of this show is rarely matched – it's classy, sassy and just plain fun.

Sexual Content:
Phryne doesn't shy away from one-night stands with the men she meets while investigating her cases – we see approximately 3-4 scenes of the next morning in which she is either lying the arms of her lover (sheets appropriately placed) or they're waking as the camera pans a room full of clothing strewn everywhere and a bed in disarray. There are some innuendoes – Dot and Hugh look at "racy" magazines under the guise of learning how to kiss or how to woo. There is some implied nudity though we never see anything below the neckline or a bare upper back. One case involves a bordello, another a human trafficker kidnapping orphans and a girl pregnant out of wedlock.
Violence:
Various tragedies that befall the victims – they suffer gunshot wounds, stabbings, strangling, drowning or poison. The camera is usually careful to avoid anything horribly graphic though victims are seen lying in blood or frantically trying to escape their fate and killer.
Other: The second episode involves a séance, there is plenty of social drinking and a man is mistakenly drugged.