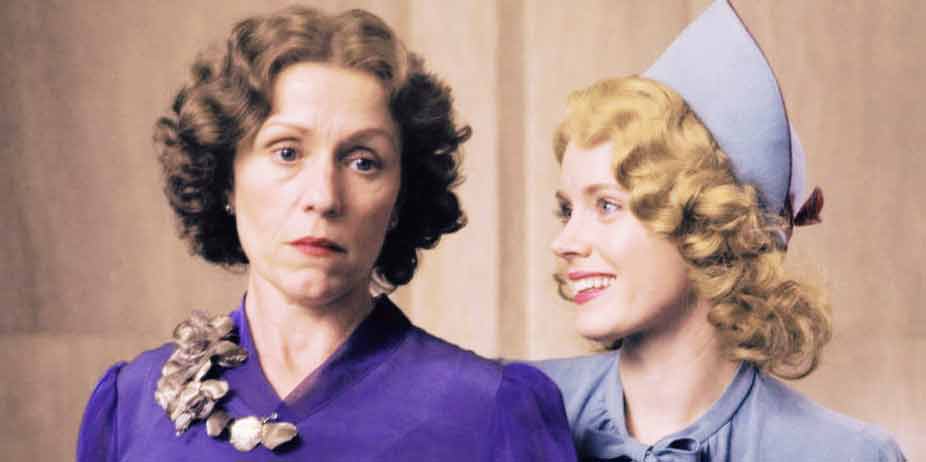 Miss Pettigrew Lives for a Day (2010)

Reviewer: Rissi C.

Costume dramas are few and far between, at least in the U.S. There are always the superb BBC dramas, but for those of us that love this genre, there cannot be too many. I am always hunting for a new one, so when I ran across Miss Pettigrew Lives for a Day before its theater release it had me curious, while it's not a traditional costume film, it is loads of fun and a "day" that will leave you smiling long after the closing credits.

The day starts out badly for Miss Guinevere Pettigrew (Frances McDormand) and just gets worse. Her most recent job as a governess didn't work out and she is thrown onto the streets by her tipsy employer without a week's pay, leaving her destitute. Her bad luck continues when she can't seem to find a decent meal, loses her only possessions after a run in with a young man just released from prison, and the employment office won't reconsider her for another job … but that may soon change when she overhears of a new position in the home of aspiring actress/singer Delysia Lafosse (Amy Adams). Delysia is in quite a predicament, so without knowing exactly who Miss Pettigrew is, she begs her help in getting out of this dilemma. Once the crisis is passed (to everyone's satisfaction), Delysia takes Guinevere, her new social secretary on a shopping spree and she's swept into a dizzying world of glamour, stars and love triangles.


I wasn't sure what to expect out of this film. I felt confident that I'd like it at the very least, but didn't realize how much I'd love it and now consider it a favorite among airy costume flicks that consist of Importance of Being Earnest, Ideal Husband, Emma and Mansfield Park. The story of a governess raised as a clergyman's daughter seems like its' been oft retold, but because of some infectious energy the filmmakers and stars brought to the screen, it's a delight to see unfold making the story unique (along with minor side plots). I was captivated by the film before ten minutes had passed and the meeting between Delysia and Guinevere was a laugh a minute. The costumes, cinematography and props are all spectacular. With the era being right before World War II, the design crew did an excellent job at making everything look and feel like the period. The costumes were simple but elegant Guinevere, and Delysia's evening gown was gorgeous.

The script is also well written and is filled with comic quips but also meaningful dialogue that is meant to resonate with its recipient and ultimately does. Miss Pettigrew has all the elements that viewers love – comedy, drama and romance; the comedy comes greatly at Miss Adams expense and I've no doubt that she'll be ridiculed for playing the stereotyped ditz (she was seen late last year in the blockbuster Enchanted), but she really is perfect for the part and we'll all have a chance to see her in a different role next year when she appears in a sequel. The drama and romance blend together in that Delysia has three potential suitors and all are very different which will force her to choose between wealth or love; one is fierce and controlling, another a Broadway producer, and then the man who gave his heart to Delysia long ago. Despite it looking bleak half an hour before the film ends, for those of us that love a happily ever after, the romance is tied up in a neat little package, as usual. A unique touch is that Miss Pettigrew ironically "meets" several of the characters that are about to come into her life without knowing it.

Apart from the superb performances from McDormand and Adams, there are numerous other actors that deserve mention (such as Ciarán Hinds as rich business man) and all three of Delysia's beau's are perfect for the parts, although it is a little odd to see Mark Strong as a callous night club owner.

It should be pointed out that for all its lighthearted material, Delysia doesn't have many moral standards; she isn't beneath sleeping with a man in order to get a part – it's also implied it was his first time. Guinevere is aghast at the thought of Delysia's lifestyle and when thinking a little boy needs rousing from bed, she pulls covers off to find a naked man (we see a several second shot of his full backside before he turns over, showing a side view; he then pulls the covers up). There are two more instances of nudity when a man suddenly leaps out of bed; a woman taking a bath is later shown with a draped towel that covers any frontal nudity. There are some passing profanities and other innuendos (Miss Pettigrew is mortified at seeing a man at a lingerie fashion show). Delysia lies about a possible relationship and there is some drinking at a cocktail party. A woman is cheating on her fiancé.

Miss Pettigrew Lives for a Day is far from perfection, most especially in the moral and upright category, but it's such a comic romp through the 1930's that one can almost forget its faults. Most of the nudity occurs in the first 15 – 20 minutes and could be edited fairly easily if it was something that bothered you. There was one side plot twist that was a bit trite involving a man who was in prison; the reason was not very clever and could have been more realistic. Nevertheless, I found myself having loved the film and the ending is so touching that for the most part we can forgive its faults. It isn't a film for young audiences partly because it wouldn't be of much interest to them but mostly for the unwarranted and immoral material, but for an older audience, it's a day spent in London I think you'll want to revisit.