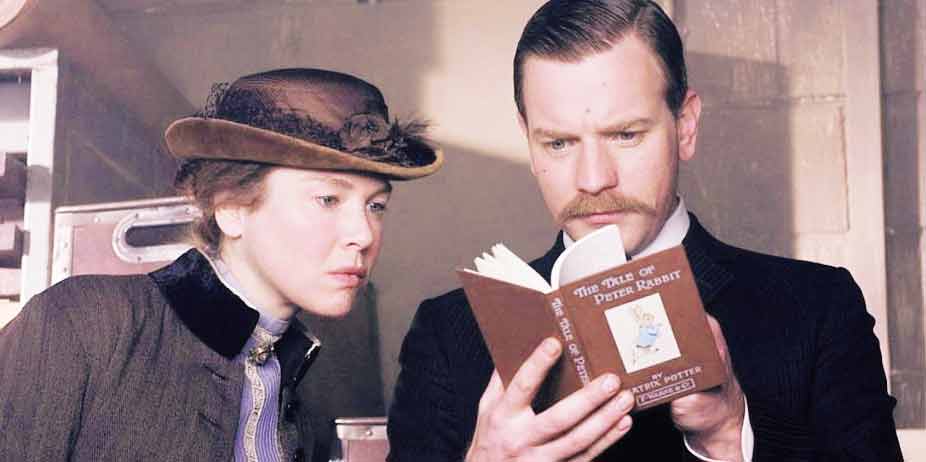 Miss Potter (2006)
reviewed by Rissi C.
Remembering Beatrix Potter as the creator of one of my many storybooks and Peter Rabbit, this film interested me. Probably even more so because of my love of period films and the desire to see a new film. As I have pondered my memories of the stories of Peter Rabbit, the most prominent remembrance is watching an animated film dozens of times as a child. So many in fact, that I can't believe the tape is still in working order. Her mother wished her to marry well, her father simply would give complementary words about her drawings, but what did the most famous children author of all time want?
Those questions are answered in the surprisingly light Miss Potter. Thirty-two, unmarried and very imaginative Beatrix Potter (Renee Zellweger) has been telling stories since she was ten years of age. She's been drawing since she was even younger. As a ten-year-old girl Beatrix (Lucy Boyton) would often find all sorts of creatures at her parents' summer home; rabbits, hedgehogs, mice and frogs that she would then bring back to their London residence, who would became her sole friends, companions and the inspiration for many of her drawings. Beatrix's mother Helen (Barbara Flynn) is a lady of social standards who has many dreams of her daughter meeting a wealthy man and marrying him. Mr. Potter (Bill Patterson) was something of an artist as a young man and therefore is a little more understanding of his daughter's sketches and scribbles. Taking her book The Tale of Peter Rabbit around to publishers, Beatrix is pleasantly surprised when the publishing company of Warne decides to take the book and print it.
Warne is a family company run by two brothers Harold (Anton Lesser) and Fruing (David Bamber). Expecting that one of them will attend to her book, Beatrix is surprised when their younger brother Norman (Ewan McGregor) is sent instead. Having only recently joined the company, Norman finds Beatrix's tale very entertaining, as well as her sketches of little rabbits utterly adorable. Taking on her book as his first project, he and Beatrix work together on its completion, and soon find they share more than one common interest. Beatrix soon meets Norman's mother and sister (Emily Watson), with whom she becomes best friends. But as her publisher/author relationship with Norman grows into something more, neither of them can deny the natural spark between them, or anticipate what the future holds.
A limited release always makes for a lesser known film and is therefore often the misfortune of missing a beautiful story. Such is the case of Miss Potter, which was in theatres just long enough to snatch a meager audience before appearing a few months later on DVD. It is well worth seeking out, since there is virtually no inappropriate content. There is a brief passing remark that unmarried woman don't have to suffer the pain of childbirth (implying it's a positive), along with a playful but snide comment that men are useful only for financial security and procreation. Inviting Norman into her room to show him some of her paintings, Beatrix quips that she can find better ways to ruin her reputation. The story might not appeal to audiences under fifteen, because it does deal with some serious thematic elements. It manages to be light, comical, and sad all at the same time, since life rarely turns out as we plan. Renee Zellweger shines in this, and I was particularly impressed that she managed to pull off an authentic British accent. While watching the making-of feature, the production crew said that Renee even spoke with her accent between takes, which no doubt helped in her perfection. Everyone in this cast is highly notable and was brilliant.
If you, like me, are a lover of costume dramas, you will recognize many of the actors from Lorna Doone, Wives & Daughters, and Pride & Prejudice. That alone makes it worth seeing, but the film is so much more. It speaks of an innocent time of life, of a woman who was not distracted by the sorrows of reality but chose to paint a world for children that would never be forgotten. Going into this not knowing anything about Beatrix Potter's personal life, it gave me a whole new take on the woman behind Peter Rabbit. She was funny, creative and despite her misgivings about marriage, longed for someone who could love her and be loved in return. There is just a hint of animation thrown in, making Beatrix's beloved characters come to life. It was another thing I simply loved; it was a very lovely touch. Something that may confuse viewers is the flashbacks of Beatrix's childhood, but the transitions are quite clever.
This is a fantastic, magical journey that isn't without a few darker moments before we end on a much happier feeling. A twist that normally ruins a film to the point where I don't care to see it again didn't have the same affect this time, because of the wonderful music, elegant costumes, breathtaking scenery and fantastic conclusion. All of it gave the story it's imaginative tone and therefore wasn't as saddening as could be. Even if you aren't familiar with Miss Potter's works, this is a wonderful journey to see unfold. With more than forty million copies of The Tale of Peter Rabbit sold, Miss Beatrix Potter is one of the most popular children's authors in the world. Her books were translated into many foreign languages. Once upon a time there were four little rabbits. Their names were Flopsy, Mopsy, Cottontail, and Peter…