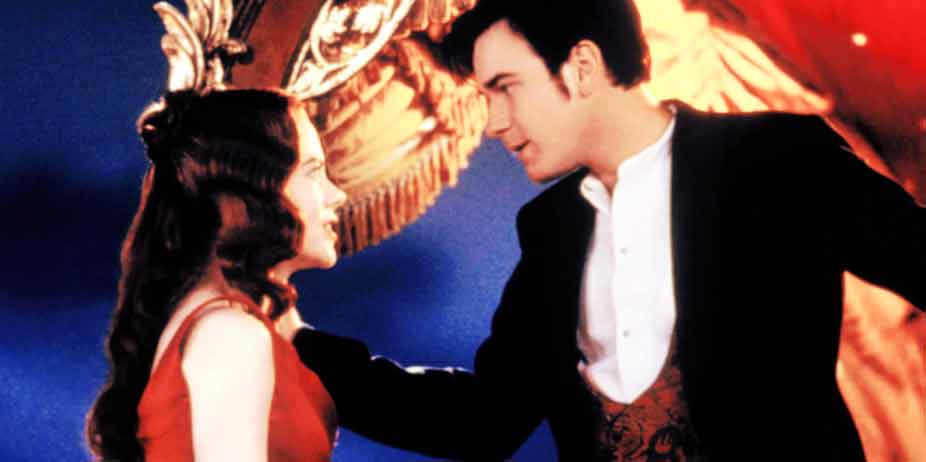 Moulin Rouge! (2001)
Musicals are very few and far between in Hollywood, while maintaining a steady rise in popularity on Broadway. Moulin Rogue! is the musical that made the world sit up and realize that yes, actors sometimes can sing, and what's more -- they can sing beautifully. The songs are modern, the mood glitzy, and the storyline sorrowfully immoral, but the audience still manages to fall in love with it despite its flaws. I wouldn't recommend it on any grounds because of the sexual concerns but the soundtrack is fantastic. As a period film, it has gorgeous costuming and rousing musical numbers.
In the heart of Paris lies the Moulin Rogue, a dancing hall and brothel whose shimmering diamond is Satine (Nichole Kidman), a beautiful singer and prostitute whose sole desire is to become a real actress. In the hopes of turning the show hall into a theatre, her employer has enlisted the aid of a wealthy Duke (Richard Roxburgh). Satine is supposed to seduce him into agreeing to fund the expensive transformation, which won't be hard: one look at her and the Duke is enraptured. Little do they know that their plans are about to be invaded and turned on their head by Christian (Ewan McGregor), a young man who has come to Paris for life experience in learning to write his novel. He unintentionally stumbles into a Bohemian group of thespians who dream of producing a production that stands for everything they adore. Hoping he might make an impression on Satine, they arrange for a private meeting.
An inevitable mix-up occurs. Satine mistakes him for the Duke, and Christian promptly falls in love with her. Satine also feels an attraction. Then the truth comes out and it's a mad dash to persuade their hopeful financier the show is worth producing. A beautiful heroine torn between the first true love she has ever known. A struggling writer unable to free himself from the constraints of society. An embittered, jealous rival. Life is dangerous at the Moulin Rogue, where there are no limits, and only one rule: Never fall in love. Filled with brilliant remixes of popular pop songs as well as a few classics, Moulin Rogue! is a cinematic triumph. It's brilliant moviemaking, if a bit tongue in cheek. I knew the minute the curtain dropped I was going to have to purchase the CD for Nicole Kidman's breathy love songs and exciting numbers. The love story is surprisingly touching, despite my initial prejudice against the root of the movie's flaws, namely that the Moulin Rogue is a brothel and the leading lady a prostitute.
This allows for the proper amount of cleavage, fluttering skirts, flashes of leg, and suggestive dance moves that mark risqué Paris night life. There isn't any outright sexual content but dialogue and an embarrassing scene in which Satine tries to seduce Christian is present. Much ado is made about "making love" and "sleeping" with people. Dance moves and lyrics are sometimes suggestive. In the scene where Christian meets Satine, they're talking at cross purposes. He's come to read her poetry and she's come to seduce the Duke. She throws herself around in a skimpy corset and trades innuendo. When he does start (nervously) quoting poetry, she writhes around on the floor moaning. He manages to stop her by singing her a love song -- and then the Duke comes in. To cover up the confusion she drags the Duke down onto the bed and makes a sexual proposition. For the most part it's supposed to be funny, but only winds up being uncomfortable and suggestive. The Duke becomes enraged later in the film and tears her dress off. He throws her onto a bed but is knocked unconscious by one of his servants before he can rape her. Satine and Christian are shown wrapped up in the same sheet embracing. Several times Satine runs her hand along men's crotches.
It really is a pity because other than that the film has no content issues whatsoever. A couple of minor profanities and one use of "whore," as well as non-graphic violence (a sandbag is dropped on someone). It's a movie that plays tug of war with your conscience: the wonderful musical score seduces you even as you feel revulsion for what unfolds. That being said, it's one of those guilty pleasures that I must confess to. Between the romanticism of the score, the likable characters, and the immense tragedy of it all, one cannot help falling in love.