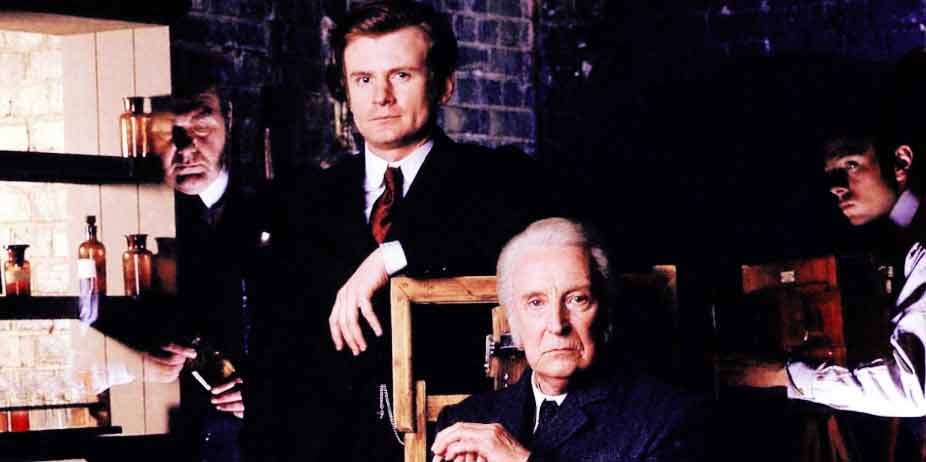 Murder Rooms (2001)
It was said that Dr. Joseph Bell was the inspiration for Sherlock Holmes, a fact that author and screenwriter David Pirie has taken into account in his creation of the five-part Murder Rooms series. His mysteries are brilliance with a twist of Doyle's own merits in the mix, a product of creativity and borrowed inspiration.
A young woman rides a bicycle down a lonely road and is followed by a sinister figure wrapped in a billowing black cloak. Her concern over this mysterious apparition leads her to consult the opinion of Dr. Doyle (Charles Edwards), lately come to Southsea to search out a successful medical practice. Neatly set up with a fellow Edinburgh graduate and physician, Dr. Turnavine (Alexander Armstrong), the handling off Heather Banes' (Katie Blake) case drives a wedge between them. Formerly disapproving of his colleague's scandalous handling of patients, Doyle moves out and sets up a practice of his own, but finds few of the locals interested in seeking out his expertise. Both his frustrations in the office and his concerns about the hooded figure seen on the road behind his only patient bring Dr. Bell (Ian Richardson) to investigate. There are suspects aplenty, and numerous eccentric characters within the village, as well as Heather's own notorious past, the only survivor of a murderous assault on the manor-house where she was raised. Haunted by nightmares of what transpired that winter evening, she grows closer to Doyle while Bell attempts to unravel a horrific case.
But even when that crime is solved, others are soon to follow and Doyle constantly finds himself matched with the intellect and companionship of his remarkable friend and colleague as together they solve a series of unfathomable crimes and unearth the most unexpected of explanations. I absolutely love this series. The bringing to life of the inspiration for the most famous literary detective of all time is a stroke of genius. The world is full of Sherlock Holmes adaptations, but these are the first and only ones to go directly to the source. Each episode is unique and brilliantly written, entwining the audience along with the characters in a sinister unfurling of motives and eccentric characters we are not soon to forget. Bell in particular is a memorable protagonist; one of the more remarkable things about the original film that spurred on the four-part miniseries to follow was the performance of Ian Richardson, one of Britain's veteran screen and stage actors. They have toned down his appearance in this one and brought a little more humanity into him as well, which is a welcome change, but does not undermine his skill as an actor. He expresses so much with his eyes that we cannot help adoring him. Their replacement for Doyle is also brilliant, since he comes across as much more mature than his predecessor. There is a slew of impressive guest appearances (including Crispen Bonham-Carter, Warwick Davis, and others), and it is apparent that a great deal of research has gone into the material.
This is a series that must be watched more than once in order to fully comprehend its merits, for one viewing will grant you pleasure but two will assist you in solving the crime along with Dr. Bell as you pick up on the subtle clues woven throughout. Though it tends to melodrama (in nearly every episode the heroes come into some peril) there are also some tremendous scenes -- such as when Bell must endure the endless egocentric raving of a fellow physician, crosses intellectual foils with a policeman who harbors a grudge against him, and finds himself in disagreement with Doyle on multiple occasions, both about the nature of a crime and someone's guilt and in his opinion of mediums. Most of the episodes borrow aspects from Doyle's books to build their case, but never in such an overt manner that they become mundane. Yet it is the subtler dramatic moments that show its true brilliance: one is not likely to forget Bell's entrance in a darkened house, nor the sight of a lone figure being followed down a menacing stretch of woodland road.
While each mystery does revolve around some rather frightening circumstances, it is never exploitive and rarely graphic. There are occasional mild profanities and no sexual content. A woman does place Doyle's hand on her bosom asking him to feel how fast her heart is beating, and a character admits in veiled terms to a past lover. We discover two people have been involved in adulterous relationships. Several characters are hit over the head; a man is found with his throat cut, another is beaten to death (off-screen, but blood spatters against the wall), and a man kills himself with a pistol (blood spatters on the wall behind him). A body is found hanging from a tree limb -- a woman falls to her death. We briefly see a naked corpse lying face-down on an examination table. More disconcerting to Christian viewers will be The Photographer's Chair and its spiritual ambiguities. In it, the case leads Doyle to be introduced to a spiritualist/medium. Though Bell profusely holds to the belief that she is a charlatan, the ultimate conclusion implies that ghosts really do exist, and there are people who can communicate with them. Doyle attends a séance and Elspeth manifests through the face of the spiritualist, who also sees ghostly forms on other occasions. She speaks for a dead child at a public exhibition, reassuring the girl's mother that she is happy and safe. The murderer also turns out to be a believer in ghosts, and Doyle is converted, much to Bell's distress (he confesses to having exposed a medium that attempted to manipulate him after his wife's death some years earlier).
That this series was not picked up for a second season is a travesty, because it truly was one of the best things on television. As each episode unfolded, I became profoundly aware of the increasing magnificence in the interaction between Edwards and Richardson. With every installment they seem to gather more charisma, playing off one another much like two fast friends. Edwards holds his own and truly embodies Doyle, but in the end it is Richardson that we will forever remember... less for his spirited depiction of a man of incredible insight and brilliance and more as one of the great character actors of his time. From the introduction of Doyle's little brother (his conversation with Bell about Doyle's works of fiction is particularly charming) to exploring the more serious psychological sides of both men, it is a beautifully written and dramatic series that is a must-see for any mystery fan.