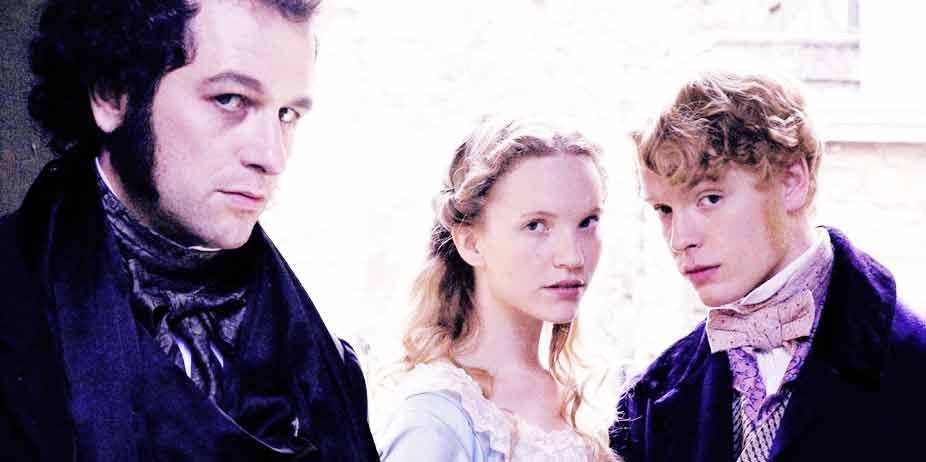 The Mystery of Edwin Drood (2012)
It was the novel Charles Dickens never finished. Halfway into the narrative, he suffered from a stroke and died the following day, leaving his mystery unfinished. No one knows how he intended it to end, but after a viewing of this recent adaptation by the BBC I must admit, it has a certain Dickens-esque style.

There is only one woman for John Jasper (Matthew Rhys). Unfortunately, she happens to be introduced to his younger nephew, Edwin Drood (Freddie Fox). An ambitious young man who dreams of foreign travels with a cherub face but has too little respect for his fiancé to please his uncle, he cannot seem to understand how blessed he is to be engaged to such a lovely girl. But Jasper is profoundly aware of it, so much so that his opium-induced fantasies in a darkened corner of a local den often include dispatching with his blonde nephew and taking his place in Rosa's arms. His attention is unnoticed by most but not by Rosa (Tamzin Merchant), who is uncomfortable with his affection and seeks to avoid him whenever possible. Having remained silent on the matter, she confides her concern to her new friend, Helena Landless (Amber Rose Revah), a recent arrival to the school from India.

Unfortunately, that very evening Helena's hot-tempered brother Neville (Sacha Dhawan) and Edwin come to a dispute in Jasper's rooms over the young man's treatment of Rosa in public, which leads to an estrangement that threatens to grow into something more as Jasper's obsession with the young woman deepens. His obsession with the crypt beneath the church also causes suspicion when Durdles (Ron Cook) is hired to carve a new monument for one of the graves, and the child commonly about the church and grounds has an encounter with the older man that leaves him shaken. But none of them are prepared for what is to come... and some of them may not emerge from it unscathed.

Writing an ending for a famous unfinished novel is no easy task, but I was impressed with this adaptation that takes a different twist than former versions I have seen. The writer consulted as much information as she could find about Dickens' intended ending and crafted a story that easily fits into his usual style, with frequent twists and turns in the final hour that bring all to light. Although this two hour film feels too short and ends rather abruptly (it is a conclusion that made me smile but long for more), it's also very cleverly written and full of the same wonderful characters Dickens is so known for, ranging from shut-in bookkeepers longing for fresh air to the ornery little boy who is always about chucking stones at people. It has occasional moments of sheer wit and hilarity, such as when the child complains that the singing of the choir could put a "good man off his lunch," but also some downright creepy material.

The best thing about it, however, in my opinion is the casting – Matthew Rhys is a brilliant John Jasper. He has the charisma to draw the audience to him and make them fond of him, even sorry for him, while at the same time hinting at a darker temper that keeps us continually on edge. Whether brooding in a corner or "devouring Rosa with his eyes," he mesmerizes us in a way that few actors accomplish. Some have complained that the second half is convoluted and absurd, with plot holes and melodramatic scenes, but I disagree… I think it is brilliant. I loved it and its darker nuances, as well as how neatly everything ties together based on small but significant clues in the first hour. That said, I would have liked another hour in which to further pursue some of the secondary characters and plot lines!

Best of all, even in spite of the subject material, there is not much to be concerned about content-wise. What may disconcert sensitive viewers most are several scenes in which people are strangled; we see a man strangled to death and flashbacks refer to it multiple times. Another man leaps to his death from a great height. A man grabs a woman by the arm and threatens her; she demands to know if he will "take by force" what she refuses to give, and he tries to blackmail her into "coming" to him (presumably in marriage, although the wording is ambiguous). Mild profanity intrudes, some of it played for laughs by the little boy. He also throws stones at people and at a lamb, causing another to accuse him of making it limp. A man threatens and manhandles several people, smashing someone's head against a wall.

Maybe this isn't the ending Dickens envisioned when he created the unusual story of obsession and revenge but it is an entertaining and deeply thought-provoking way to spend an evening.