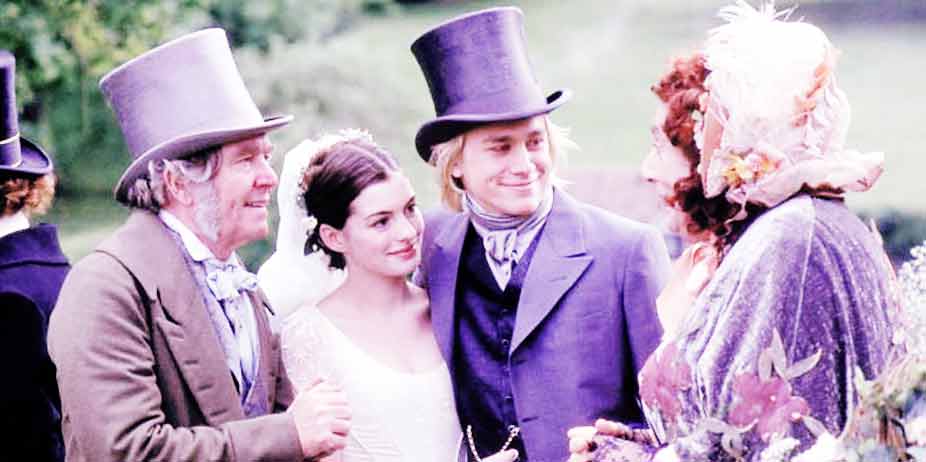 Nicholas Nickleby (2001)
I'm not a puritan. I believe if an adaptation manages to capture the heart and soul of the author's original vision, even if it doesn't follow it page for page, it can improve on an already excellent work. This is what I feel Douglas McGrath has done with Charles Dickens' Nicholas Nickleby, a two hour thought-provoking period film with an all-star ensemble cast of some of Britain and Hollywood's finest thespians and a climactic, unexpected, spiritual ending. The story opens with the birth of Nicholas to his loving parents, and eventually the addition of a beautiful younger sister, Kate. In his nineteenth year his father passes away, his last dying wish that his family should be taken care of by his wealthy older brother Ralph. The Nicklebys travel to London, but find Ralph (Christopher Plummer) a cold and conniving benefactor.
Under the pretense of compassion through family ties, he finds Kate (Romola Garai) a job as a seamstress and sends Nicholas (Charlie Hunnam) away to teach at the boarding school of Mr. and Mrs. Squeers (Juliet Stevenson and Jim Broadbent, in respectively callous roles). Life at the school, which is more suited to that of a workhouse than a scholastic institution, is intolerable. The boys are mistreated, ill-fed, and abused regularly with a rod, particularly the pitiful cripple Smike (Jamie Bell). At first Nicholas bows to authority and says nothing, though holds a brooding fury toward the cruelty of his employers. When Smike makes an attempt to run away, he is brought back to be humiliated and "flogged within an inch of his life." It's the last straw. Nicholas finally takes a vocal stand, gives the schoolmaster himself the lash, and strikes out on his own with the loyal and thankful servant-boy at his side. But his concern is profound -- if Ralph sent him to such a horrible place, what has he done with Kate??
Back in London, she faces similar strife when her uncle seeks to use her as a ploy to influence one of his wealthiest clients (Nicholas Rowe), much to her humiliation as well as the discomfort of his other investors. Instead of Lord Verisopht, she attracts the lustful advances of Sir Muldeberry Hawke (Edward Fox). None are willing to defend her honor. Helplessly, Kate must take matters into her own hands and pray for the swift return of her brother before the stakes become too high and her good name is ruined forever. Nicholas Nickleby is only the second adaptation and directorial triumph of Douglas McGrath. Based on this and his wonderful success with Emma, I hope he continues to adapt the classics. He is one of the few directors who shows restraint when it is needed, yet does not fail to make the conflicts within the hero's life suitably obvious. He makes us loathe and hate the villains without being subjected to overly graphic material, which is far more effective and shows superior writing talents.
The dialogue is poetic, wrought with wit, and always impacting. Interwoven with the deep drama, are splashes of humor -- the theatre troupe's production of Romeo & Juliet, some of the banter between Uncle Ralph and his tipsy but goodhearted clerk, even some dry reactions from the one-eyed Squeers. Though the moments of lighthearted humor create a restful tranquility between the deep drama, this is not a comedy act. It's a compelling look at the very root of evil and the eventual downfall it brings to a man enslaved by it. Few villains have the distinction of being so purposefully cruel as Ralph Nickleby, a man who chooses to inflict pain for the sheer pleasure of it. The casting is brilliant. Chrisopher Plummer plays Ralph with such tainted pleasure that we learn to loathe him but also in the end to pity the mess he has made of his life. Charlie Hunnam, in the role of Nicholas, is exceptional; few young men can blend in with a Victorian environment. He was born to star in costume dramas. Anne Hathaway, Romola Garai, and Jamie Bell, along with an enormous supporting cast (everyone from Nathan Lane to Nicholas Rowe) were superb. There's not a weak actor in the lot.
The hero is in every way above reproach -- he refutes lies with a swift tongue, takes compassion on his enemies, and displays justice instead of vengeance. Spiritual truths begin to bleed through the fabric of the adaptation, which also has one insightful addition by the director -- a hymn sung about God's grace and glory at a pivotal moment at the climax. I would highly recommend it to both Dickens enthusiasts and those who simply enjoy morality plays. Much like another excellent adaptation, Les Misérables, Nicholas Nickleby does have elements that make it unsuitable for younger children. Most of it is not overly problematic but bears mentioning. Everyone will cringe at the treatment of the boys at Squeer's school. They are abused for no reason other than pure spite. Nicholas finally takes the schoolmaster's rod and beats him with it but stops at the point of justice without falling into retribution. "I'm going to give you what you never once gave to these boys," he confides; "compassion."
When confronting the man who has been making inappropriate advances toward his sister, he inflicts little physical punishment but warns him next time he will not be so lenient. Thematic content includes a man hanging himself (implied) and the death of a main character. After the opening credits we briefly see male infant nudity as well as an umbilical cord being snipped. Hawk purposefully humiliates Kate over dinner with a lengthy debate on whether or not she's upset that no man at the table is "making love to her." (Historically the term was used in reference to wooing rather than sexual activity.) He corners her in a theater box (conveniently arranged by her devious uncle) and tries to kiss her. Later he shows a keen interest in marriage with another young woman as a part of a business arrangement. Kate eventually stands up to her uncle, saying she will trust in God to watch over them, for she will not accept his financial aid as long as she is subjected to such immodesties. Nicholas' virtue also encourages honorable responses from others -- after witnessing him "defend his sister's honor," another of Ralph's investors retaliates with his own disgust over the situation. We have seen him disturbed before now, but never courageous enough to speak against his partners. (A magnificent display of how not wanting to become "involved" when the issue of morality is at stake can actually lend itself to greater evils.)
What makes the story carry such weight is the fact that all of this is tied to Uncle Ralph -- we wonder at his motivations in subjecting his niece to such immoral company, in his singular cruelty, and at the surprising twist Dickens throws our way in the final half. He's a moral paradox demanding of scrutiny and his black heart burns like a pyre in the background as the story progresses. In the end, we have not only explored the empty bitterness of a life bound by self-inflicted cruelty but also seen the glowing light of virtue. The world would be a far better place if more young men were raised with the same high moral standard of honor, justice, and virtue as
Nicholas Nickleby
.