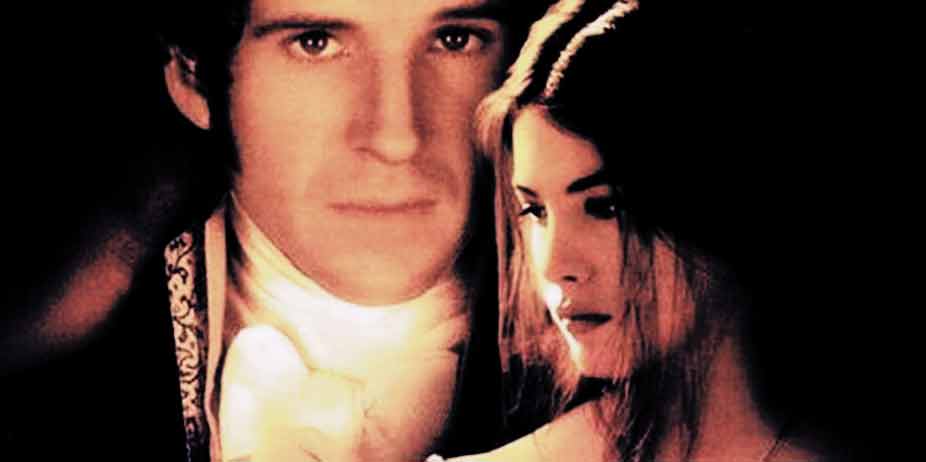 Onegin (1999)
Though literature is full of romantic, passionate tales of unrequited love, the classic work of fiction in verse by Eugene Pushkin is by far one of the most haunting explorations of the human heart ever penned. Onegin is the story of man's ability to lose greatly through the folly of human nature. The story is slow-moving at times but for the patient observer offers a wealth not only of visual beauty but mental stimulation. Its intricacies are explored through the restrained but beautifully expressive acting talents of Ralph Fiennes and Liv Tyler as much as through the haunting atmosphere of a Russian period film. Though not on the caliber of more popular rentals, this production is fascinating for its moral paradoxes.
Opening in a cold winter in Moscow, Onegin introduces us to its leading character and his usual bad habits within a matter of minutes. Eugene Onegin (Ralph Fiennes) is a notorious playboy called from the glamour and glitz of the big city to the bedside of his dying uncle. Not lamenting the loss of society, he sets forth hoping to evade the usual bedside conversation. Arriving late, Onegin is just in time for the funeral. As the only remaining heir, he promptly takes up current residence at his uncles country estate. Country life bores him, but the flash and pomp of the city no longer appeal to his taste. He's tired of wealthy widows and card games. He's therefore intrigued when he makes the acquaintance of some local people, Vladimir (Tobey Stephens), who is found poaching on Onegin's property, and his lovely fiancé Olga (Lena Headey). Unimpressed with the young, foolish, and flighty Olga, Onegin is more fascinated with her younger and much more steadfast sister Tatyana (Liv Tyler).
In the course of borrowing a book, she falls in love with him. Torn by her own quiet passion and belief that he is her match, she breathes merely to catch glimpses of him. But country life remains dull in his eyes and he rarely enters society, choosing instead to spend his time with Vladimir on the lake. One night, unable to sleep due to her magnitude of feeling, Tatyana writes Onegin an impassioned letter confessing her love and admiration. She waits in agony for a response, which never comes. On her name day, the house is filled with guests... and among them is her secret love. But Onegin fears a life bound to one woman and cannot bear to put Tatyana through the inevitable pain of his unfaithfulness. He wants to return the letter but she refuses to take it, unable to believe he feels nothing for her. Rebuffing her as gently as he can, he leaves her to cry in the summerhouse and returns to the dance. But his bad humor has been aroused, and he will make a volatile, fatal mistake that will end in bloodshed and change their lives forever.
With lush costuming, beautiful cinematography, and stunning performances from a fantastic cast, Onegin is an unusual kind of film. Moving along at a measured pace, it demands patience but also evokes obsession. We cringe at the inevitable, shed a few tears, and cheer at the final conflict. Its a story of love, tragedy, circumstance, and choices. I came into it with sincere doubt, certain my hopes would be dashed. For once I was pleasantly surprised at the restraint and dignity shown in the production and its conclusion. When all other aspects are stripped away, it becomes a tale of a woman's honor. It's not a subject often breached, and for this element alone hold my admiration and praise. It also has one of the most stunningly picturesque and yet chillingly horrific dueling scenes I've ever witnessed on film. The emotion and intensity of the tragic cold winter morning on the docks builds to an inevitable climax and shows the profound sorrow that follows in the wake of a terrible mistake. I much appreciated witnessing the victors anger, frustration, and sorrow over what he was forced to do in order to defend his good name. Was the outcome by chance or intention? Perhaps we'll never know.
The last scene is magnificent. There is no other word for it. Liv Tyler is absolutely phenomenal as she professes she'll remain faithful to her husband even though her heart belongs to another. Fiennes sister Martha directed the film and his claims that she has a sensual power over the camera are true. Every frame is full of romantic intensity. I do question her reasoning for moments of complete silence and the soundtrack at times is horrible, but overall I was impressed. Onegin is light on content. Mild abuse of deity and profanity make their way into the screenplay. There's some bawdiness shown in pencil drawings. The opening scene finds Onegin and his friends joking about sexual conquests and musing about a prostitute. (They inquire if he's ever "done" a ballerina, and he says yes, once for a bet.) A married couple kiss and embrace with her in his lap but no nudity or movement is apparent. Its not overly graphic, although he does have his shirt off. The period gowns are acceptable but there is some mild cleavage.
The rating comes from the pistol dueling scene when one man is shot in the side of the head. We briefly see the bloody impact before he falls to the ground; we witness blood crusting the side of his face in a later shot, as well as pooling on the dock. Onegin is a slow-moving film with surprisingly few flaws. Those unaccustomed to the measured pacing of many period dramas will find it dull and bittersweet. But for me the rewarding moment is when a woman chooses honor and commitment over fiery passion and turns down a mans plea. I do love you, she confesses, but I am a married woman... and I will be faithful to my husband. Wow. When was the last time we heard that in a secular romance?