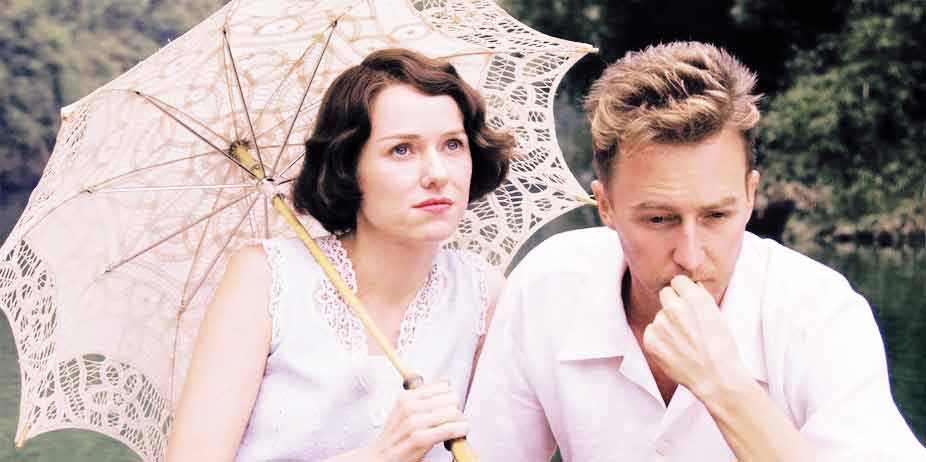 The Painted Veil (2007)
Movies about a married couple finding their way back into love are few and far between; even less fruitful are those that do a good job of making us believe the love will last. The Painted Veil is a gorgeous film about difficult life choices, the decision to fall in love, and the importance of commitment. It has beautiful performances and a lovely message to match, but audiences should not go in expecting that all will be well before the final credits.
The charming socialite Kitty (Naomi Watts) is rebelling against all her parents hold dear, but when it comes to marriage, she cannot help but obey their wishes that she marry the talented but demure Walter Fane (Edward Norton). A devoted scholar of various diseases, he truly loves his wife but has not the time nor the inclination to provide her with the entertainment she craves. Thus when she meets Charlie Townsend (Liev Schreiber) at a dinner engagement, her wild heart goes pitter patter and before she knows it, she is caught up in the midst of a secret affair. It does not take Walter long to discover her lover, and in a temper, he gives her a choice -- provided Charlie is willing to divorce his wife and marry Kitty, she may quietly go with him, but if he does not, she can either be disgraced through a public divorce or accompany him into the Asian mountains, where he intends to research the latest outbreak of cholera.
Believing Charlie is madly in love with her, Kitty is devastated to learn he has no intention of leaving his wife, and adulterous flings are many and often. Left with no other avenue but to accompany her angry husband into the wilds, she soon learns there are bigger battles to fight than her own selfish ambitions and comes to realize that with love must come forgiveness and sacrifice. Critics have called this "slow moving" and even "boring," a rebellious emotional response to the core values presented in the film, that love is ultimately a choice shown through actions rather than words, and marriages are worth fighting for even when one partner has made a terrible mistake. The story is more about a woman finding truth amidst her childish ambitions than anything else, and its singular fault lies in the fact that its hero is a little unreachable at times, but nevertheless poignant.
I loved the numerous subtleties that unfolded, such as Kitty bringing back memories of their happiness through playing a piano for the orphans at a local convent, or her realization that Walter wants children more than anything. It deals very seriously with adultery and the response it has on both participants, for it does not end with the final farewell kiss ... there are other consequences along the journey for both of them to face. I was also prepared for much worse content than there turned out to be. There is one brief sexual scene between Charlie and Kitty in which you overhear heavy breathing and catch a glimpse of them in bed. When Charlie gets up to dress, we see quite a lot of his lower back. Walter and Kitty sleep together toward the conclusion, but it consists of tender kissing and fades out before showing anything too graphic. However, the next morning we catch a glimpse of his backside when he gets out of bed. One of their English neighbors either has a Chinese mistress or a wife; we see her bare back on several occasions.
The cholera epidemic is depicted in hospitals and orphanages; there are many glimpses of suffering and dying men, women, and children. We see and hear a man throw up several times after becoming ill. Bodies are buried in an open grave. There are various scenes of violence, ranging from a mob attempting to attack a woman to Walter threatening Kitty with violence if she does not sit down and listen to him. Alcohol is consumed on a few occasions. A subtle religious element might offend Christian viewers. Locals accuse the abbey of taking in orphans so they can "turn them into little Catholics." More disconcerting is the mother superior (Diana Rigg) telling Kitty that her personal relationship, or "marriage" with God, has become one of passionless coexistence. Whether or not she means it literally, or has merely come to grips with the lack of visual signs of God in her life, is never revealed.
Most of this movie I loved for all its glorious moments. I enjoyed seeing Walter and Kitty fall in love, and the fact that eventually they were able to overcome her mistakes. But something happened toward the end that made me quite sad, a reminder that life can never be planned out too far in advance. Still, for the romantics at heart and those searching for a moral undertone, The Painted Veil is quite a memorable experience.