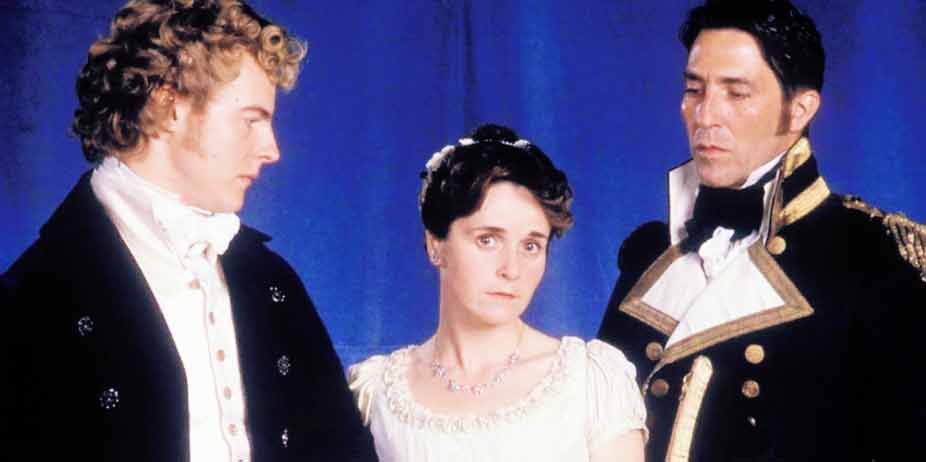 Persuasion (1995)
Persuasion is the story of a love long lost, returned to claim its own amidst frustrating class prejudice and old wounds. Young Anne (Amanda Root) is captivated when she meets the dignified navel office Captain Wentworth (Ciarán Hinds) but is advised to discourage his romantic intentions because he is virtually penniless. Going against her heart and bowing to the strong wills of society, Anne reluctantly releases him into the world, not to hear from him again in eight years. When at last he does return, now wealthy, her own plight is reversed for her father has spent their own fortune in reckless extravagance.
Sent away to stay with her self-pitying sister Mary (Sophie Thompson), Anne finds a quiet life with their middle-class circumstance but is severely shaken with Wentworth's return to England, and his obvious ties to the family of her sister's husband, the Musgroves. Showing her little interest in turn for her abandonment of him, the Captain begins to flatteringly pursue Louisa (Emma Roberts) to spite her. But as time passes and the group becomes more tightly woven together, he stingingly begins to accept her presence once again and even show her some amount of kindness. A quiet and often mousy girl, Anne is virtually lost between her overpowering sister and the flirtatious Musgroves, but swiftly becomes of interest to a distant cousin, Mr. Elliot (Samuel West).
The charming and wealthy young man is handsome and accomplished, a tie between two branches of the family formerly divided over a long rivalry. The match is approved of in the general public and Anne swiftly warms to his gentle interest and obvious intentions while battling her own feelings for Wentworth. But amidst both social and personal pursuits, they are prevented from truly declaring their hearts. Will Anne's affections be replanted to the heart of Mr. Elliot or can Wentworth find the courage to declare himself? In true form, Austen's classic focuses on the strict social codes between the upper and lower middle classes. Wealth and poverty mingles with snobbery and deceit, and there is always at least one man of a scandalous nature. This film will enchant lovers of general Austen works but find those who have not formerly read the novel a little lagging behind. The story itself is enchanting but only truly grasped after several viewings, whereas Emma can stand on its own. It does have some beautiful moments but moves very rapidly from character to character and almost looses its audience in the nature of the production.
The director obviously takes a different tone with his productions, using many unusual camera angels that repeat themselves throughout the production... circling the actors. It is this effect, as well as too many extreme close-ups, that eventually wear on frayed nerves. It has a lot of loose ends and unexplained moments. Still, it is a good production and one that any true Anglophile will find enjoyable. The most glaring flaw is in the sudden and unexplained change of Anne from a cowed shy creature to an unusually forward and defiant young woman. Perhaps the book might shed a little light for those who loose sleep over this aspect, but those who have simply watched the film are at a loss as to the reason behind it. A few profanities pop up now and again and there's a mild amount of cleavage. The costuming leaves a little to be desired but certain scenes do shine, particularly the one with Anne and Wentworth at the musical performance. Many faces will be familiar, although at times you cannot remember where you've seen them. The film demands patience, for it often makes you wonder if anything will ever happen, but provides a rewarding climax.