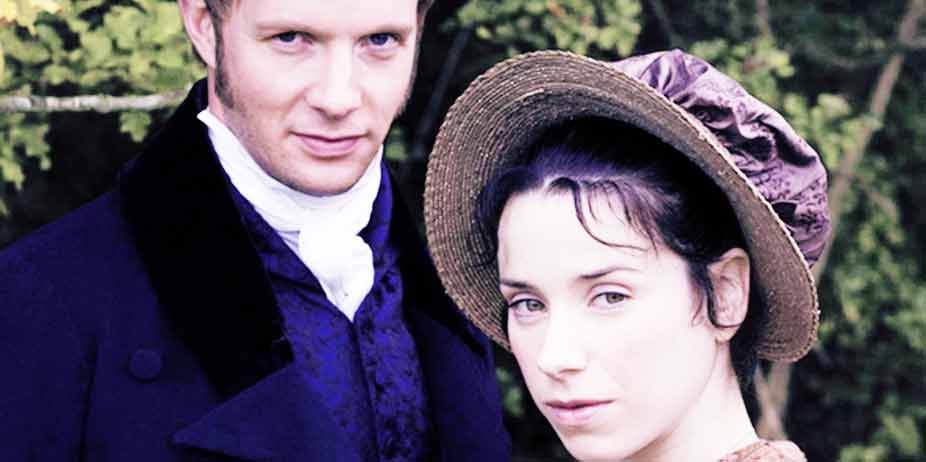 Persuasion (2007)
If you have ever seen the touching film The Lake House, you will have heard of Persuasion, Jane Austen's timeless novel about two young people separated by circumstance with the patience to wait and cling to the eternal hope that someday they might be together. The recent adaptation by the BBC is certainly easier to follow than the earlier one, and has a much more handsome leading man, but all the same there is something missing.
Poverty has forced the Elliot family to lend out their estate. The sensible Anne (Sally Hawkins) knows she cannot persuade her baronet father (Anthony Head) and older sister to live within their means, but she hopes to prevent word of their financial ruin from reaching most of their friends. The house is lent out to Admiral Croft and his wife, and rather than stray too far from home, Anne chooses to remain in the immediate vicinity at her sister's house. It is here that she makes the re-acquaintance of Frederick Wentworth (Rupert Penry-Jones), who once asked her to marry him. But family prejudice and his impoverished station in life, as well as the interference of Anne's mentor, Lady Russell (Alice Krige), forced her to turn down his proposal, although she has never ceased loving him.
In the seven years that have passed since that fateful exchange, Wentworth has made his fortune and become respectable as a navy officer. He has also managed to turn a rather cold shoulder toward Anne, which causes her to fear her chance to persuade him into loving her again may be in vain. Too shy to do more than exchange glances with him, Anne is most distressed that he has become so popular with the other available young women in town. But her own attentions are soon playfully diverted by her charming cousin William (Tobias Menzies), whose intentions may or may not be above reproach. Persuasion is one of the most complicated novels in the collection, and this adaptation fails in some regards to inform us of just who various characters actually are. Anne also has the unfortunate distinction of being the most bland of Austen's heroines. Because she is so quiet, we never really know what is going on inside her head, and she has neither the wit nor the spark to be entertaining.
This is also the problem with Wentworth, who is so stoic most of the time that you are never completely certain of his motivations. That being said, this production does better than most at trying to crack the facade and make us care about the characters, but it still does not live up to the grand passages Austen laid out for us on the page. Rupert is handsome but not given much to work with, and Sally is appropriately mousey. It was actually Anthony Head that made the most of an impression, but only because it was so peculiar to see him play anyone apart from the bookish and good-natured Rupert Giles in the American Buffy the Vampire slayer series. There are a lot of complaints about the pre-ending and I can see why. It involves Anne running through the streets of London, an attempt by filmmakers to show her rising passion and enthusiasm that she is not too late. Even though it is silly, I did not much mind it, and the final couple of minutes do manage to give us a satisfactory and thoroughly romantic ending, despite our initial disappointment over the second proposal scene. I am rather fond of it even though it demands careful attention and patience as the story unravels, rather like that of its protagonists, as they hedge about a bit before discovering their love is still there, waiting to be awakened.
The photography is quite beautiful, mostly in the second half and with the melodramatic visions of the sea. The dialogue can be a bit difficult to hear whenever the cast is walking along the beach, for the roar of the waves. There is some cleavage in period gowns, and a handful of mild profanities. A young woman is badly injured after leaping off a stone wall. There are several scenes that I love; one of them takes place at a musical performance, and another is at the film's conclusion, in which we are assured that all is well. It is not the ideal adaptation, and in some respects I fear there will never be one, but it is quite entertaining and sweet.