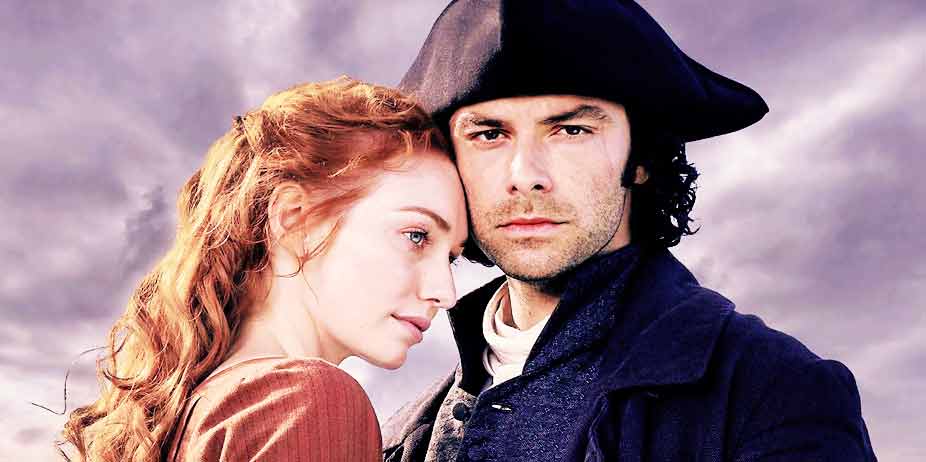 Poldark, Season Five (2019)
Broken hearts are mended, villains are torn asunder, and two old enemies almost become friends... in the fifth and final season of the popular BBC show, Poldark.
An appeal from an old friend to intervene on his behalf sends the impetuous and opinionated Ross (Aidan Turner) to London, where he manages to obtain the release of his old army buddy and a known "agitator" in Jamaica. His wiser and more careful wife, Demelza (Eleanor Tomlinson), cautions him against too deep of involvement, but per usual, Ross takes up the cause of his friend and progressively develops opinions on the slave trade. Unfortunately for Ross, it represents big business and booming industry in the English colonies. His vocal lack of support for it in Parliament brings him to the unfavorable attentions of two businessmen, determined to ruin him.
They happen to be business-involved with his old rival, George Warleggan (Jack Farthing). Devastated after the recent loss of his wife, George is... not himself. And his uncle will do anything to conceal that fact, including locking him up and exposing him to inhumane physical practices to heal his "ailment." While Ross is in London, Demelza faces difficulties in their mine. There simply is not enough work for everyone, and she exacerbates the problem by hiring a local girl as her new maid... who has designs above her station and does not appreciate the kindness. Meanwhile, Dwight (Luke Norris) and Caroline (Gabriella Wilde) are keeping secrets from each other... and Drake (Harry Richardson) is desperate to love and accept his beloved Morwenna (Elise Chappell)... even if it means stealing away a child.
From nefarious and diabolical plots to a truly hate-worthy villain, this is by far my favorite season of Poldark. It manages to cover all the main characters and then some and although not all the subplots end in a satisfactory manner, they do serve as catalysts for what unfolds next. Ross has learned nothing and it shows, but the women really have a chance to shine in these episodes. Demelza remains the moral voice of reason and optimism (as Ross says of his wife, she wants to believe the best of everyone... I don't!). Caroline manages to save her friends when she learns a valuable piece of information. And Morwenna overcomes her trauma to embrace happiness. Though there's a severe lack of hairpins in sight, the costumes are beautiful (it's now shifted into the Regency years). The scripts sparkle and shine and... by the end, I wanted to start over at the beginning of the show, which is a testament to its ability to leave me wanting more.
Sexual Content
Kissing and cuddling in bed between married couples. References to a child possibly born out of wedlock. A woman believes her husband is having an affair after she overhears suggestive language between them.

Language:
Minor profanities and insults, occasional uses of bloody, derogatory words for black people.

Violence:
Fistfights break out in taverns. A man is hanged (we see him dangling). Doctors torture a patient in an attempt to make him sane (they drown him, burn him, and expose him to other cruel practices). Men scuffle and fight, one man shoots another in the head, a fire breaks out in a house, threatening wives and children; a man tries to scare a woman's horse so that she will fall off and get hurt.
Other:
Characters exhibit racist attitudes for the time (assuming a black woman is a man's whore and not his wife); miscarriages of justice; minor characters steal and create false paper currency.