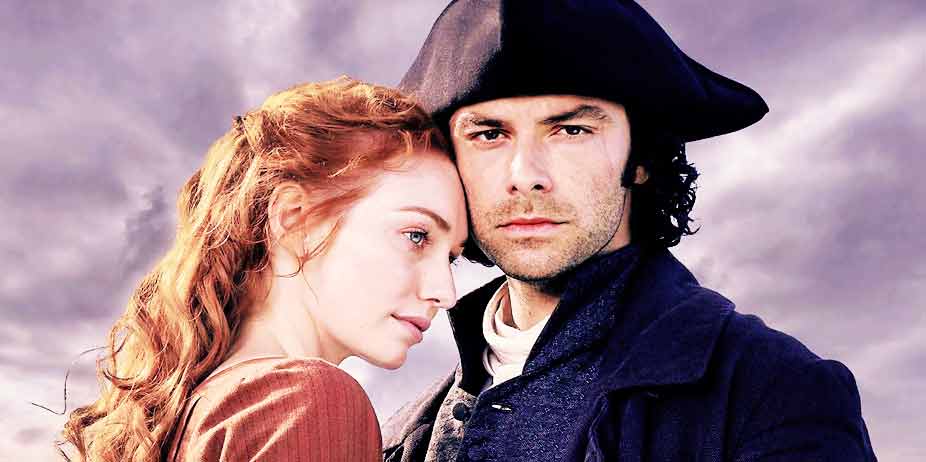 Poldark, Season Four (2018)
The Poldarks face more loss, devastation, and triumph in the fourth season of the highly successful BBC series.
When local riots over limited grain resources erupt into violence, George Warleggan (Jack Farthing) takes great pleasure in sentencing the Carne boys to hang. But Ross Poldark (Aidan Turner) isn't about to stand by and see his wife's family condemned for a crime they did not commit. He swoops in to save the day, unknowingly setting himself up for a future career in politics when a local landowner wants him to challenge Warleggan in the next election.
Drake Carne (Harry Richardson) pines for the beautiful Morwenna (Ellise Chappell), who has married a disgusting curate. But her attempts to keep him out of her bed fall to pieces after the birth of her first child. Meanwhile, Elizabeth (Heida Reed) tries to help her husband climb the social ladder while hiding the secret parentage of her first child. She turns to desperate measures to convince George his son and heir is not a Poldark, but a Warleggan.
The newly married and content Caroline (Gabriella Wilde) finds motherhood difficult, but soon she and her husband Dwight (Luke Norris) will face a tragedy that threatens to pull them apart. Through changing politics, jealous ex-lovers, the loss of family and friends, and even an ill-fated duel, the Poldark family faces each potential disaster with courage and devotion. One thing this season does well is to evoke various emotions in the viewer -- total disgust and repulsion for some characters, and a surprising amount of compassion and empathy for others. Even George, everyone's favorite villain to hate, has a moving and sad plot arc. It's a testament to the actor that after so many seasons of his horrible, self-serving behavior, he can move us to tears.
While Poldark isn't perfect as a series, it does have a wonderful cast and pays close attention to its period details. The story has shifted into the Regency era, forgoing the thick skirts and tight bodices for looser fabrics and more daring styles. There's still not enough parlets on the ladies, but it's a neat way to show the difference between the fashion-forward London society (with all the wealthier ladies wearing the newest gowns) and the slower-to-adapt rural communities. Demelza (Eleanor Tomlinson) continues to be arguably the most likable, sweetest character -- feisty but also loving, but even she finds herself in over her head when a rake sets his eyes upon her. It's nice to see Ross and her work on their marriage -- tempestuous though it may be, they stand together through thick and thin and forgive one another their mistakes.
This season resolves some important plot lines (with the Carne brothers in particular) and allows some couples to be happy (after a decent amount of angst). I'm not sure I'll ever truly like Ross as a character, but I've grown used to him over time and, in a way, that was the series' intention. To remind us, after all, that not all heroes are perfect. Some of them are real scrappers.
Sexual Content:
Many scenes of romantic sensuality between a husband and wife (them kissing, cuddling, lifting one another onto beds, and after making love, covered with sheets); a man has a sexual affair with his wife's sister, which includes him leaving and entering her bedchamber, lusting after her feet, and paying her; he forces his wife on numerous occasions (all off screen; he comes into her room and shuts the door); she suffers shame and an inability to be touched after. A man learns another man may have fathered his son and refuses to speak to the child.

Language:
Occasional profanities.

Violence:
Men are hanged; shot, stabbed, etc., in duels and in casual fisticuffs. A woman dies after forcing herself prematurely into labor. A man dies after his horse drags him a fair distance.

Other:
The local curate is a sex-obsessed womanizing cad. Another character who makes sexual come-ons to another man's wife also is the "cleric" at the garrison.