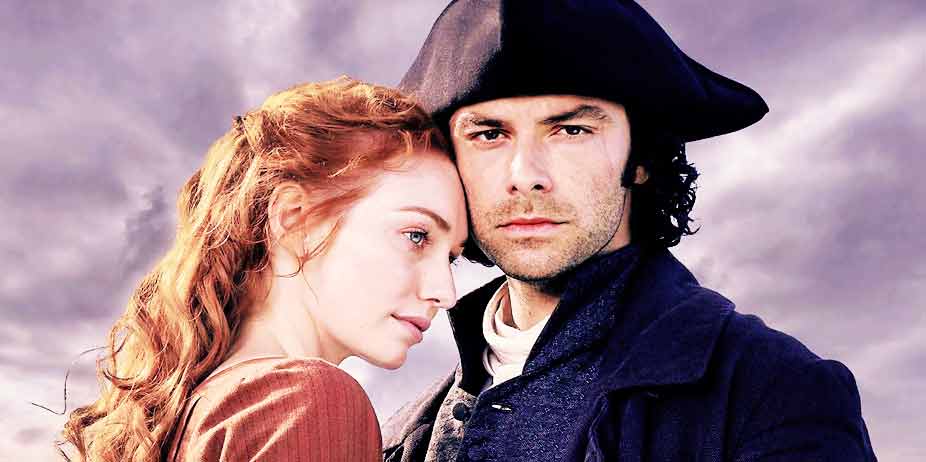 Poldark, Season One (2015)
I have never seen the original series, nor read the novel, so I didn't know what to expect from Poldark. Eight hours and more than one annoyed comment later, it's an intriguing romp in the Georgian era, centered around a rather unlikable protagonist that just happens to feature a delightful heroine. He really doesn't deserve Demelza, and we all know it.
Some years after the American Revolution, redcoat Ross Poldark (Aidan Turner) returns home to England to find, much to his dismay, that the love of his life, Elizabeth (Heida Reed), is about to marry his cousin. His sudden reappearance causes upheaval in the small community, both among the servants and the locals, when he decides to re-open the mine in the hope of turning a profit. Turning over the repairs of the old house over to his deceased father's unreliable servants, Ross sets about gaining investors, all the while bitter about his romantic loss when Elizabeth chooses to go through with the engagement. His brooding presence is greatly resented by Francis (Kyle Soller), who cannot quite settle into his new marriage happily knowing Elizabeth still has feelings for Ross. His own unhappiness, as well as his insecurities about his financial prowess, soon drive him to drink... and other things.
Meanwhile, Ross soon finds a new preoccupation ... when he rescues a redheaded spitfire named Demelza (Eleanor Tomlinson) from a crowd, and decides to take her home and give her a position as his maid. Rather than go home to her controlling and nasty father, Demelza agrees... and soon pines after him. Their love grows against a set of precarious circumstances that ultimately offers challenges neither of them anticipated. From local romantic entanglements to daring midnight rescues, to confrontations with the judicial court and deliberate sabotage from Ross' competitors, the series' first season has a broad scope of intrigue, yet its heart remains fully present in Demelza, whose romantic sweetness is impossible to forget. The center of selflessness, optimism, and compassion in the series, she paves the way for other characters to pursue their dreams and trust their hearts.
To be honest, I have mixed feelings about this costume drama; it is up to the usual caliber of the BBC in having a brilliant cast, an excellent script, a moving score, and great costume design. The actors are perfect for their roles and the characterization is wonderful, because it presents us with a number of interesting figures, some of them with dubious motives and others buried in insecurities. The pacing remains strong throughout, although the final episode is arguably the most moving, sad, and profound, paving the way for a second season fraught with more danger. Yet, its "hero" is an immoral man who shuns socially appropriate standards of behavior, is largely selfish in his pursuits, and can be downright unforgiving and harsh. One might hope that his wife will be a positive influence on him, but often in fiction, as in life, real change only transpires when a person wants to alter their behavior.

Sexual Content:
Implications of adultery and premarital sex; a prostitute features in several episodes and spends the night with Poldark, and then later, his married cousin (shown in "after" scenes, and mentioned in conversation). Poldark sleeps with Demelza (they kiss and undress) and then decides to marry her; there are several scenes of them cuddling, or kissing, but nothing graphic; a local farmer's wife seduces the town doctor (passionate kissing, and they fall out of frame). One very distant shot of Poldark swimming in the sea, possibly naked.

Language:
Scattered profanities (bloody, buggar, damn, etc).

Violence:
Infrequent. Skirmishes lead to people being shot and/or beaten up. A man accidentally breaks a woman's spine.

Other:
A man remains obsessed romantically with a woman after her marriage. Some drinking, card-playing, and gambling.