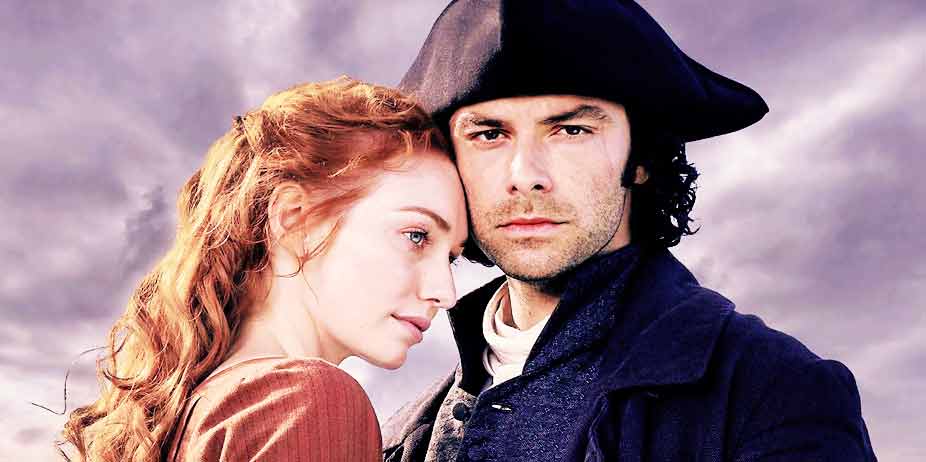 Poldark, Season Three (2017)
Ross Poldark is a difficult hero to love. Wild, impetuous, impassioned and often distracted, he focuses more on his individual sense of right and wrong than in attending the immediate needs of his family. With his marriage on unstable ground since Ross (Aidan Turner) spent the night with Elizabeth (Heida Reed), he tries to pick up the broken pieces of their lives. Demelza (Eleanor Tomlinson) is trying to forgive him, but soon finds a happy distraction when her brothers turn up, with a desire to plant a church in the parish. Against Ross' wishes, while carrying timber for their new church, they trespass on the Warleggan estate and meet the lovely young Morwenna (Ellise Chappell).
George Warleggan (Jack Farthing) intends to marry her to a local curate, but it does not take much for Drake (Harry Richardson) to fall for the sweet, quiet girl. Their romance buds amid potential disaster when news comes from sea that two frigates have been lost... and Dwight (Luke Norris) may have been on board, killed, or captured. Caroline (Gabriella Wilde) is beside herself with grief, their marriage a secret. Meanwhile, Ross turns down a chance to stand for local public office in favor of a daring rescue mission into France, from which he may not return alive.
This may be one of the best seasons of Poldark. It has great passion and energy and the sweet, heart-wrenching romance of Drake and Morwenna balances out nicely against the more mature, angst-ridden relationship of Demelza and Ross. Marital relations in all its forms are a main point of the season, with each couple coming to a crisis of affection and doubt. George and Elizabeth struggle to determine who has greater strength in their power play, Demelza entertains the thought of paying Ross back with an affair of her own, and turbulence awaits Morwenna and Drake. George is an adept, skilled villain with a soft underbelly; a man I could not help but hate throughout even in his more vulnerable moments. The humor of filling his pond with frogs just to disrupt his daily routine plays out against some sorrowful moments of loss, and one plot twist confronts the audience with the horrors faced by women without choice in their marriages.
Still, I cannot much like Ross. His foolish, short-sighted mistakes cost everyone he knows dear. And this season also shows a diminished Demelza as she (possibly) sinks to his level. There's also a fair amount of uncomfortable (but never graphic) sexual implications -- of abuse between a married couple, of his foot fetishes, his adultery, and his unfortunate position as a local pastor. The ultimate hypocrite, he preaches morality from the pulpit and spends the rest of his week in lewd over-indulgences. It makes for a stomach-churning season, with promise of future horrors next year. I cannot say the series shifted my views of anyone this go-around, but it does develop further plots nicely; and the momentum carries from episode to episode, leaving us burning to see how a character's PTSD will turn out, if the Poldarks can salvage their marriage, if Elizabeth can save her son from boarding school, and ... oh, please stop putting frogs in the pond, Drake, before you get caught! The characters make disappointing choices, but they are all, inevitably, utterly human. And, that makes for good television.
Sexual Content:
A woman covers up her premarital indiscretion with lies after a man tells her to; a man has doubts about the birth of his son, after an older woman taunts him with the truth. A main character (maybe) commits adultery in the finale (she kisses and lays down on the beach with another man); discussions of infidelity, affairs, and love. A man rapes his wife (off-screen) and repeatedly makes sexual overtures to her (talk of 'doing her duty,' 'serving his needs,' etc); he has an affair with her sister, who becomes pregnant and blackmails him with the information to form a good marriage. A doctor tells the man he should 'abstain' for a time until his wife heals after childbirth. A cleric visits a prostitute and sucks on her toes. Some romantic scenes between married couples; mild innuendo.

Language:
Occasional profanities.

Violence:
Five men beat another man mercilessly and throw him in a ditch to die (they punch and kick him bloody and unconscious); war skirmishes, people are shot and killed in France while on a rescue mission; Ross has visions of his friends firing into a crowd / people being killed (shot). Other fisticuffs, threats of riots, etc.

Other:
The only two religious people have negative portrayals; one is a sexually promiscuous vicar (who uses whores until he has a wife, then forces her, then cheats on her), the other a rigid and colorless man. Aunt Agatha often reads tarot cards and lives by ill omens.