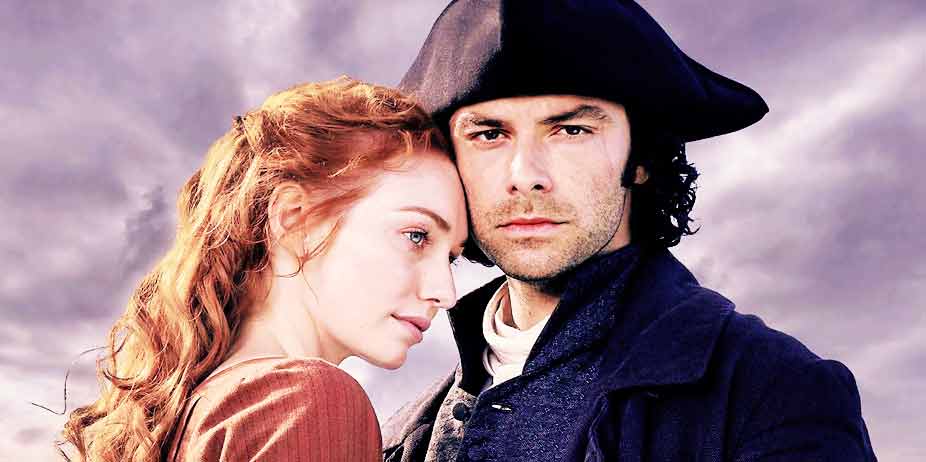 Poldark, Season Two (2016)
Though engaging and with a terrific heroine, I've always held Poldark at a distance. Though I haven't read the books, I'm enough aware of its plot twists to guard my heart from investing too much in its main relationship. The most controversial book in the series comes to the screen in season two, which shows sudden deaths, shifts in fortunes, and events that forever shape the Poldarks.
Ross (Aidan Turner) is on trial and may face the hangman. He readies himself for the noose, while praying for release. His wife, Demelza (Eleanor Tomlinson), takes matters into her own hands, determined to appeal to his judge for mercy. She doesn't realize Ross' enemy, George Warleggan (Jack Farthing) has set against him, bribed others to tell false truths, and intends to take Ross down in any way he can. With Francis' (Kyle Soller) fortunes under threat, neither can Elizabeth (Heida Reed) do anything to help him. But favor smiles upon the Poldarks; an old friend resurfaces, refuses to bear false witness, and lies to get his master off the hook. With a renewed sense of purpose, Ross returns home intent on making the mine profitable.
Still, an ill wind blows in from the coast... and against Demelza's wishes, Ross engages in further racketeering. The mine delivers a fresh, devastating disaster that shapes Elizabeth's life forever, and then presents them with an unexpected gift. Meanwhile, the local physician, Dwight (Luke Norris), finds himself at the beck and call of "spoiled" Caroline (Gabriella Wilde), who soon finds in him a kindred spirit. Unfortunately, however modern her standards, her uncle refuses the match on principle, forcing her to choose between her fortune and stability and the man she loves. From quarreling servants to daring night raids, to threats of imprisonment and murder, Poldark's second season is an engaging continuation of characters we know and love -- and a few we hate. George reaches new intolerable heights. Ross' impulsive decision threatens his marriage. Elizabeth makes a brutal choice, with unforeseen consequences, and Dwight must make a choice at midnight between true love or principle.
There's a lot to enjoy about this series, primarily in its leading cast. Eleanor Tomlinson continues to be a highlight, and her Demelza is such a likable, sympathetic character, it's hard to like Ross most of the time. It's set in a period not often filmed in English dramas, away from court in the hayfield countryside. It's a shame so many of the women wear their hair down (no, no!) and that Caroline's costumes are so ill-fitting, but overall it's not a bad look into the fashion and behaviors of the time. To much controversy, the script has altered or reduced thematic elements from the book that caused outrage upon their publication (namely, it takes a lighter stance on an ambiguous sexual encounter, which in the book was more like rape). The casual sexual attitudes aren't entirely within the period, but it doesn't shy away from showing the effect of adultery on the innocent parties. If you enjoyed the first season, the second is more of the same, with the promise of a third, to continue the antics, tragedies, and reconciliations of one very complicated family.

Sexual Content:
Married couples become affectionate / kiss one another, and climb into bed. A prostitute hints at her career, and that she's been with a woman's husband. A man sensuously helps his wife into stockings, which leads to kissing. A man bursts into a woman's room, shouts at her, then throws her on the bed and climbs on top of her. She fights him, briefly, then passionately kisses him; the next morning she's happy he was there. A woman accuses a man of infidelity and threatens to cheat on him in turn; she permits another man to kiss her, in her bedroom; she pushes him away, after much protesting; two other men try to sneak into her room; a man is told to take her virtue, to shame her husband. An unmarried couple "go upstairs" to his hotel room.

Language:
Scattered mild profanities.

Violence:
Scenes of violence on the beach; men are shot, pummeled, kicked in the face, etc. Threatens of hangings, some men hanged. Men scrap with one another, and one tries to burn another's face in the fire. A woman is shot at, and cuts her hand on the fence. Scenes of surgery and the doctor mending broken bones or forcing hip bones back into sockets. A man drowns; many men are buried and/or killed in a mine's collapse.

Other:
An old woman uses tarot cards to foretell her family's fortunes.