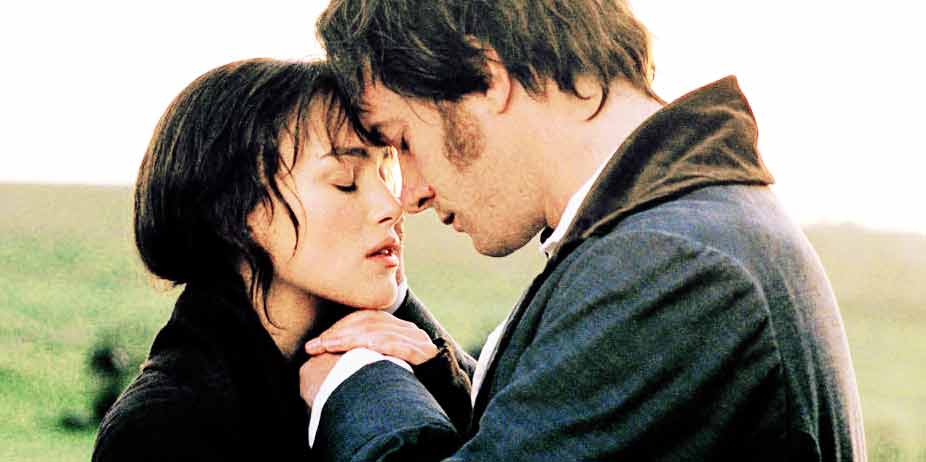 Pride and Prejudice (2005)
Reviewer: Stephanie Vale
Based on Jane Austen's most popular and beloved novel, Pride & Prejudice is the story of Elizabeth Bennet (Keira Knightley), one of five unmarried daughters, born to in a somewhat lowly gentry family in Regency England. When their father passes on someday, the estate will bypass the females and be inherited by their cousin, Mr. Collins (Tom Hollander). As such, Mrs. Bennet's (Brenda Blethyn) main motive in life is to marry off her five daughters, and as they haven't much of a dowry, she stoops to subterfuge and often goes beyond the lines of propriety, all in the hopes of securing good husbands for her daughters.
Mr. Bennet's (Donald Sutherland) main motive in life is to find peace & quiet in his female-majority household. Each of the daughters has a distinct personality: Jane (Rosamund Pike) is shy & beautiful, Mary (Talulah Riley) is quiet and socially inept, Kitty (Carey Mulligan) is silly and a bit out-of-control, her slightly-older sister Lydia (Jena Malone) is too apt to follow in Kitty's footsteps, and Elizabeth is, well, Elizabeth. She is a woman before her time: bright, beautiful, outgoing, a bit on the feminist side, knows how to handle herself in social situations, and wont take anything from anyone: she is often apt to speak her mind. When two rich & eligible bachelors (Mr. Bingley (Simon Woods) and Mr. Darcy (Matthew MacFadyen) enter the neighborhood, it sparks a whirlwind of events in the lives of each of the Bennet girls. Add to this mix Mr. Bingley's snobbish sister, Miss Caroline Bingley (Kelly Reilly), Elizabeth's best friend plain-jane Charlotte Lucas (Claudie Blakely), Darcys imperious aunt, Lady Catherine de Bourg (Judi Dench) and daughter, the regiments dastardly Mr. Wickham (Rupert Friend), and a few others, and you have an exciting tale of romance won and lost!
When I heard last year of this upcoming adaptation, I was excited: its incredibly difficult to fit a complex story of characters into a watchable movie for a mass audience, but if its done right, the result is breathtaking. I was lucky enough to last night be able to attend an advanced screening, and must say, apart from a few improvements I could suggest, from start to finish movie was incredibly well done! Keira was a good choice for Elizabeth. Matthew as Darcy ... all I can say is WOW! MacFadyen is a relative unknown, and his portrayal was gritty, determined, loveable, heartfelt and moving: I was completely convinced and fell in love (as other Colin Firth fans will likely do so shortly). The only somewhat puzzling casting choices were Rupert Friend as Wickham and Simon Woods as Mr. Bingley. They seemed to make Mr. Bingleys character incredibly nave and almost silly in this film, whereas the 1995 P&P chooses to make him only too apt to believe the best in everyone too easily influenced by others.
Mr. Wickham was only slightly likeable, and was not given enough screen time for us to truly believe why Elizabeth defended him so much. I thought they did an excellent job condensing the storyline into a theatrical movie-length version. I was mighty impressed with the screenwriter, and was not surprised to find out this morning that Emma Thompson (who wrote the screenplay for 1995s Sense & Sensibility, as well as giving an Oscar-winning performance as Elinor Dashwood) did an un-credited and unpaid rewrite of the new script: she is given a special thanks in the end credits. The cinematography was well done, with gorgeous scenes and imagery created, and the score is excellent. There is little that I would like to change overall: the final scene: it is a bit too modern-feeling, and maybe not as true to Jane Austen as it should be, one scene where Lizzie reads a letter, she is upset and crying, and I felt it was and not quite credible, and Lady Catherine's speech to Elizabeth I felt could have been stronger, with more umph behind it. The costumes work perfectly with the mood. At first I was a bit disappointed that they put Elizabeth in so much brown, but it works very well with the grit and feel of the film and there are times when you get some gorgeous white and light-colored costumes on the characters (including a beautiful snow-white dress on Elizabeth, with a lovely upswept hairdo).
There is one scene with a character walking through a room full of white, marble statues, mostly nude, and admiring them: mostly the shots show behinds, thought some breasts are shown as well. There is one use of a*s, and little else in the way of language. Dialogue alludes to the fact that an unmarried man and woman ran off together, not necessarily with any plans to get married, but it is eventually resolved. There is some cleavage shown, but nothing too drastic. All in all, the objectionable content is kept to a minimum. This beautifully-filmed and well-acted movie is well worth the time and effort of going to the movie theatre, in a day and age when there is often little that does such. The romance they created in a few scenes was beyond compare. For those of you who loved and enjoyed A&E and BBCs 1995 version, you are in for a treat: there are enough differences in the movies to make them both loveable, but enough similarities in dialogue that you don't feel you are missing anything. This new film is highly recommended: this movie will also end up being a must-add to any woman's DVD collection!