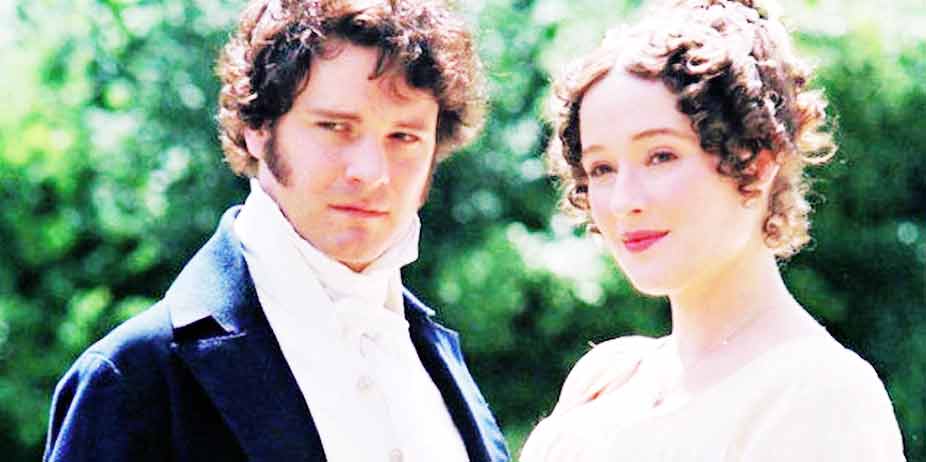 Pride and Prejudice (1995)
This is the miniseries by which all other Austen adaptations are measured. Clocking in at just over five hours in length, it's a long but surprisingly well-done production with strong leads, marvelous costuming, and a memorable score. It ranks third in my personal collection of favorite Austen films, but by no faults of its own. A charming, worthwhile tale, Pride & Prejudice deserves to be seen by any Anglophile... if only for the wit, the irony, and brilliant performances by Jennifer Ehle and Colin Firth.
Mrs. Bennet is determined to marry off all of her daughters, if not to wealth then to title. The elder two of her children, Jane (Susannah Harker) and Elizabeth (Jennifer Ehle), are well grounded and take after their sensible father. But the younger three, Mary, Kitty, and Lydia, are impulsive and silly. When Mr. Bingley (Crispin Bonham-Carter), a bachelor of considerable wealth and stature, moves into the neighborhood, Mrs. Bennet just knows one of her daughters will catch his eye. Unfortunately, accompanying Bingley is his friend and cynic, Mr. Darcy (Colin Firth), who believes any such match would be disastrous to Bingley's stature. Skeptical of lower class society, Darcy immediately makes an enemy of Lizzy (Elizabeth) when he shuns her at the ball.
Bingley takes an immediate, intense liking to Jane, who shyly returns his affections. In an attempt to further the romance, Mrs. Bennet sends her daughter to pay him and his sisters a call in the rain. Her plan works, and Jane is lain up ill with a chill, forced to stay at the house. In the meantime, Lizzy suspects that Mr. Darcy is trying to drive the match apart, with help from Bingley's sour-faced sisters. But her own problems are further complicated when a cousin comes seeking one of the girls' hands in marriage. His first choice is Jane, but as she is "almost spoken for," instead he chooses to woo Lizzy. The season has brought a regiment of soldiers into town. Among them is young Mr. Wickam (Adrian Lukis), a charming, kindly soldier who finds a soft listening ear in the form of Lizzy, for they find they have something in common: a loathing for Mr. Darcy. Wickam claims he has been sorely wronged by Darcy, and Lizzy, having nothing to base his claims against, is forced to believe his scandalous accusations.
Things only grow worse when Mr. Bingley leaves the countryside for no apparent reason, and without a word to Jane. Could Darcy be responsible? From the antics of Mr. Collins, the woeful would-be-suitor and his infatuation with the Lady Catherine, a noble third-cousin, to the wry quips between Mr. Darcy and Elizabeth, Pride & Prejudice is a complex delight. The triumph of Austen's works, it follows the exploits of her characters with great pleasure. A&E has taken pains to remain as close to the novel as possible, incorporating much of the dialogue and filming many of the scenes as Austen wrote them. It has one of her finest cast of characters: the silly Bennet sisters, sensible, shy Jane, the lovesick Mr. Bingley, and the withdrawn, aloof, and sometimes cynical Mr. Darcy.
Most of my friends deem this their favorite of all the adaptations, but my heart still belongs to Emma and Mr. Knightley. Even so, everyone in the house enjoyed the antics of the Bennets. Kept as close to the novel as it is, the miniseries is wonderful family viewing. There are a few minor abuses of Lydia, who's favorite saying is, "Oh, Lord!" with an irate giggle, but no profanity. A scandal is made over a member of the family who chooses to run off, unmarried, with a young man. The period gowns are very low at times, and the women all show varying amounts of cleavage. The appearance of gorgeous horses and carriages will please even the most trying animal lover, and the portrayal of letters and recurring thoughts is done beautifully. As is not generally found in British films, the sound is good, the dialog easy to understand, and the costuming and hair done beautifully. The country houses are lavish and the gardens exquisite. All in all, a lovely film, and well worth your time.