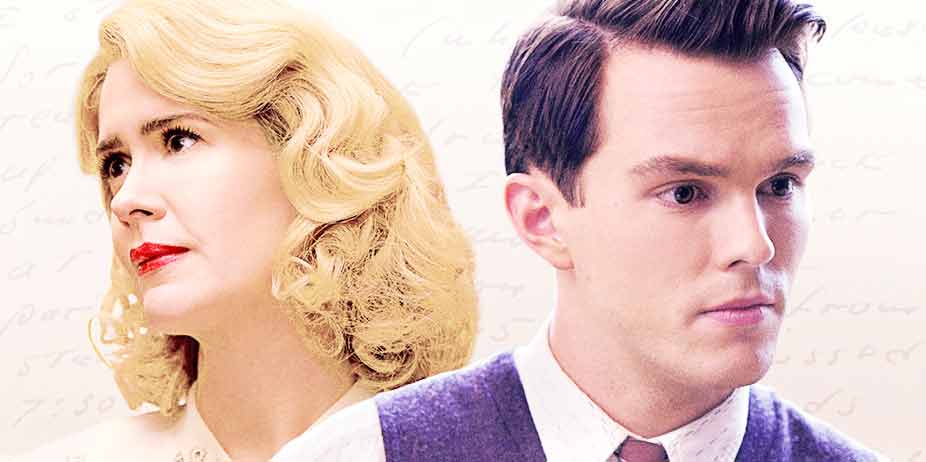 Rebel in the Rye (2017)
Reviewer: Charity Bishop
Biographical stories about writers provide a challenge to filmmakers, since they need to present the author accurately, capture the essence of their work, and figure out how to make a cohesive 'story' from the random aspects of their lives. Rebel in the Rye captures the youthful cynicism, passion, and arrogance of J.D. Salinger.
Jerry Salinger (Nicholas Hoult) wants to become a writer, a profession his father (Victor Garber) assures him will never earn him a living, but nonetheless he abandons his 'boring' lifestyle to attend college, where he meets an eccentric visionary professor, Whitt Burnett (Kevin Spacey). Whitt tells him his stories have potential, but drown beneath the 'author's voice' -- his arrogance draws the audience's attention away from his characters, to his overall tone. As Jerry buckles down and improves his writing, a world war looms on the horizon.
One night, after a disappointment in the social sphere, Jerry stumbles across a character so memorable, Whitt says he deserves his own novel. Not another short story, not a collection of short stories, but a book, which will eventually become The Catcher in the Rye as Jerry goes off to war, returns home a hardened cynic, and his literary achievements propel him into fame.
Most biopics about male authors have something in common: their utter ego, their disregard for the people who got them to the top, their scorn for anyone 'editing their perfect words,' and often, a story without a happy ending, due to their refusal to change. J.D. Salinger is no exception. Many people adore his book; as an editor, I had to put it down halfway through. The film explains that he allowed no changes to be made, and did no massive editing -- and it shows in the novel. He's not a likable character, either -- a young man resentful of his own success, bitter toward the man who pushed him to succeed, and deeply cynical about everything. In filmmaking terms, it's an excellent film, about the passion and frustration that comes from being a writer, the dreams that push us forward, and how if we work hard enough, our ideas can become pages in books which people might even read. Spacey is a scene-stealer, his professor so droll, so utterly likable, that you can't keep your eyes off him, and you wait around for him to reappear with a dramatic public reading or gentle appeal. Some of their scenes together are stand-out perfection, and other small historical tidbits raised my brows in surprise (keep an eye out for his girlfriend, Oona... I should have known where that was headed!).
The costumes and performances are stellar, though the film does get a little long in the teeth toward the end. I was glad to see themes of reconciliation included. Jerry also learns that success does not mean happiness, even if he would have been better served allowing others to critique and edit his book. If you loved Catcher in the Rye, this is an interesting look at its origins, and the mind behind it. If you didn't, it's still an insightful exploration of the rebellious mentality that made the book famous.
Sexual Content:
References to wanting to 'get laid' and find women.

Language:
An f-word scrawled on a bathroom mirror; about 8 uses of GD, several abuses of Jesus' name, insults and profanities; uses of the word s**t.

Violence:
Flashbacks into a battle zone during the war.
Other:
None.