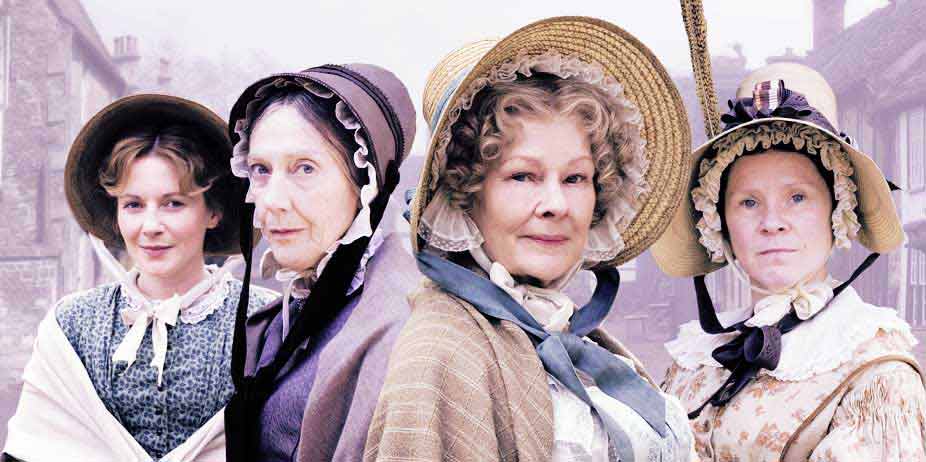 Return to Cranford (2008)

Based on the short stories of Elizabeth Gaskell, Return to Cranford provides the same sense of humor and sadness as the original miniseries but is not as memorable.
Local fears that the railroad will bring unwanted change to the small town of Cranford has the female inhabitants relieved that Lady Ludlow is standing firm in her resolve not to sell a portion of her property to the railway. Her decision has left its manager Captain Brown in distress as he attempts without success to discern another route that will not cost them a fortune. This unexpected delay has resident caused carpenter Jem Hearne to lose most of his earnings and when a personal tragedy impacts his life, he chooses to leave Cranford. His departure greatly saddens Miss Matty (Judi Dench) but her attention is soon diverted with the return of a wealthy widower, Mr. Buxton (Jonathan Pryce), and his handsome, well-educated son, William. Though his father wishes him to pursue politics, William is much more interested in business -- and in particular, the railroad. Suspecting William would make an excellent spouse for sweet Peggy Bell, Miss Matty does everything in her power to play matchmaker, not realizing Mr. Buxton might not approve of such an "unequal" match.
In the meantime, Peggy's ambitious older brother tries his hand at business and the death of Lady Ludlow brings her son Septimus into Cranford. Upon learning the terms of the agreement between his mother and young Harry Gregson, Septimus schemes how best to rob Harry of his inheritance, leaving only the determined Miss Galindo standing in his way. Other misadventures including Miss Pole's attempts to care for an unruly parrot, the re-opening of the local celebration hall, and even the appearance of a magician (played by Tim Curry) fill out the rest of the series, which is charming but lacks the continuity of the original. Several characters have been replaced with different actors and it is apparent that the writers tried to cram too many stories into a too short amount of time. The result is that some plot lines never go anywhere and others transpire rapidly. Among these truncated storylines are a romance between Captain Brown and a newcomer, and the arrival of Lord Septimus. He is set up as a villain and then simply vanishes, severely lessening his impact. However, the progress of the railroad is woven throughout, providing some wonderful character moments as well as a sense of impending doom. I think my greatest disappointment was the re-casting and redevelopment of Matty's brother -- in the original, he arrives in town as a well-groomed, seemingly wealthy individual, and here he is somewhat scatterbrained and messy.
There are also three significant deaths, two of them within the first hour; one of them in particular seems rather pointless and melancholy. (The second is somewhat expected and the third transpires with a character no one much likes.) One might assume I did not enjoy it and that is far from the truth -- it's delightful in spite of its minor failings and I loved that much of the plot revolved around Harry Gregson and his relationship with Miss Galindo. She was one of my favorite figures from the miniseries and to see her undertaking a more motherly, protective role with Harry is wonderful. There are also many small but meaningful scenes, such as when a surprise for Miss Matty pops out of a magician's wardrobe, or when Harry assures Miss Galindo that she was one of Mr. Carter's favorite people -- and one of only two individuals he ever smiled at. Minor humorous incidents transpire, from a dog deciding it wants to play dead so that it will not have to continue its walk, to Miss Pole mistaking a hoop skirt pattern with a bird cage.
One of its achievements is that it can make you laugh one moment (the snubbing of the Cranford ladies toward a friend whom they believe has mistreated them is hilarious to behold) and get a bit misty-eyed the next. There is nothing objectionable, but thematic deaths and a railroad accident do transpire -- we see a woman covered in blood from childbirth; someone has cigar burns on their back; a train derails, badly injuring and killing people; there is an explosion that leads to a death; blood appears with various injuries and cuts. It's implied a cow is killed in an a collision. There is a magic show but none of it is portrayed as anything more than an illusion. If you found the original wonderful then you will enjoy this one as well. I was sorry that Mary's plot was so minimal and that various characters did not return, but but found it a charming reason to Return to Cranford.