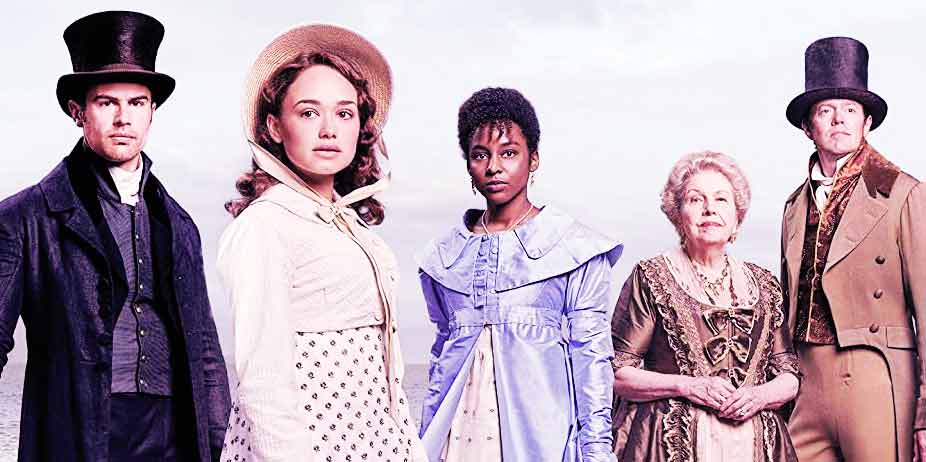 Sanditon, Season One (2019)
Jane Austen's death left her last novel, Sanditon, unfinished... almost before it had begun. She had barely sketched out her characters, and introduced the probable romantic heroine when her ill health forced her to abandon the manuscript. Andrew Davies, who has adapted many things for the BBC, has now continued the story but... not finished it, at least in a manner that pleased its absorbed fans.
When young Charlotte (Rose Williams) witnesses a wheel come off a coach and overturn it in the lane outside her simple country house, she makes two acquaintances that will forever change her life. Tom Parker (Kris Marshall) and his wife are on their way to Tom's brainchild, the seaside resort of Sanditon. Tom hopes it will be comparable to Bath, but is struggling to bring people to the half-finished town. He relies heavily on his older brother Sidney (Theo James) to bring his illustrious London friends to the first annual ball. Eager to have fresh, fair faces at his resort, he invites Charlotte along.
She arrives in excitement, and forms some strong opinions of Tom and the rest of the Parker family... that promptly earn her the scorn, offense, and disapproval of Sidney, an intolerable, judgmental bore. And when she becomes further entangled with his ward, Miss Lamb (Crystal Clarke), Charlotte risks even more of his dislike. Before long, romantic entanglements, scandals, and the tyrannical administrations of the town's chief financier, Lady Denhem (Anne Reid), rock the small community.
This is more Andrew Davies than Jane Austen, though he hasn't strayed too far into originality from her usual formula. Sidney is a less-likable Mr. Darcy, who manages to be a complete jerk for five episodes before he makes a noble turn-around. Charlotte is another Elizabeth Bennett, but more naive and less intuitive in her perceptions. His originality comes from adding semi-incest (they aren't actually blood related), sexual manipulations and trysts, and some unsavory habits to Sidney, whom it is implied has partaken of a brothel's pleasures in the not-so-distant past. Something I think Miss Austen, with her strong moral themes, might disapprove of. Despite that, he draws some memorable characters. I started out disliking the lofty, haughty Esther (Charlotte Spencer) and came to like her, and he does give some of the characters a much-deserved comeuppance. He forces his heroes to face their flaws, admit to them, and strive to better themselves. And he never fully shames Charlotte while doing it.
The costumes are beautiful. The setting is familiar yet unique. It's fun to spend some time with a batch of people we have not seen portrayed twelve dozen times. (I love Jane Austen, but do we really need a new Pride & Prejudice every decade?) The cast is really quite good. Although to be honest, I found the first half a bit dull. The plot picks up around the midway point, and Sidney becomes less intolerable. Although I can't help but think that Jane wouldn't like her stories sexed up just because Davies "writes what I like to watch, and that means sex."
Sexual Content
A woman sees another woman, from a distance, giving a man a hand job (her hand moves, his head leans back in ecstasy). This same man makes a sexually derogatory innuendo about it to his stepsister, who is appalled. A man and a woman tear at one another's clothes and have sex on the floor (briefly shown, clothed, but movement and panting). Several occasions of sexual innuendo / vulgar sexual references. An implication that a man has been in a brothel before. A woman is abducted and almost forced to marry a man she does not know. A man and woman are romantically involved and kiss who are step-siblings. A woman sees a man fully naked; the camera lingers on his bare backside. Another two shots of men running naked into the sea.

Language:
Several uses of "bitch" and a few mild profanities, uses of "ass" (as donkeys and backsides).

Violence:
Fisticuffs. A spoken of abdication. A fire kills someone (off-screen).
Other:
Various characters exhibits racist attitudes rampant at the time.