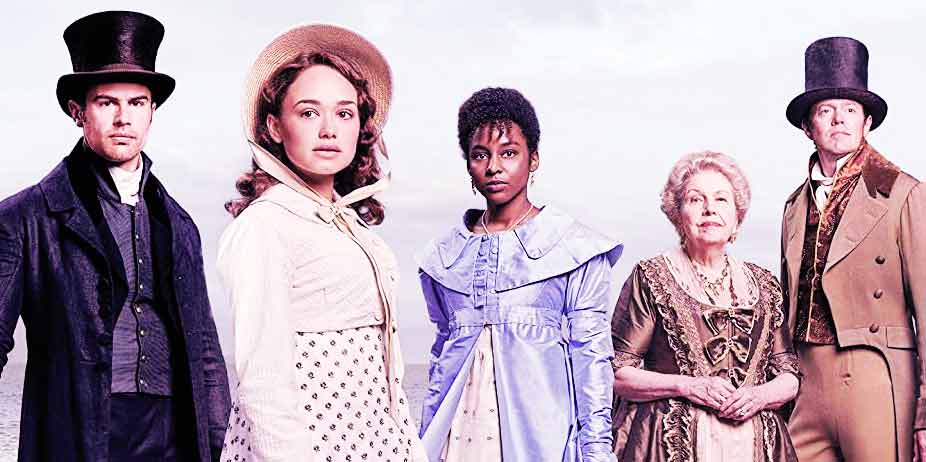 Sanditon, Season Three (2023)
Sanditon has come a long way from its tawdry first season and in its conclusion, it gives the heroine her long-awaited romantic conclusion, pairs off just about everyone else, introduces a few terrific new characters, and… isn't quite what Jane Austen had in mind, but is sweet nonetheless.
Much has transpired since Charlotte Heywood (Rose Williams) went home to get better situated for her upcoming nuptials to a sweet farm boy, Ralph. Her friend Georgiana Lamb (Crystal Clarke) is about to celebrate her birthday and the coming into of her inheritance, an event that brings Charlotte back to the small seaside resort of Sanditon. But neither girl feels all that happy, since Georgina must fend off an almost constant stream of fortune hunters, and Charlotte is actually secretly in love with her former employer, Alexander Colbourne (Ben Loyd-Hughes). He and his two wards return at the same time to tend family affairs, providing for an awkward reunion, because Alexander refuses to admit even to himself that he has feelings for her. But everyone else is aware of it, including his niece, who schemes to get them together while she seeks a husband of her own. She turns her attention in a scandalous direction.

The Parkers are seeking more financial investors to build the town and resurrect a ghost from Lady Denham (Anne Reid)'s past. And when a terrible announcement interrupts Georgiana's celebrations, her fortune hangs in the balance. But the crisis brings fresh and energetic new faces to Sanditon, including a tearful and happy reunion between... well, you will just need to watch it and find out. But I liked the emphasis on Georgiana's story that unfolded over the course of eight episodes. A rich black woman in Regency society, often treated with disdain and shamed for having "slave" ancestors, but who gets the last laugh (and a perfect match!). The writers seemed insistent on giving us a happy ending for everyone involved, even if they had to give us a fair amount of angst first. Charlotte is, as always, wonderful, but they improved Alexander, to make him worthy of her. I only had a problem with one thing, script-wise, and that proved the unreliable motivations of one of the villains. I was never sure whether to believe him genuine or not, and even when he "revealed" his plan, I didn't completely accept it.
The setting is lovely and there are some wonderful scenes, among them a magical ballroom decorated for a party, and a carriage race on the beach. The women mostly wear their hair up (the first season had an egregious lack of hair pins) and the gowns are absolutely gorgeous. I enjoyed it enough to want to watch it again. And yet, like season one, there are things here Jane would not write about, including a gay romance between two of the male characters, and their families not being entirely unaware of it. Beyond that, some of the reasons to keep characters apart are frustrating and contrived. But Charlotte has always been a noble girl who wants to do the right thing, so her refusal to break Ralph's heart to follow her own is admirable. And while there's perils, a girl who runs away with a man and jeopardizes her reputations, an intense courtroom scene, and more than one emotional breakdown, the series ensures that everyone finds their perfect match and ends on a high note.
Sexual Content
Kissing, cleavage in period gowns. A girl runs away with a man and her guardian fears she may have "lost her virtue," she says the man did nothing of the sort and would never, to which he replies that he fully intended to take it. Two male characters are revealed to be gay, and have discreet conversations about it (they prefer "grouse" to "hen"); they plan to go away together to a place where they can "live in secret." In archaistic fashion, a woman who finds out about them has no moral scruples about it and is accepting of their lifestyle.

Language:
None.

Violence:
None, though a woman becomes deathly ill for a while.
Other:
Various characters exhibit the racist attitudes rampant at the time.