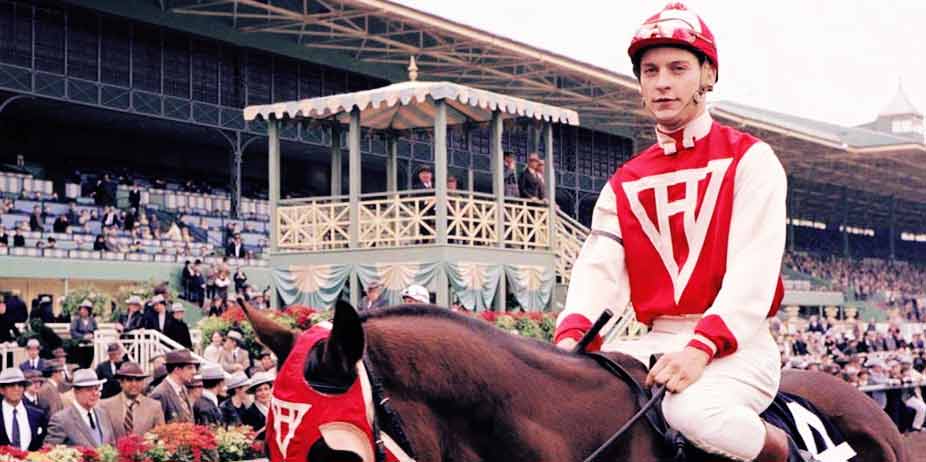 Seabiscuit (2003)
Reviewer: Stephanie Vale
"And you could get any color you wanted, so long as it was black," the immortalized words of Henry Ford were well-known across America in the year 1910, just when horse-drawn buggies were becoming obsolete and cars were taking over the roads. America was at the dawn of a new age, a new era, where the slow-paced days of yesterday were about to be replaced with a fast-paced, busy modern world. The changes that came would later be called both wonderful and terrible, but there was nothing anyone could do to slow down the pace of the coming era: America was changing and changing fast.
Jump forward fifteen years, to Charles Howard (Jeff Bridges) and his wife hosting a dinner party for their friends and associates, celebrating the success of his business: Buick cars. Having arrived in San Francisco fifteen years earlier with 21 cents in his pocket and nothing but a dream, Charles was now responsible for building cars that went so fast, it put all others out there to shame. But Charles was not prepared for the tragedies that were about to come into his life: the stock market crash and the Great Depression which would take their toll on his business, his marriage and America's heart, and his only son killed in a tragic car accident. His wife decides she can't take it anymore, and leaves him; devastated and heart-broken, Charles locks up his Ridgewood ranch and leaves.
At a time when America was at its most downtrodden, people were looking for something to do, something to believe in: at first they turned to liquor and gambling (which being outlawed at this time in America, the "border town" of Tiahuana, Mexico sprung up). Charles Howard lets his friends talk him into going down there with them to take his mind off his troubles; there he meets the lovely Marcella Isabella (Elizabeth Banks) at the racetrack. Soon Charles decides that he wants to get involved in horse racing, and begins looking for a trainer. When he spots Tom Smith (a washed-up cowboy and trainer, played by Chris Cooper) healing a "good-for-nothing" white horse (who had a broken leg he had earlier saved from being "put down") Charles is intrigued. Coming upon Chris at his campfire one evening, he asks him why he is wasting time on a horse that will never race again. Tom replies, "You just don't throw a whole life away, just cause it's banged up a bit." Charles decides to hire him as his trainer: next stop, a racehorse.
Tom first saw Seabiscuit in the early morning fog as the horse was being led down the racetrack: He looked the horse right in the eyes, and the horse looked right back through him, challenging him. Tom knew then and there that this feisty little colt had heart; he convinced Charles and Marcella to purchase the spirited Seabiscuit (who was sold to them for a rock-bottom price, as he had been tried before and failed as a racehorse). Now all Tom had to do was find a jockey who was crazy enough to ride the restless and strong-willed horse who had never won a race before. Enter Johnny "Red" Pollard (Tobey McGuire) who has been on his own since his parents "gave him up" long ago in the midst of the Great Depression; since then, he has made a living caring for horses, boxing, and jockeying. He practically starves himself to stay under 115 pounds (he is still a bit too tall to be an ideal jockey), so he can continue to convince owners to hire him to ride their horses.
When Tom first sees Red, the young man is fighting off 4 or 5 guys at once, showing spirit, lack of fear, and sheer determination (despite the fact that he is smaller than they are and there are many more of them); Seabiscuit is doing the same across the way, fighting off the 4 or 5 men who are trying to hold him still and calm him. Tom has a gut feeling these two misfits are born to be a pair: and he was right!! The first race Seabisuit and Red enter together, they're placed at 70-1 odds, with the racetrack radio personality Tick-Tock McGlaughlin as their biggest critic. They lose the race after Red becomes incensed when another jockey cuts him off, and lets Seabiscuit run too fast too early. Soon though, the lively Seabiscuit is selling out the infield (the cheap seats for "common" folk, bought for a quarter apiece).
The people of America begin to call for a match race: the great racehorse from the East, War Admiral, versus the great racehorse of the West, Seabiscuit. Mr. Samuel Riddle, War Admiral's owner, however, refuses to run his horse against Seabiscuit, claiming, "You wouldn't put Jack Dempsey in the ring with a middleweight." America had found a new heart and a new something to believe in: a little horse with a big heart named Seabiscuit. Gambling (betting on horse races), drinking, smoking, and talk about women for "companionship" pepper the script. There's a short bar scene where a man drinks tequila upside down off of a woman's breasts. There's also an unfortunate amount of language in this film: general profanity, four abuses of Jesus' name, and nine of GD, along with quite a few uses of sh*t and son of a b*tch. There is one suggestive scene where a prostitute undresses (nothing much is shown) for Red in his hotel room, and there is a short conversation about the fact that she is a hired prostitute. Other than that, the content is mainly intense and sometimes violent horseracing.
This inspiring story (adapted from the book written by Lauren Hillenbrand), based on real events and real people, is the kind that makes you want to stand up and cheer in the theatre. In fact, both times I saw this movie, people did just that: stood up and cheered at the end! A little horse named Seabiscuit and a big jockey named Red, who both had such a huge amount of heart, will make you want to laugh and cry as they struggle against the odds, to make the impossible possible. A true-life story that inspired a nation and achieved the unthinkable: when America needed a hero most, Seabiscuit and Red Pollard answered the call.