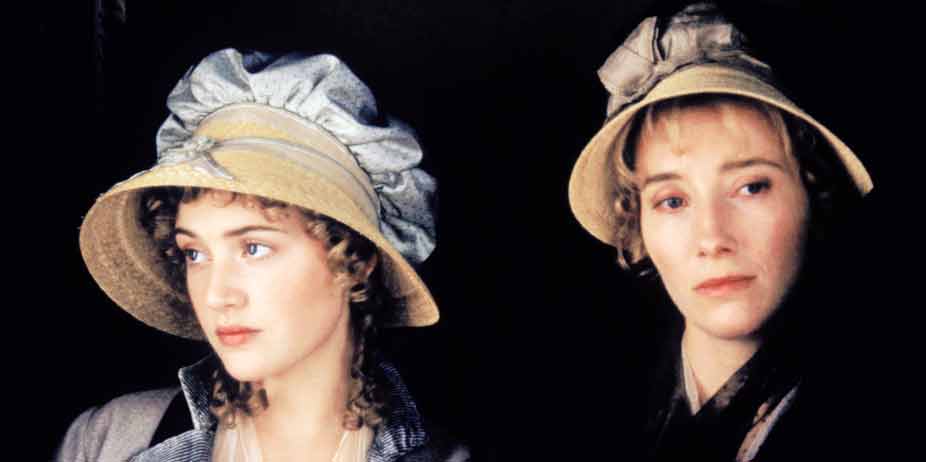 Sense and Sensibility (1995)
Rarely is there such a beautiful contrast between superficial "fiery" love and the long-lasting adoration marriage is built on than in Sense & Sensibility. Many will consider it a mere story but it is more... it is a subtle but profound glimpse into two aspects of love: the gentle, compelling, steadily-growing love the Bible talks about and the passionate instantaneous "love at first sight" that can be so misleading.
The story follows the lives and loves of two sisters, Elinor (Emma Thompson) and Marianne Dashwood (Kate Winslet). Their father has died a
nd his estate has been entailed away, leaving the sisters (including the youngest, Margaret) and their mother to live on their half-brother's charity. Elinor knows they will soon be forced to move away or live in the contempt of their brother's disagreeable wife Fanny; thus she begins a search for "suitable" accommodations. Mrs. Dashwood is not eager to go, particularly once Edward Ferrars (Hugh Grant), Fanny's elder brother, comes to live with them and seems to form an attachment to Elinor. Marriage prospects for such penniless young ladies such as themselves are few and far between. But they cannot impose upon John and Fanny forever and their manipulative hostess, viewing the prospect of impending marriage as a "sorry state," writes to her mother in London and the woman promptly demands Edward's return.
The Dashwoods accept the invitation of their cousin, Sir John Middleton, when it arrives and are swiftly situated in the countryside. Settling easily into their new home and finding nothing wanting but in society (Sir John and his mother-in-law can be intolerable), the sisters resign themselves to life upon the moors. But excitement and romance is swift upon the wind, for Marianne has caught the eye of the much older but kindly Colonel Brandon (Alan Rickman), a long time friend of Sir John's. Disinterested in his gentle interest, her attentions are drawn to a dashing hero, Willoughby (Greg Wise), who came upon her with a twisted ankle in a rainstorm and brought her home. Elinor is brooding the loss of Edward. Just when Marianne and Willoughby's relationship seems to be coming to a climax, he suddenly announces he's leaving. Marianne is heartbroken and shows every symptom of it that she can think of. Mrs. Dashwood is almost as unhappy as Marianne, out of sympathy.
Elinor does her best to take care of both of them and keep things going, but she soon receives a blow of her own. Their cousins have some visitors. One of them, a Miss Lucy Steele, informs Elinor that she has heard all about her and has been wanting to meet her for a long time. Elinor can't imagine any mutual acquaintances they might have, but that puzzle is solved when Lucy confides that she has been engaged to Edward Ferrars for five years. So now both sisters have reason to doubt the sincerity of their "suitors." Marianne only has her impressions of Willoughby's manner, but that's the only sort of evidence she'd accept anyway. Elinor has more concrete facts to establish Edward's seeming insincerity, yet neither of the sisters will accept that they have been mistaken in their affections. If you haven't seen this movie, you will have to watch it to find out whether they are right or not.I don't have too much to say against the movie version. Emma Thompson got an Academy Award for her adaptation, and I really think she deserved it. She did take out several characters and scenes from the book that I liked, but she didn't change any of the essentials. The movie is an improvement over the book in many ways just because of the things that are made possible with pictures. The way that Edward and Elinor's relationship is shown developing is the biggest improvement over the book. I also liked Marianne much better in the movie.
The actors were well chosen (though Edward is better looking than he's supposed to be) and the scenes and costumes are beautiful. (Though some of Elinor's "better" gowns were pretty low and embarrassing. I guess that would be my only problem with the film.) It's rated PG for "mild thematic elements," but there's nothing objectionable in it besides the low gowns; one wonders if they're going to stay up or not!