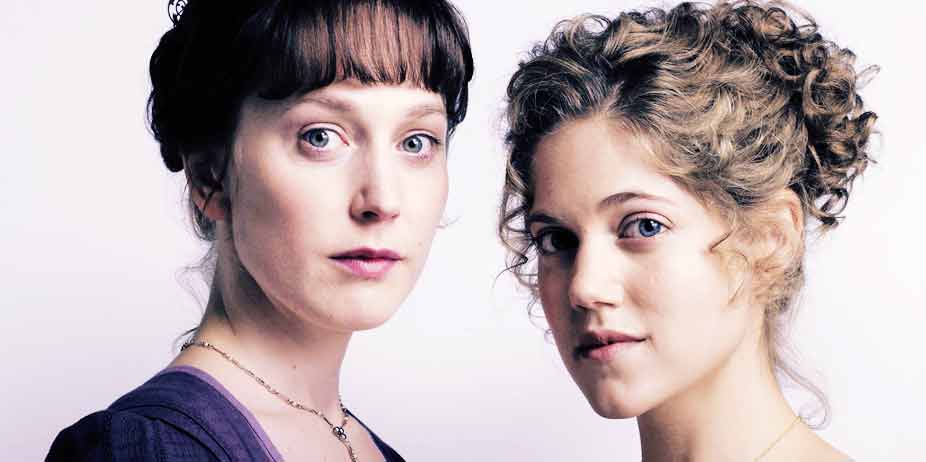 Sense and Sensibility (2008)
When I learned the BBC was producing a new version of this novel, I asked the reason why, since the version starring Emma Thompson and Kate Winslet of a few years ago is perfection. Having seen this new adaptation, however, I have changed my opinion entirely and recommend it as the definitive version.
Family estates cannot be divided between the women of the household, and so when their father dies, Marianne (Charity Wakefield), Elinor (Hattie Morahan), and Margaret (Lucy Boynton) are left to depend upon the generosity of their half brother, John (Mark Gatiss). He intends to care for them and their mother well until his conniving and manipulative wife Fanny convinces him to keep much of the estate for himself. Moving into their magnificent house and assuming command of the servants, the furniture, and the silver, Fanny only frustrates them further when she announces that her brother Edward (Dan Stevens) intends to come for an extended visit. Much to their surprise and delight, Edward is well spoken and polite, a direct contrast to his sister's endlessly mercenary scheming. It does not take him long to gain affection for the quiet and sensible Elinor, but their poverty demands their removal to the country and a cottage let to them by their mother's cousin, Sir John Middleton (Mark Williams).
Welcomed in the small community near the seaside, Margaret is more than content to gather shells and daydream while Marianne hones her skills on the pianoforte and Elinor longs for some indication that Edward intends to marry her. At dinner one evening with their cousin, they happen to meet Colonel Brandon (David Morrissey), a man whose broken heart begins to mend as he shows a certain fondness for Marianne. She is quietly approving of his attentions, but her romantic nature is stirred much more passionately by the poetic Willoughby (Dominic Cooper), who may not be all he seems.
When I heard of the casting of Morrissey, I thought he would be all wrong for the role of Brandon. This is not the first time I have been mistaken, for he is wonderfully and quietly romantic while showing occasional much-needed bouts of frustration and even anger. He plays well opposite Charity Wakefield, whose Marianne is a little more sensible than I anticipated (but still shows her immaturity through various willful actions). But what enraptured me the most was actually the relationship between Elinor and Edward, important in the book but often bland on film. Here, there is a wonderful intensity between them, one of attraction and longing but equal respect for one another as human beings. Elinor and Edward can speak intelligently together and it does not take long for the audience to catch on, particularly with such a memorable first meeting. Elinor is quiet and contained, but here we can see much more going on beneath the surface.
The costuming is beautiful and the music is beyond wonderful. It's hauntingly befitting of their circumstances, with a marvelous romantic undertone. Oh, and have I mentioned the swordfight? What, you cannot remember one in the story? Well, it's there now! There were subtle changes made from the book, but I did not mind them, and for the most part it is clean but one scene does bear mentioning: the film opens with a young woman being seduced by a lover. There is nothing more than kissing and gentle caressing going on (and the undoing of her laces) but the camera fades away before it progresses too far. Some people have indicated outrage at this opening scene, but if you know what happens later in the storyline it makes a lot of sense and paints one of the characters in an entirely new light. It is a little sensual but not nearly as graphic as it could have been and does play an important role in the film's second half. Indeed, it helps you to understand the motivations behind a lot of the actions certain men take toward one another. If you have very young sisters, you may want to come in at the opening credits, but in all other respects this adaptation is nothing short of magnificent.