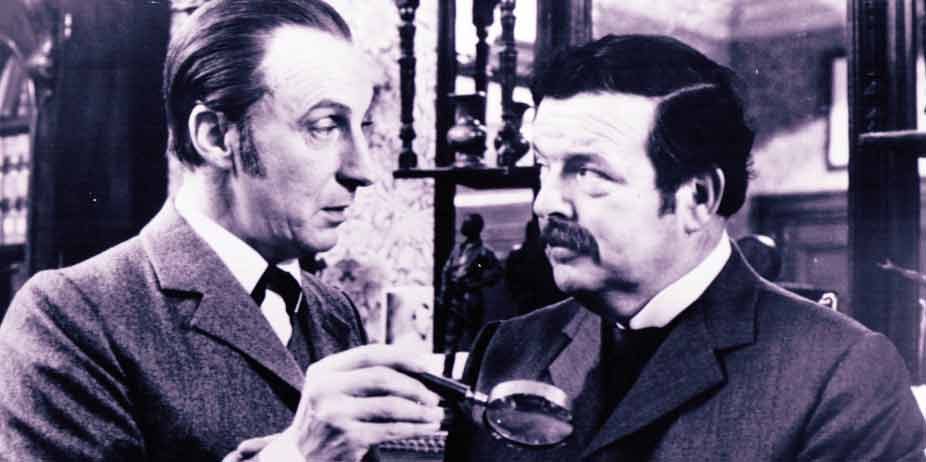 The Sign of Four (1983)
There have been many adaptations of The Sign of Four. Aside from The Hound of the Baskervilles, it is one of Doyle's most highly respected works. No adaptation follows implicitly, but this film does well at blending notable passages and dialogue from the book in with adventurous romps through London, and even to a carnival where death seems the main feature. Unlike other adaptations, rather than attempting to solve the case ourselves, we watch the villain at work and follow along as Holmes attempts to piece together the sparse clues.
On a cold and wet winter night in London a gray-haired older gentlemen dines with his two sons. Grievously ill and on the brink of collapse, he has brought them together to reveal a secret that must not be taken with him to the grave. While employed in Her Majesty's army in his youth, he and another man, Captain Morstan, came into the possession of a vast fortune in jewels. Responsible for the death of Morstan in a violent temper, he desires the man's daughter Mary (Cherie Lunghi) to have her rightful third of the treasure. Having glimpse a horrendous face leering in at him from the window, the old man is struck by a violent fit, barely able to whisper where the jewels have been kept these many long years. The brothers, Thaddeus and Bartholomew, share opposite points of view: Bartholomew is in favor of diving the plunder in half and living comfortably, but Thaddeus believes Mary deserves her third.
When they return from the attic bearing the plunder, their father is dead of a heart attack. And on his chest lies a message with 'the sign of four' written on it. Sherlock Holmes (Ian Richardson) is working tirelessly in London on a monograph that reveals the identifiable differences in cigar ash. He is delighted when a case is presented to him. A lovely young woman named Mary Morstan has come seeking his aid, for she has been sent anonymously an extremely valuable jewel, and a request to bring herself and two friends to a meeting place the following day. Fascinated by the curious elements of the case, Holmes agrees... and strikes out upon one of his most chilling cases. Although the film takes great liberties in making the storyline unique and exciting, it still manages to convey the very heart of what Doyle intended. Unless you're a die-hard fan of the books, you won't mind some of the alterations which include a hair-raising climax in a carnival and turning Tonga, the little native, into a savage with a thirst for blood.
Richardson is an excellent Holmes; he portrays him with just the right amount of light humor and intelligence to make him enthralling even while in the background. He and David Healey, who plays Watson, manage to keep away from the clichés that trip up many other adaptations. Holmes does appear in his deerstalker and cape, but it's not overdone. He also does an excellent job of reacting. When Mary clings to him after a particularly jarring series of events, the uncomfortable Holmes untangles himself and insists on not making a fuss. ("I'm quite all right! Please, pull yourself together, Miss Morstan!") One scene I happen to particularly like is when Inspector Layton is brought to the crime scene. Watching him brush off Holmes' logical conclusions while our favorite sleuth is attempting not to laugh or groan at his absurdities is nothing less than delightful. I also appreciated witnessing the scene left out in many adaptations... the thrilling chase of the Aurora on the Thames. True to form, this film is not for children. While not as violent as the second in the series, it does provide some moments of horror. Raw meat is thrown to a cannibalistic native in a carnival freak show. Tonga shoots poisoned darts and once bites a man on the neck, killing him. We witness several people staggering around after being poisoned, two dead bodies, and a pre-ending scene that involves a harrowing attack on Mary Morstan. There are also dark and gloomy atmospheres, and an amusing ride through a carnival haunted house. The violence calls for caution when showing to younger viewers but for older ones, the game's afoot.