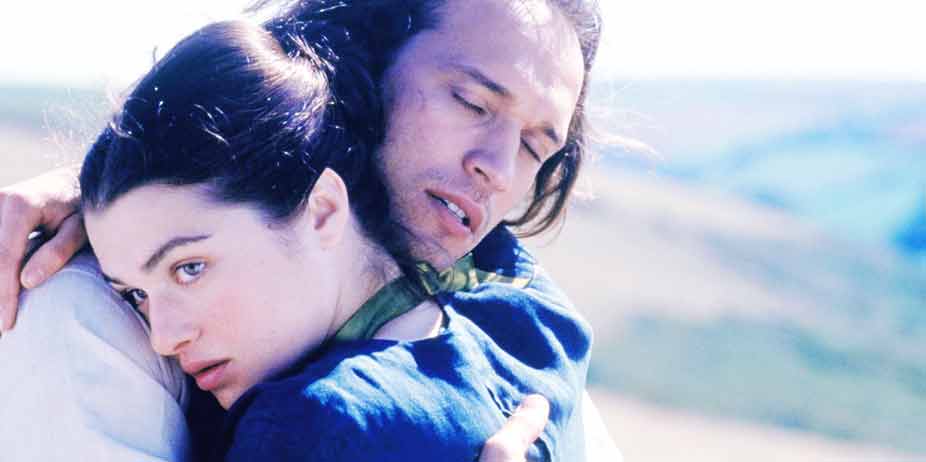 Swept from the Sea (1997)
Few romances are as touching or memorable as this one. Even with its few flaws, Swept from the Sea is a brand of film not made anymore. It is a touching romance that tugs the heartstrings. It is a tragic tale of persecution and hatred. And it is also a bittersweet glimpse into the human heart and its darker side... to hate, to defy, to look only at what lays on the surface rather than what lies beneath. Amy Foster (Rachel Weiz), our heroine, is a direct contrast to normality, for she understands deep human affection and hatred despite the fact that she is thought to be "simple-minded" by the villagers of the small British town of Cornwall in the early nineteenth century.
When an immigrant ship bound for the Americas is assaulted by a violent and devastating storm, the passengers all lost save for one, a young Russian named Yanko (Vincent Perez) who was thrown overboard some time before the timbers broke. Bedraggled, wet, and hungry, he stumbles into the farmyard of Mr. and Mrs. Swaffer and their servant girl Amy. Believing the stranger to be a madman, Swaffer locks him away in the shed and sends for the nearest constable. However, Amy isn't convinced of the man's guilt and pays a gentle visit to the man, washing away the grime and offering him food. Shortly thereafter, the town doctor Kennedy (Ian McKellen) realizes that Yanko is the sole survivor of the shipwreck and takes him beneath his wing, teaching him English in return for the young man's bettering the doctor's chess game. Even the long time away from Amy, the Russian cannot forget her and soon pays a visit to thank her for her kindness... even though he does not speak more than a few words of English.
Despite the veiled threats and warnings of the villagers, as well as Amy's parents, a bond grows between them, and Yanko begins to understand Amy's world and her love for the sea, which has brought her the greatest gift of all... a soul mate. But can their love withstand the hate and superstition forced upon them? Or will it break as a ship upon the rocks, swept in with the tide? No storm is as violent as the one they will face together and will ultimately shape their lives. At first glance, this films seems to be a warily packaged and sordid romance, but as Amy realizes, one must look at what lies beneath. With a breathtaking backdrop, deep character development, a haunting score, and captivating chemistry, it's a wonderfully packaged lesson in love, Christ-like actions, and forgiveness. Most of all, it's fairly clean. I was especially pleased that Yanko and Amy refrained from intimacy until after marriage, and even then the scene was not overdone nor especially suggestive.
The Christian symbolism is especially touching. Amy serves Yanko humbly without even knowing him, showing gentleness of character, and a willingness to help even the most desolate and filthy; she washes his cracked, bleeding and filthy his hands and feet. More than once the subject of Christianity is brought up. Although Amy is portrayed as being heathen (and even suspected of being a "witch" by many of the townspeople), Yanko shows her unconditional love and leads her from the claustrophobic and cultural world she has imprisoned herself within, taking every blow himself so that she will remain unscathed. Dr. Kennedy is chastised for his lack of forgiveness toward Amy's taking Yanko away from his fatherly love for the boy. He also humbles himself by asking forgiveness for his sins. (Going directly to the person he has wronged and confessing truthfully that he is sorry for his actions.) The one thing that would have topped off the sweet spiritual tones of the film would have been, in response to Amy's question, "But who will forgive me?" that Kennedy would have told her of the everlasting love of Jesus Christ. But even I can't expect that much from Hollywood. Swept from the Sea is rated PG13, presumably for "thematic elements." There's a moderate amount of violence -- several villagers beat Yanko and attempt to drown him -- and several violent and possibly frightening storms. A man throws up on board ship. Dr. Kennedy tends to various deep wounds and cuts, once cutting away (non-graphically) gangrene-infected flesh.
Yanko and Amy share a suggestive moment together in their secret cave in which she removes her outer shirt, revealing her chemise and straddles him. But the scene fades away and progresses rapidly on with the story. There are five uses of "Christ!" and one of "Good Lord," but several of "bastard" (in reference to a baby) and one or two each of "d*mn" and "hell." I've concluded that the rating probably comes from the body count. Numerous dead immigrants wash up on the shore, and are each checked by Dr. Kennedy, and finally lain in the churchyard in preparation for burial. The film moves along rather slowly at first, but proves a worthwhile watch. Rachel Weisz and Ian McKellen are the strongest characters on-screen, and fill the room with vibrant and passionate performances, overcoming their hatred for one another in a tear-jerking moment of forgiveness. With a wonderful cast of supporting actors, and a breathtaking scope of the sea, Swept is a touching and memorable experience for the romantics at heart.