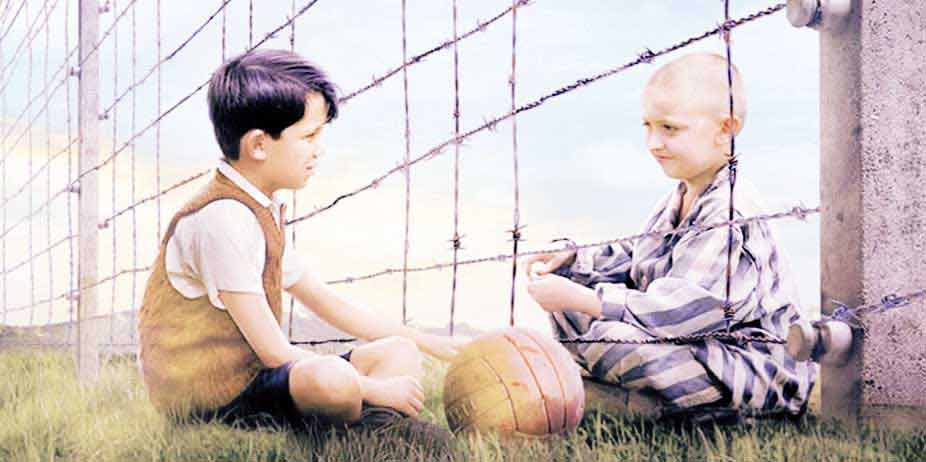 The Boy in the Striped Pajamas (2008)
Readers sometimes make the mistake of assuming this novel is for children, for it is written from a child's perspective, but in reality it is a very mature melodrama about the horrors of the second world war. It goes without saying that this film is not lighthearted, but it is magnificent.
Change is coming for eight-year-old Bruno. He returns home one day to discover his father (David Thewlis) has been reassigned to the country far from their home in Berlin. No one will tell him where they are going, just that it is a great honor that his father has been given and there must be no complaints about the transition. Not everyone is pleased with this change in circumstances, however... Bruno's grandmother in particular is very displeased, for it is her opinion that the new regime is barbaric and unpatriotic and it shames her that her son wears the uniform of the Third Reich. Their new home is miles from anywhere, but through the window of his room, Bruno can see the distant outline of a farm. Forbidden to venture beyond the front yard, he becomes infatuated with the farmers, who all wear striped pajamas.
Venturing out one day while his mother is preoccupied, he encounters
a boy (Jack Scanlon) across the barbed wire fence. From completely different worlds and incapable of doing much more than sharing chocolate and conversation, Bruno and Shmuel become friends. His older sister Gretel (Amber Beattie) wastes no time in settling in, exchanging her dolls for Nazi propaganda and spouting anti-Jewish sentiment to please the young officer stationed at the house, but Bruno cannot believe Shmuel is his enemy. One of the best films of the year but also one of the saddest,
The Boy in the Striped Pajamas
is an excellent adaptation of an equally impacting book by John Boyne. What the movie does very well is manage to build the same amount of dramatic tension and unease as the novel, so that even knowing what will eventually happen, you feel the genuine pervasive sense of fear of the regime.
The cast is magnificent but one performance in particular stood out to me, both in terms of writing and eventual understanding. In the book, Bruno's mother is present but not completely explored because everything is of course written from a child's preoccupied point of view, but the big screen allows the audience to see and experience her emotional turmoil. It is in many ways a loss of innocence all around, less so for the open-hearted Bruno than for his mother, who is devastated to learn what is happening in the concentration camp. The commanding officers are appropriately menacing and Thewlis gives a strong representation of a man without moral convictions, but the movie really belongs to the boys. Even so, the nuances are profound and I found myself near tears on more than one occasion, just like in the book. Even though the movie has no content in it apart from thematic elements, I would not recommend it for young or overly sensitive viewers due to the extreme heaviness of its themes. It is never revealed in the film, but the camp is Auschwitz. It is not a movie that is easy to watch or even particularly pleasant to comprehend, but one that resonates in our hearts with an ache that reminds us that sometimes children are wiser than adults, for they can see beyond appearance, beyond circumstances, beyond differences in order to make friends across a fence with a Boy in Striped Pajamas.
Sexual Content:
None. Jewish men are forced to undress and go into the gas chamber for "a shower." The camera avoids anything inappropriate.
Language:
Anti-Semitic terms.
Violence:
Conversations of an anti-Semitic nature are contrasted with the sad, beaten presence of Shmuel and an older Jewish man forced to work in their kitchen. Black smoke drifts overhead, indicating that bodies are being burned at the camp. Mother and Father have several violent arguments about what is happening across the fence. We know a man has been beaten to death, even though it occurs off camera. Shmuel sports a black eye, implying a Nazi officer has punched him.
Other:
Other thematic occurrences involve a lie that costs someone dearly and the horrific conclusion, which I cannot reveal.