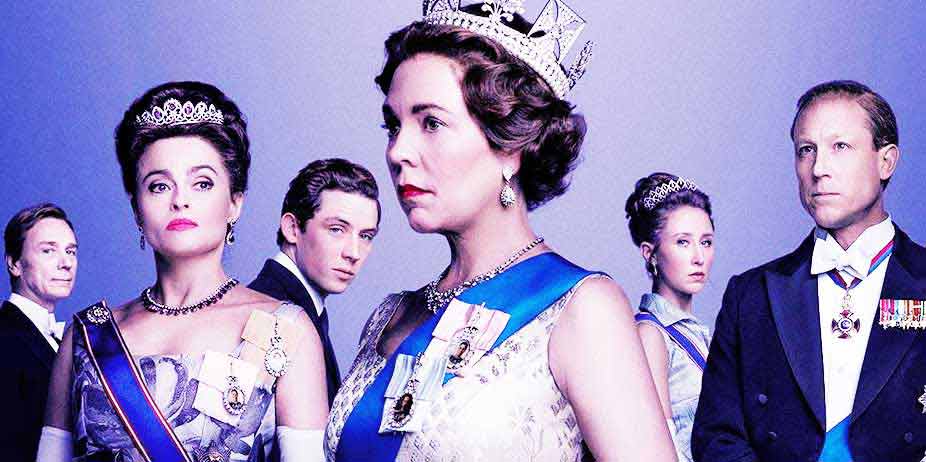 The Crown, Season Four (2020)
This season is a triumph of tragic romance, broken individuals, and fierce clashes of opinions, as The Crown takes us into one of the most combative decades of the queen's reign.

England has elected its first female Prime Minister in English history. Queen Elizabeth (Olivia Coleman) looks forward to building a relationship with the outspoken Margaret Thatcher (Gillian Anderson). Her husband Philip (Tobias Menzies) sneers at the notion of two menopausal women running the country, but she hopes they can become friends. The meeting is not quite what she expects, nor does Margaret waste much time in creating divisions within her own party. But, as Margaret says, if you make no enemies, you have accomplished nothing.

Still mournful over his mistress' marriage to another man, Prince Charles (Josh O'Conner) arrives at the Spencer country estate to pick up their eldest daughter for a date. Instead, he finds himself intrigued by her sixteen year old sister, Diana (Emma Corrin). Dressed as a tree in preparation for a local performance of A Midsummer Night's Dream, she seems infatuated with him -- an infatuation that holds no appeal for him until two years later, when they meet for a second time. His great-uncle, Lord Mountbatten (Charles Dance), has encouraged him to put aside his ridiculous obsession with the married Camilla (Emerald Fennell) and settle down with a sweet young girl. Charles and he part on harsh words and the princes' refusal to listen. And then, an explosion rips through the royal family, and changes all their lives, forever...

It's no secret that this has been the most hotly anticipated season of this series since its inception. I loved the early seasons with Sir Winston Churchill. It thrilled me to get to know the young royals and see them survive the hardships of war and personal and private struggles. I groaned when Princess Margaret married a man I did not like, because she could not have the divorcee she wanted. And last season was nothing to snooze at, either. But I have waited on pins and needles, eager to see Princess Diana and the start of a marriage that tore the nation apart, for years. Not to mention I hoped they would do Margaret Thatcher justice. And I concur with other reviewers: this is the best season yet. It is powerful in its depiction of broken people. Boorish, rude, obnoxious, and often mean, people.

Fairy tales are not real, and nothing proves that more than Diana's marriage to Charles. If the real thing went down anything like it happens in the series, I can see why she felt so bitterly unhappy in her failed attempts to make a spoiled and conceited man give her even an ounce of the love she craved. I will say that we don't spend nearly enough time with them -- they are powerful and present at the start and toward the end, with episodes in the middle where we do not see them at all. And in a sense, it fails a little bit, because we see a marriage that is working and then one that... isn't. But there is good stuff here, among them one rather humorous episode in which the queen tries to figure out which one of her unlikable, unhappy children is her "favorite" (since she does not know, and Philip does). Though the series does Margaret Thatcher a disservice in that it doesn't really tell you the why of her policies, just how unpopular she is, it also makes her human. It shows her humiliation at the hands of the royals in a way that makes you sympathize with her (apart from the queen, they really are awful to her in her visit to Balmoral) and her final episode is heartbreaking.

The acting is absolutely spendid and the attention to period detail immaculate. The show costs a fortune to produce, and you see every cent on display. I've debated with myself how I should feel about a "fabricated" depiction of these recent events, and there is also the outrage expressed by the royal family the closer the series has gotten to showing the rift between Diana and Charles, but... it's entertaining. It's powerful. It's moving. Yes, it has its slow bits (the episode where a man breaks into the queen's bedroom in the middle of the night should be more exciting than it is), but it is also one of the most absorbing dramas I have seen in a long, long time. And... all I can do now, while I wait for the final two seasons to unravel more angst and drama, is re-watch the previous ones. They're worth it.

Sexual Content:


Everyone knows Charles is having an affair with a married woman; much conversation revolves around it, though we never see them do anything more than kiss each other. Diana also has affairs (she sneaks men into the house and they walk off screen). Suggestions reference other affairs within the royal family (Philip's "ballerina," Anne's lovers, etc). Men talk about "sewing their wild oats," and how expected it is to have lovers. Charles and Camilla tell a filthy story to entertain their guests that involves bestiality as the punch line. Princess Margaret has numerous lovers. She mentions her fondness for one man, until the queen says he's "a friend of Dorothy" (gay).

Language:


A dozen or so abuses of Jesus/Christ. Several uses of "bastard." Diana's friends use the f-word several times in her presence, but the episode "Fagan" includes a slew of f-words between common people (one of whom calls the other one a "f*cking twat" multiple times). Prince Andrew says that what Charles said just then was rather "c*nty."



Violence:


An explosion rips through a yacht, seen from underwater; it's an IRA bomb that kills two people and injures others. Two men get into a violent scuffle in a bar and must be pulled apart by bystanders. A man breaks a window and hurts himself. Episode 2 opens with a magnificent stag being shot in the leg and it limping away onto Balmoral. The gleeful royals "stalk" (hunt it) throughout the episode until Philip finally shoots it. (Poor thing. :P)

Other:
They drink and smoke to excess, sometimes to drunkenness. The series isn't always fair in its depiction of the Prime Ministers, either, often focusing on their negative traits in order to build drama.