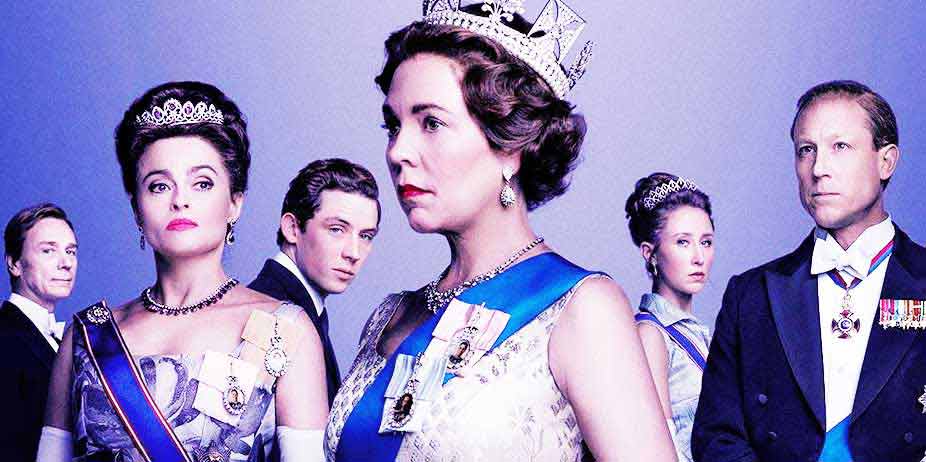 The Crown, Season Two (2017)
Season two of Netflix's classy soap opera about the current royals has a different flavor from last season, and much more tension between the queen and her husband, but is solid almost the entire way through, thanks to smart scripts, intelligent characters, and an unusual approach in its narrative storytelling style.
Queen Elizabeth (Claire Foy) hopes her husband Philip (Matt Smith) will "find his way," as he embarks on a five month tour to open the Olympics and visit the Commonwealth... but the discovery of a ballerina's portrait in his carry-on causes her to doubt the stability of their relationship. Meanwhile, Philip's best friend and personal secretary faces a crisis at home as his wife tries to find evidence to support a divorce, something the palace fears will embroil them in a scandal. It plays out against the Egyptian government seizing control of the Suez Canal, which leaves the Prime Minister, Anthony Eden (Jeremy Northam) in a bind when his cunning tactic to undermine his adversary ends disastrously.
Still bitter about her forced separation from the man she lives, Princess Margaret (Vanessa Kirby) seeks a "new set" of people to spend time with -- artists and actors, who pay her a surprising lack of respect. Among them, she meets Tony (Matthew Goode), a photographer with an intense lack of scruples determined to live an "unorthodox life." As the series unfolds, the Duke of Winsor (Alex Jennings) returns to London in hopes of reconnecting to his family -- just as private information threatens to go public and disgrace his name, the queen invites the dynamic evangelical Billy Graham to the palace, forms a semi-rivalry / friendship with fellow shy introvert Jackie Kennedy, and sends her son Charles off to a school that will either make or break him.
Last season, the episodes unfolded as a continuous storyline; this season focuses more on the people around the queen, and their individual stories -- various figures come to the forefront as their lives entwine with hers, so we see more people "at home" who are not of royal blood; we see into the Prime Minister's life (Anton Lesser), we see the Kennedys behind closed doors, we see Wallis Simpson and the banished Duke, into the life of the man who takes Elizabeth to task over a foolish speech in a factory, and spend time both with Prince Charles as a child, struggling to adapt to a school much too strict for him, and into his father's boyhood. There are plenty of scandals to go around, proof this family is anything but dull, even if its central point, the queen herself, is rather bland and unemotional -- this tends to be the point, and Foy plays her well, full of repressed emotions and intense inner feeling. Of course, the result is that the characters around her who are allowed to be more bombastic often steal the spotlight from her, namely, Matt Smith as the charismatic, enigmatic Prince Philip, who may or may not have cheated on her (the script doesn't say, and no one outside the palace knows the truth).
This technique does mean we lose some characters for multiple episodes; Margaret all but disappears for most of the second half of the season, and I felt a keen loss of the first season's more dynamic players (it's a shame not to have Churchill, though I understand why not). The costuming is marvelous, the setting exquisite, and the weaving in and out of historical figures is extremely well done; the writer's choice of what to showcase in each episode means dynamic themes -- the most powerful being the Nazi scandal of the Duke of Winsor playing out against Billy Graham's counseling of the Queen on the meaning of "forgiveness." She ponders faith, struggles to become a better and more forgiving queen, and has doubt over what to do, while her husband rolls his eyes. Yet, what the show does extremely well is paint these characters in such human ways, it's hard to dislike or not forgive any of them; the same episode that features flashbacks of "David" touring Nazi high command showcases him heartbroken that he is still unloved and unwanted by his family in England for his choice of a wife. And even if you're a bit sore at adult Prince Charles for the Diana scandal, it's hard not to feel intense sorrow for him as he tries, in vain, to live up to his athletic father's high ambitions for him.
I do have one major complaint, however; in a show that has, thus far, prided itself on being classy, the explicit sex scene in episode seven (followed by a nude scene) felt tawdry, gratuitous, and out of place. Whether it was thrown in to earn the MA rating, or to "spice things up" a bit, it was unnecessary and a deviation from the high quality drama of the entire season, and the series as a whole. Since out of respect, for the most part the series avoids being too involved in the royals' bedrooms and has always before implied rather than shown, I see no reason why I was 'treated' to two scenes better suited for a lewder series. Next time, leave the kits on.
Sexual Content:
Backside nudity in a male bathroom (episode two); a long conversation in front of a picture of a woman wearing only pasties over her nipples; an out of focus nude woman in the background as a man gets up; an explicit, lengthy sex scene that fades into another scene, with a bare-breasted woman talking to a man; another man enters the room, implying they've had group sex; we see his bare backside; a man and woman undress and lie down with one another, his head moves out of camera and she shows a pleasured facial expression (all in episode seven). Some innuendo, conversation about adultery, references to mistresses; native women show a lot of skin (possibly brief bare breasts in the background);

Language:
Five f-words (one used sexually); about a dozen abuses of Christ's name, a few uses of "bloody," and 4 of s**t.

Violence:
The aftermath of a plane crash; fisticuffs; a man is struck in the face; a duel ends with a man being shot in the leg; boys bully one another at school (smack each other, shove each other out windows into lakes, and punch each other in the nose).
Other:
Snide comments are made about the Billy Graham Crusade and him being a religious zealot; tons of smoking and drinking; Jackie Kennedy tells the Queen she and her husband were on drugs during their European tour.