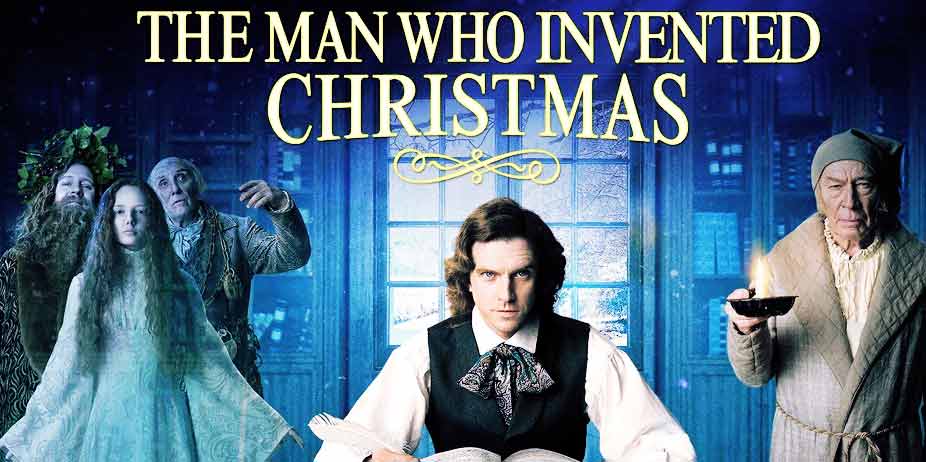 The Man Who Invented Christmas (2017)
Christmas had lost its charm in Victorian England, despite Prince Albert's new habit of a yuletide tree, until Charles Dickens' imaginative ghost story A Christmas Carol revitalized the public. Charitable giving increased, shop owners decorated their store windows, and Dickens' novella become one of the most famous Christmas stories of all time.
Fresh off a series of flips, Charles Dickens (Dan Stevens) fears he may never have another original idea again. His nemesis, William Makepeace Thackery, enjoys taunting him with his poor reviews, under the guise of shared author's concern, and his wife has undertaken house renovations which fill the place with noise and run up his debts, as he sits and stares at a blank sheet of paper. He needs a new idea and quick, before his debtors knock on his door, and the public despairs. Worse yet, his spendthrift father (Jonathan Pryce) descends upon them with a raven in a cage, hopeful he can mooch off them over the holiday season.
Dickens distracts himself until a blessing falls upon the house, when he overhears their new Irish parlor maid tell an old ghost story. His imagination comes alive with an idea -- a Christmas book, but no one wants to publish it; he simply cannot write and illustrate it in time! So Dickens sets out to do the unthinkable, create a memorable, rich story full of unforgettable characters in only six weeks... but even after Scrooge (Christopher Plummer) takes shape in his mind, he may not finish it in time...
I know not what I expected from the too-short trailers, but this story is as much a thoughtful look into Dickens' earlier life and struggles as it is an exploration of the tense six weeks in which he wrote arguably his most famous story. It's a delightful collection of atmospheric incidents, populated with the inspiration for his characters... and then, all of them show up in his imagination (and his study, and the street outside) to daunt his every step, to malign him, to roll their eyes, and to cause him endless troubles. Scrooge grumbles and gripes and on occasion, digs a little too deep into Dickens' psyche... and he complains in turn that characters never behave themselves, nor do what the wants them to; being able to see his creative process unfold is not only magical, but humorous -- as he tries out different names until Scrooge appears, wanders through cemeteries at night, and hears snatches of minor conversations which he jots down in his little book ("Humbug!!").
Many writers will identify with Dickens, between the endless distractions, to the frustration of writer's block, to the characters doing whatever they want, regardless of what the author demands; but the story is as much about Dickens as it is the creation of his Christmas carol. Flashbacks show us his unfortunate childhood, and fans of his will see how it shapes his other (unmentioned) books, but there's also little hints at future novels (a chap named Copperfield). It's both a family story, intended to put a new twist on familiar characters, and a loving homage to one of the greatest novelists of all time. And, it deals with Dickens' darker side -- his anger toward his father, his ability to ignore his loved ones in the grip of creative passion, and his struggle to believe evil people can change. It never feels quite real, but it's a heartwarming tale... and maybe Dickens would prefer his life seemed surreal and a little fantastic; after all, what mattered most to him was a good story, well told.
Language:
Several uses of the term "bloody," one mild profanity.

Violence:
Peers shove around a child, mock him, throw a dead rat on the table before him, and punch him in the face.