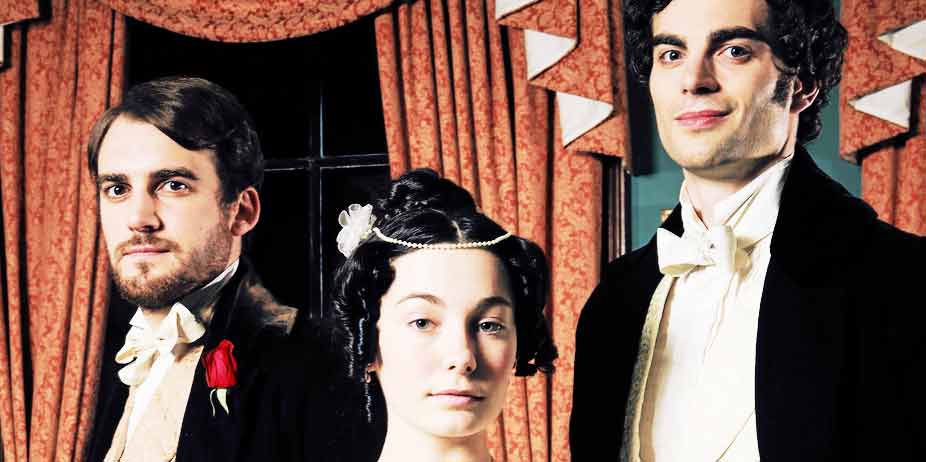 The Moonstone (2016)

Credited with creating the first professional detective in English literature, Wilkie Collins kept his readers guessing for months as to the identity of the person (or persons) who stole a famous yellow diamond. This splendid miniseries recreates the same intense curiosity in its audience, over four and a half hours.

Franklin Blake (Josua Silver) cannot figure out what happened. A year ago, he had a good woman's affection, fine prospects, and his extended family gathered about him in a flourishing country house. Now, Rachel Verinder (Terenia Edwards) will not speak to him, he cannot get a missing gemstone out of his mind, and stands alone outside a vacated home. He has returned to the scene of former excitement to recreate a crime…

A year ago, he delivered a priceless yellow diamond to his cousin, Rachel. Stolen from a temple in India by her uncle and bequeathed to her in his will, she fails to understand or appreciate the danger it presents. Three Indian priests have tracked it from India, intent to recover it. The next morning after her birthday party, Rachel found it stolen from her bureau. Suspects abound in a slew of odd behaviors from friends, family, and servants alike, as Blake unravels the mystery alongside the opinionated Sergent Cuff (John Thomson), and the amiable butler, Gabriel Betteredge (Leo Wringer).

I stumbled across this on Amazon Prime the other day and am glad I did. The earlier adaptation does not have the space this one does in telling the complete story, so here, the intricacies and nuances of Wilkie's tangled plot emerge in a thoughtful and absorbing adaptation. If you watch it more than once, you can see the subtle clues (in glances, behaviors, and hints) woven throughout—but not so noticeably those experiencing the twists for the first time would pick up on them. It has nary a dull moment, and likable or at least memorable characters. Rachel is a feisty and opinionated heroine, her cousin Godfrey Ablewhite (Stewart Clarke) unforgettable in his persistence. And then there is the dreadful Miss Clark (Sarah Hadland), a troublemaking evangelical… and the quiet, sorrowful maid Rosanna Spearman (Jane McGrath). The episode that reveals her story will break your heart.

Full of exquisite Victorian costumes, a catchy score with Indian influences, moments of peril and heartache alike, and with a dramatic twist near the end, The Moonstone has a bit of something for everyone who loves a good mystery.


Language:
One use of damned.

Violence:
They find a man dead, smothered. Discussion of murder. Discussion and implication of a woman's suicide. A man almost drowns.

Other:
The Evangelical character is a holier-than-thou, mean-spirited hypocrite.