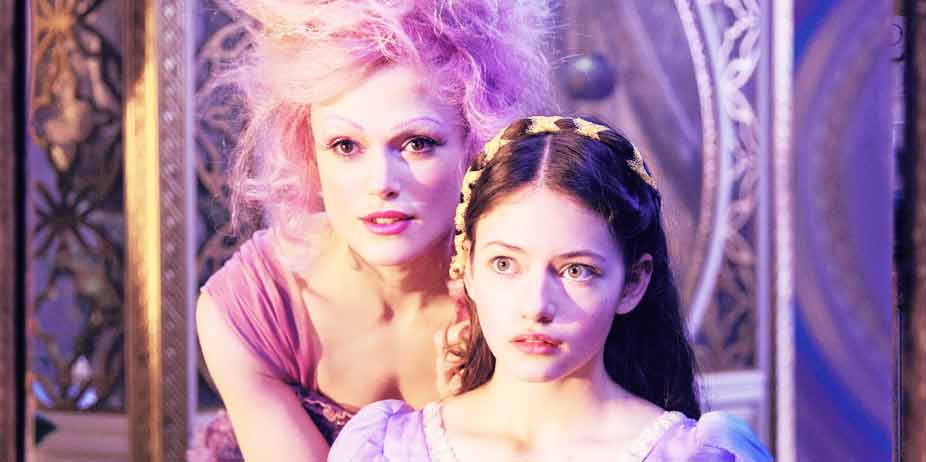 The Nutcracker & the Four Realms (2018)
The Nutcracker has been the most famous ballet in the world for as long as anyone can remember, which makes adapting a new version for Christmas an insurmountable task. The end result relies a little too much on the precedent set by Tim Burton's Alice in Wonderland to be completely unique, but should please the younger crowd, with its delightful heroine and her adventures in the four realms.
Clara knows nothing about the four realms. Her mother created them and populated them with toys she made alive. She knows nothing of the Sugar Plum Fairy (Keira Knightley) and her candy floss hair, nor of Mother Ginger (Helen Mirren) and her army of mice. She has never crossed the bridge into the woods, nor encountered tin soldiers. No, Clara (Mackenzie Foy) has lived her entire life in ignorance of other worlds. She has spent time with her mother instead. And now, her mother is dead. Her father (Matthew MacFayden) puts on a brave face for his children, but he cannot reach Clara. She is gone too far inside herself. Only a gift from her mother reignites her spark for life. It's a music box, locked with a key she does not have. So, she sets out to find it. And winds up in the Four Realms, where the Sugar Plum Fairy tells her that Mother Ginger has unleashed a diabolical plan to enslave them all.
So Clara does what all heroines inevitably do. She sets out to save them... and find her mother's key.
The first trailers for this film left me in raptures of delight from all the splendid colors and the promise of a fantasy story for Christmas. I have never been a die-hard ballet fan, so I knew little of the ballet heading in and was not shocked to find it almost nonexistent (portions of it remain, to tell Clara how their world came into being). The costumes, the sets, the atmosphere, and the actors are all wonderful, which may be why I walked out of the theater disappointed. I felt the storyline was rushed and too short, that more time could have been spent exploring these realms. The length is so short that the side characters have almost no development, and no real time for anyone apart from Clara to have meaningful interactions, conversations, or even motives. It's a movie that needs more time to cool before it's shoved into eager children's hands, because the ghost of a splendid holiday classic is here. It has all the right ingredients, from a hilariously over the top Keira Knightley to a criminally-underused Helen Mirren (if an Oscar winner is in your film, give her more than five minutes of screen time). I did miss the music, which I felt should have echoed the famous ballet a little bit more, but there were some wonderful and memorable scenes.
This film is visually appealing through every frame, from the cotton candy pink of Sugar Plum's hair to the picturesque fantasy world, and even the ragtag appearance of Mother Ginger. It also delivers a nice little message about self-reliance and overcoming fear, but I feel going for a Tim Burton feel without Tim Burton creates misfires. It's clearly modeled after the success that was Alice in Wonderland, but lacks the darker humor and deeper truths Alice had to face. And it's a shame, because while it's fun like cotton candy, I wanted a little more substance.

Sexual Content:
None, other than some cleavage.

Language:
One use of damn, one use of God as an exclamation.

Violence:
Large metal soldiers threaten the characters. Some "battle" violence which includes various soldiers and characters being thrown through the air. The villain wants to use a machine to "kill" those she does not like, and turn them back into toys.