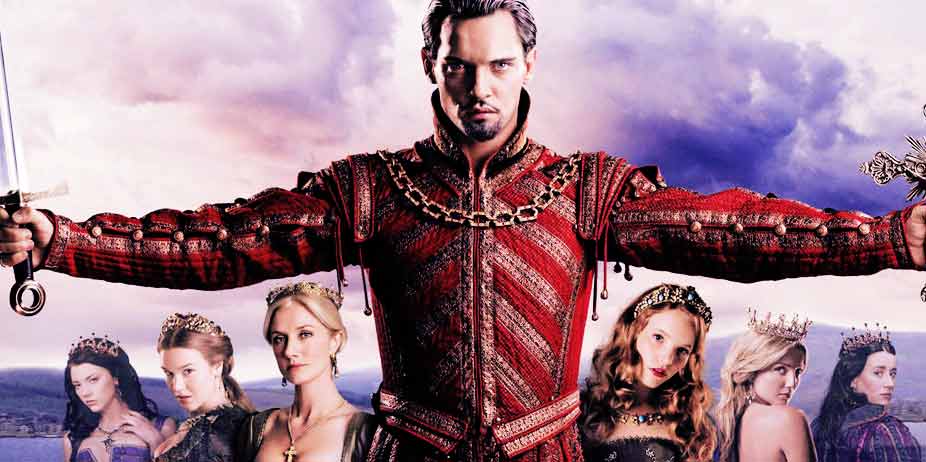 The Tudors, Season One (2007)
Have you ever loved something and known you shouldn't? That is my relationship with The Tudors, a bodice-ripper of a costume drama put out in ten episodes by Showtime.
Life at court is complicated during the reign of King Henry VIII (Jonathan Rhys Meyers). His most trusted advisor is Cardinal Wolsey (Sam Neil), whose ambition is to become Pope. When one of their ambassadors is murdered by French assassins in Rome, Henry becomes convinced their only means of retaliation is through war, which threatens Wolsey's hopes of rising in the church by influencing the French cardinals to vote for him in the impending papal election. His attempts to bring peace between the two nations are thwarted through Henry's impassioned and competitive nature, much to the anxiety of the ever-supportive, peace-loving, Sir Thomas More (Jeremy Northam). An idealist devout to the Catholic church, More fears the heresy of Lutheranism more than the promise of a strained relationship with France. But it is neither that preoccupies the king's thoughts, for he has turned his mind to the prospect of an heir.
Married many years to the elegant and mild mannered Katharine of Aragon (Maria Doyle Kennedy), Henry has strayed on more than one occasion and produced a son on the wrong side of the bedcovers. His wife is troubled by his adultery but not seriously concerned until a new woman comes into her entourage. Anne Boleyn (Natalie Dormer) is beautiful, intelligent, cunning, and knows just how to play the king's passions. Encouraged by her father to prolong Henry's interest in her, she ambitiously flirts her way toward the throne, little realizing she will break apart the English empire in the process. The result is a lush adaptation of a familiar story that skims the surface of the politics of the era and paints a vivid picture of the characters, but no one should look to it for accuracy. If you can overlook its sometimes blatant rewriting of history, it is an entertaining and impacting watch. The really marvelous thing about the production is how beautifully it depicts Katharine of Aragon. Most adaptations make the mistake of transforming her into a cold, unsympathetic woman in order to cast Henry's infatuation with Anne in a more favorable light. Here, Katharine is memorable and heart-wrenching. The audience can feel her anguish whenever her husband looks at another woman, her anger and sorrow when he spurns her for another, and her despair in being replaced by Anne. Her performance is so mesmerizing that Anne pales in comparison. Natalie plays her with a fiery passion that is beautiful to watch unfold, but she is not as impacting as her more mature rival.
Neil's Wolsey is a bit understated when he should be more openly villainous, but this makes us all the sorrier for him in the end. Myers throws tantrums with the best of them, but there are moments when a glimpse of his humanity peers through. I was thrilled when I heard Northam had been cast as Thomas More, and he proved one of the most stirring cast members to watch as the drama unfolded. There is a particularly heart wrenching scene in the final episode in which we see his conscience going against his actions; the anxiety and heartbreak of that moment is beyond profound. Unfortunately, costume dramas on paid cable networks have no censors they need to pass, and the result is that along with the moving plot and radiant sets, there is a hefty amount of sexual content and nudity. On average, each episode has at least two scenes that are sexual in nature or contain topless women. It ranges from Henry romping in bed with his mistresses to a man intentionally making certain a girl's father finds them in a compromising position. There's more nudity and foreplay than actual sex, but on several occasions that is graphically present as well (particularly the last five minutes of the finale). The most revolting scene involves the king masturbating. And then there is the homosexual sub-plot. Nothing is ever shown (apart from a single kiss, and two men in bed together) but there are enough implications for the audience to know what is going on. There's also some innuendo, conversation revolving around illegitimate children, mistresses, and the corruption of the church.
Language is infrequent but does contain six f-words and two harsh abuses of deity. Violence is not as brutal as it might have been, but there are two executions -- one by the axe, and another by burning. Religious sub plots peel away the layers of corruption that surround the Catholic Church and present Lutheranism as an alternative. Alas, most of the Protestants are conniving power-hungry fiends. I really loved the representation of Katharine and Sir Thomas in particular, as both stand on their principles and depict truly reverent lifestyles. Thomas has a loving family that he adores with his whole heart, and refuses to become involved in the Cardinal's dirty dealings, while Katharine frequently can be found in prayer, maintaining a sense of tranquil calm even in her darkest moments. The same could be said of the series, if it weren't for the rather pointless and exploitive sex scenes.
From the very first episode I was hooked. I became involved in the lives of the individuals who lived so many years ago, and cared what became of them. It excited my imagination and created a burning desire in me to read more about these incredible people, but the sheer amount of sexuality involved makes it downright impossible for me to recommend. Fortunately, I have the resources to edit the series and that makes it worth owning, but for casual viewers it is best not to enter into it unprepared.