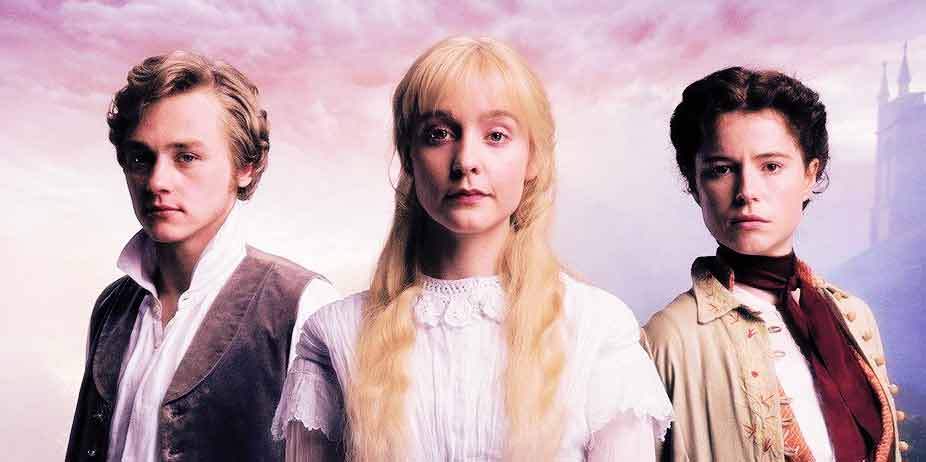 The Woman in White (2018)
Gothic novels have Wilkie Collins to thank for sinister atmospheres, damsels in distress, bouts of laudanum addiction, sinister foreigners, and muddled intentions, since The Woman in White set the standard for the genre in the 1800s. Readers awaited each new installment in Dickens' literary magazine with much excitement… and now, the BBC has adapted it into a five-part miniseries.
One evening on his way home, Walter Hartright (Ben Hardy) encounters a mysterious, troubled young woman in white upon the road, who shows signs of distress but refuses his help other than to find her a coach. After he sends her upon her way, he learns she escaped from a lunatic asylum. She haunts him. Upon reaching his new place of employment as a drawing instructor at a remote country house, the uncanny resemblance between her and the white-clad Laurie Farlie (Olivia Vinall) startles Walter. Half-sister to the more flamboyant and extroverted Marian Halcome (Jessie Buckley), Laura does not take long to win over his heart.
But it is not meant to be. She is engaged to Sir Percival Glyde (Dougray Scott). And try as he might, Walter can shake neither his feelings for her, nor his curiosity over the woman in white, from his mind.
This is the second Wilkie Collins adaptation to reveal its plot through flashbacks, and I feel it worked better in The Moonstone. Since I knew the ending, I could see where this format revealed too much too soon. However, it is a much better adaptation than the one twenty years ago, because it has three more hours to explore the nuances of the plot, it breathes superior life into its characters, and it has a strong momentum throughout. If it has a flaw, it's that it miscast both Sir Percival (Dougray is too old and sinister too soon) and Count Fosco (Riccardo Scamarcio), who should be more alluring and unsettling than he is straight out creepy. The first episode did not impress me, since Walter is a dull narrator, but once the story invested itself in the girls' side of the tale, it moved quicker.
The costumes are atrocious. Lauara wanders around in Victorian nightgowns instead of proper gowns (all white); Marian wears an assortment of tomboyish items from different periods, to look eclectic. It's a shame, because a decent approach to the costuming could have made this almost perfect. As it is, they handle the sensitive material (marital rape, insanity, addiction, abuse) with class and restraint, show a powerful connection between family, and end on a wonderful note—which is exactly what you need after spending four and a half hours in a Gothic tale.
Sexual Content:
A woman infers through dialogue that her husband has "forced" her several times. He holds her from behind and gropes her breasts as she stares into a mirror.

Language:
A few minor profanities.

Violence:
A man chokes a woman and threatens her. Another man struggles with a woman (trying to convince her to kiss him, be with him). A fire consumes a man. An asylum mistreats a woman (throwing water across her, restraining her, etc). A man cuts another man's throat and leaves him to die. A woman finds an injured dog.
Other:
Someone doses a woman (without her knowledge) with laudanum (a Victorian opiate).