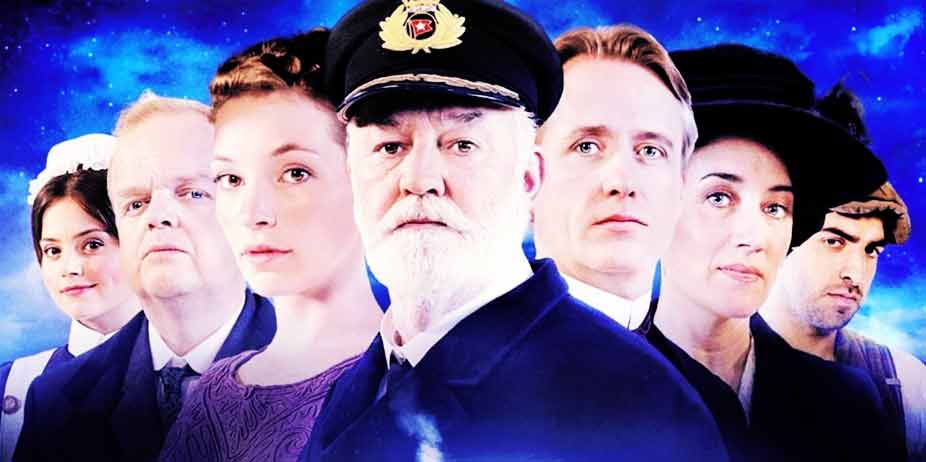 Titanic (2012)
Since I first fell in love with the stories surrounding the ill-fated ocean liner at age thirteen, I have read and watched anything I can get my hands on pertaining to the ship. For someone who knows nothing about Titanic, this miniseries by Julian Fellowes may prove illuminating if at times downright misleading, but it is certainly nothing to write home about.
With the suffragist movement sweeping across England, Lord Manton (Linus Roache) has been having trouble keeping his daughter Georgiana (Perditia Weeks) in line. Her most recent escapade has landed her in the local lock-up, and out of desperation he decides that a change of scenery might do her some good. Enlisting the assistance of friend Bruce Ismay (James Wilby) to book Georgiana a first class cabin on the maiden voyage of the RMS Titanic, he hopes that a stint in New York will put her mind to better uses than feminism. Also on board, in second class, is his employee John Batley (Toby Jones) and his wife Muriel (Maria Doyle Kennedy). It doesn't take long for Muriel to clash with Lady Louisa (Geraldine Somerville) and let out secrets Lord Manton did not want made into public knowledge.
Meanwhile, stewardess Annie (Jenna-Louise Coleman) is being wooed by an Italian last-minute steward Paelo (Glen Blackhall), who fears that once they land in America he may never see her again. The servants of the Grex family share a secret that could endanger them both, an anarchist has set his intentions on another man's wife in steerage, and Second Officer Charles Lightoller (Steven Waddington) must cope with a shuffle in position, as well as the challenges the night presents as it wears on.
Trying to reproduce the tragedy on this topic scaled for television is not an enviable task since it has nowhere near the budget of the big-screen blockbuster. Other series and movies have managed to work around that, but unfortunately this vision is hampered by a rushed narrative that insists on a reset for the first three installments. Carrying the audience through events up to the sinking and then returning to tell a different story hinders us from emotional involvement with already-established characters and greatly limits our scope, both for the real figures of the disaster and the ship itself. That none of the staterooms, the first class dining room, or even the deck resemble the real thing is less important than the fact that the entire production feels claustrophobic. The rooms are so small and our interludes kept to so few figures that we never really get to see what an incredible achievement Titanic truly was, much less how many people were on board. The sinking scenes are suitably crowded, but not the dining rooms. Fellowes' script also makes some truly appalling mistakes, ranging from mixed church sessions on board ship to the behavior and placement of individual figures during the sinking.
Various miniature love stories unfold and there are times we are drawn into the emotions of the moment, but alas, we get to know no one all that well, so when their fate transpires we feel as if we should have felt more than we did. Then too, the lack of a memorable score makes the emotions in many important scenes fall flat. Characters are introduced and then nothing is done with them. Thomas Andrews simply disappears. Officer Lowe is manning the wrong boat. The Duff-Gordons are painted in an unduly harsh light.
Television has needed a decent miniseries on this topic for a long time. But this isn't it. It founders where it should glide, thanks mostly to the problematic structure. It would work better as one cohesive narrative, with events unfolding simultaneously leading up to the sinking and less of a scattered focus. It needed to be built around one or two characters, not a dozen. But alas, instead we are stuck with a miniseries aspiring to be much more than it actually is.
Sexual Content:
One adulterous kiss and references to extramarital affairs; upper-class individuals are shocked to find a man traveling with his mistress. They are shown in bed together (she gets up and we see her bare back briefly).
Language:
Scattered mild profanities.
Violence:
A man's neck is broken; people drown.