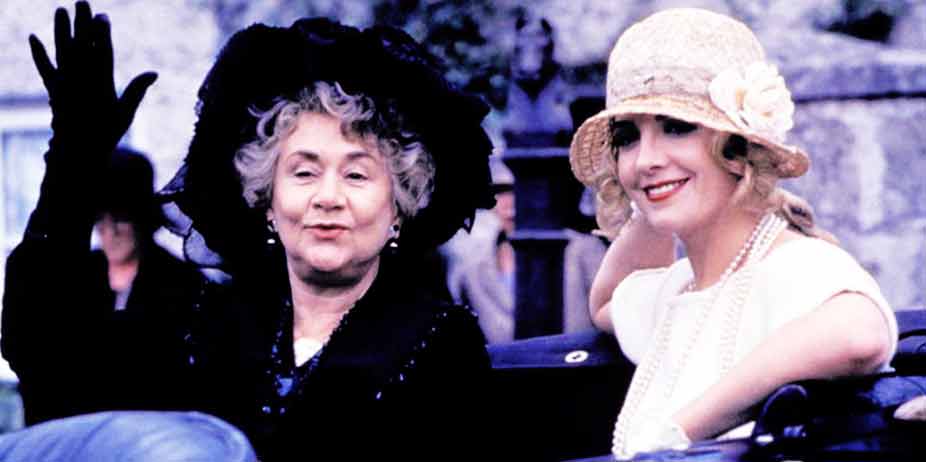 Widow's Peak (1994)
There's nothing the women of Widows' Peak love more than a scandal. The old ladies on the hill frequently visit the cemetery above the town and bid their husbands peaceful or hellish rest, whichever the case may be. The Queen Bee in this hub of society is Mrs. Doyle-Counihan (Joan Plowright) who has no use for men aside from her dear son Godfrey (Adrian Dunbar), who she encourages to be useless as a credit to manhood. She is benefactress and mentor to Katherine O'Hare (Mia Farrow), who grows beautiful roses every year for the flower show and lives a quiet existence winning the love of the local dentist (Jim Broadbent). But their peaceful Irish lives are about to be invaded by the arrival of Edwina Broome (Natalie Richardson), a wealthy American widow who fled the cities of Europe to avoid being a target for fortune-hunters.
Edwina seems determined to turn their peaceful existence upside down. First, against Godfrey's warning, she hires as a maid the most fluent gossip in town. She cannot abide locks or closed doors and the woman is welcome to rifle through her things whenever she pleases. Her stories about her husband, the men encountered in Paris and other glamorous foreign ports, don't completely add up. And for some reason Katherine and she take an instant, mutual dislike for one another. It begins at a tea party and climaxes at a local dance, when Katherine believes Edwina has purposefully pushed her out of the way in order to claim a door prize. The two women seem embroiled in war as rumors fly, accidents happen, and many tears are shed before sympathetic eyes. But who is telling the truth, and who is weaving a tale of fiction?
What each turn up may spell trouble for one another... or will be countered well as blackmail. Godfrey worships the ground Edwina walks on and his mother is eager for the marriage, but when "accidents" begin to happen around town all fingers point to an upcoming murder. Edwina may not be all that she appears... but is she a murderess? Widows' Peak has one twist after another and left me on the edge of my seat, anticipating what would come of all the scandal and secrets. The ending is shocking and takes awhile to sink in; in the meantime we're offered a lavish comedy with a hint of mystery to keep us entertained, set in the swinging twenties with some of the most gorgeous countryside on earth. Beautiful period costumes and incredible vehicles set the pace and keep the momentum rolling as it races toward a surprising climax. The acting is excellent. It's a clean comedy by today's standards and a dashing mystery to boot. With Irish music and accents to charm you throughout the two hours and the appearance of some rather cute puns as well as the starring cast, Widows' Peak is exceptionally memorable.
Sexual Content:
It's quite obvious in two scenes that a woman isn't wearing a bra. There's some insinuation of a woman's past -- she's accused of having worked in a brothel at one time and makes several brief references to prostitution and sex.

Language:
There's a moderate amount of language, the most cringe-worthy being several of "Jesus" and one of "Christ." (As well as about fifteen combined of "Good God," "Good Lord," and the like.) A muted f-word.

Violence:
A moderate amount of violence -- a fight erupts in a pub and the two women in all appearances try to kill one another with "accidents" including a runaway car and a bicycle that's been tampered with.