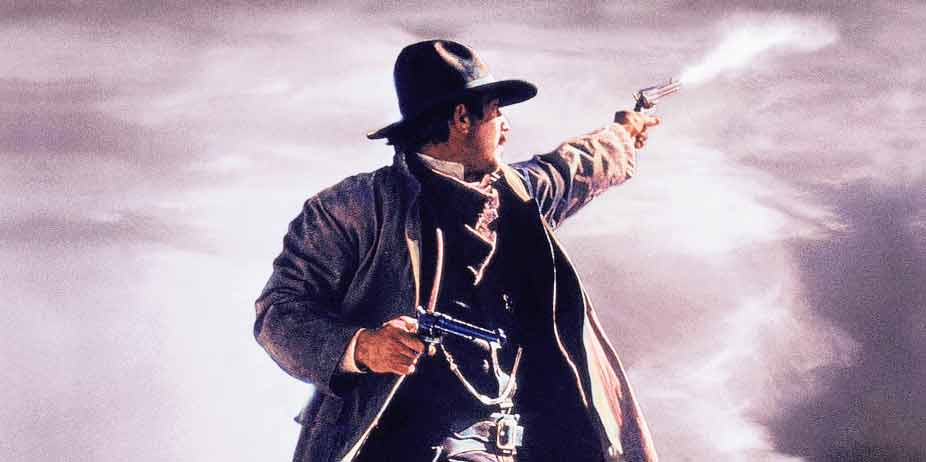 Wyatt Earp (1994)

In his long career as a lawman, Marshall Wyatt Earp never once was grazed by a bullet. They might have flown hard and fast around him, and taken out a few of his friends, but he was never hit, a testament to what his family called "pure dumb luck." He is also one of the greatest figures in frontier history.

The morning is quiet. There's only one figure in the saloon, smoking a cigar while he enjoys what may be his last cup of coffee. It is only hours before the battle that will make the names of Wyatt Earp and Doc Holliday legendary. In those precious moments, Wyatt (Kevin Costner) has time to reflect on his life up to this point. Family. That's what his adventurous father (Gene Hackman) always drilled into them. Nothing else matters except your family. They are your blood, your bond. They will fight by your side until the bitter end. Wyatt had not always been a law man. He started out as a bison hunter, a one-time outlaw, and a husband. But after the death of his wife Urilla (Annabeth Gish) and the consequences of his drinking, he turned his life around. He became the most fearful lawman in Dodge City, where guns were checked as soon as you rode into town, and anyone who disagreed was pistol whipped into submission.

Together with his friends Bat (Tom Sizemore) and Ed Masterson (Bill Pullman), Wyatt kept the law in the district while managing never to take another drink. But when the city becomes somewhat disenchanted with his shoot first, ask questions later policy, his contract is not renewed and he is free to move on. Packing up his brothers and their wives and heading to Tombstone, Arizona, Wyatt attempts to make something of himself as a businessman. But all of that is threatened when an old friend is murdered, forcing him to return to Dodge, and ultimately take the long dusty walk down the street of Tombstone into the history books. One thing about this production is that it is incredibly accurate in most of its details. The authenticity of events in the characters' lives are nearly as perfect as the incredible costumes and panoramic scenery. This is one movie you must see in widescreen -- there's nothing more impressive than watching a bison herd stampede over the wilds, or seeing Wyatt ride across the magnificent desert just at twilight.

Even though it clocks in at over three hours, you gain an immense amount of knowledge not only about the title character but the people that surrounded him. In the documentaries on the special edition, it is stressed that the story is all about family, and that is very true. You learn to know these brothers (and in the case of Doc, surrogate brothers) and care about what happens to them. You choke up when one of them is killed, and gasp when others are wounded. Yet you can also understand the fear and angst of their traumatized wives.

This film is packed with so many excellent actors that you almost have to take a step back it in order to breathe. I was not sold on Costner in the beginning but before long he had me convinced that his soft voice and intimidating tactics were just right for a notorious lawman. Joanna Going, Catherine O'Hara, JoBeth Williams, and Mare Winningham were also memorable, but by far the most impressive was Dennis Quaid. Forty pounds underweight and hardly recognizable beneath the accentuated cheekbones and high collars, Quaid's Doc Holliday is destined to stand out in my collection of astounding true-life performances. I can't praise it enough. There was a lot that I found enjoyable and/or moving about the story, but an equal amount of behavior unacceptable by my code of ethics, and other aspects not to my taste (such as the scenes devoted to bison hunting). Because most of this actually happened, I cannot be too hard on the outcome because I do value accuracy when representing actual historical events and individuals.

It may be a bit too much for some viewers, particularly because of the darker turn it takes in the second half, but for anyone interested in the frontier, it is one of the best westerns in a long time. It's not for the squeamish and the values, apart from the importance of family, are nothing to be modeled after, but you won't soon forget the faces and places that make up the legend.

Sexual Content:
He carries on a long relationship with one of the town whores, who considers herself his common law wife. When Wyatt meets yet Josie and falls in love with her, his first woman is cast aside. Eventually, they do get married (but only after living together awhile). There's no sexual content, but some sensuality in bedroom kissing scenes. An old photograph of a topless woman is passed around town.

Language:
One f-word and two abuses of GD are the worst of it, but profanities are littered throughout the script.

Violence:
There is a hefty amount of violence ranging between gunfights and stray bullets rocketing through windows to barroom beatings. There is not an enormous amount of blood but it does spatter on several occasions. Characters that we know and care about are killed, as well as outlaws and rustlers. That in itself is made a little more difficult because of the aspect of immorality involved. Wyatt stays within the law until one of his brothers is killed, and then goes for vengeance. Arguably, it could be considered self-defense in one or two instances, but his aim is essentially murder. Some non-human violence that might turn a few stomachs are that we see bison being skinned (their bloodied corpses litter the grassland), and on three occasions, horses are either wounded or killed in gunfire exchanges. After losing his wife and his common sense, Wyatt knocks a man unconscious and steals his wallet and his horse.