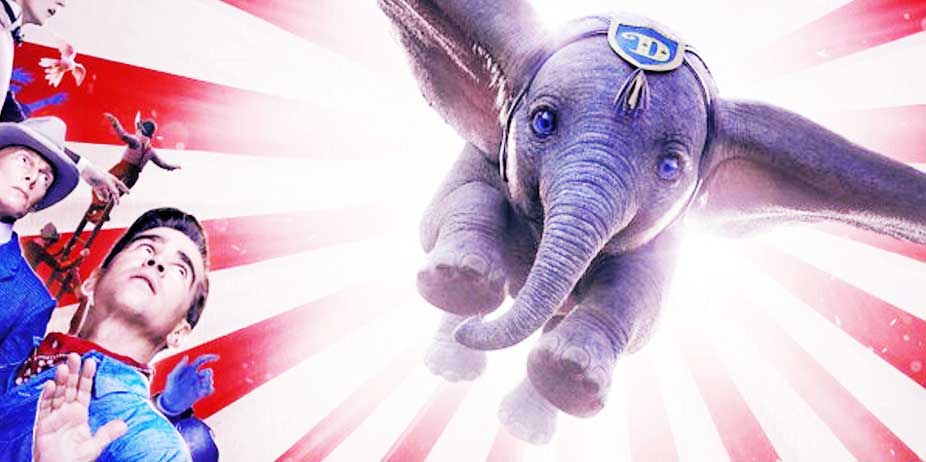 Dumbo (2019)
Dumbo was one movie as a child that broke my heart, so I knew going into the remake it would do a tap dance on my feelings. I entered prepared to cry and left wondering why the critics hated it. It's delightful.
Holt Farrier (Colin Farrell) has nothing but his kids to return home to—he lost his arm in the war and his wife to influenza. The circus owner, Max Medici (Danny DeVito), sold his horses, so he no longer has a trick riding act. He doesn't know how to communicate with his kids. He doesn't know how to process losing his wife. He also doesn't want to be the "elephant handler," but he has to make a living.
Then Dumbo comes into his life. The adorable little elephant comes with a sweet, sincere temperament—and oversized ears. When the crowd mocks and pelts him with peanuts, his mother goes on a rampage to protect him and brings down the big top. Max wants her hauled away. He puts Dumbo in the "clown act." But in comforting the depressed baby, Holt's children Milly (Nico Parker) and Joe (Finley Hobbins) make an incredible discovery—Dumbo can fly.
I haven't loved all the Disney remakes. Except for Malecifent and Cinderella, they seem like soulless cash-grabs. Dumbo is different. Tim Burton has given him a brand-new story, worthy of the little flying elephant. It has all the tender poignancy of the original (scenes of Dumbo and his mother's separation break your heart) but a more complex and deeper plot. Dumbo abounds with wonderful moments, and life lessons—the importance of motherhood/fatherhood, and allowing children to achieve their dreams, learning to let go of your safety net and fly, the value of animals and the importance of taking care of and not exploiting them. It takes a poke at major corporations and businesses that put others out of business and/or absorb them and mistreat their people, and it attacks those who use performers just to turn a profit. Its pro-animal themes (in this version, Dumbo and his mother get to return to the wild) resonated with my soul.
Burton has kept many of the things that make his movies identifiable—his costume designer, Colleen Atwood, provides terrific garments. The cast is familiar and unfamiliar faces, some of them Burton has used before. It's a sweet and often sad story with a happy ending. I have watched all of Burton's films. Some of them are dark. Others are sadistic. This one, perhaps, is the closest perspective I have ever had of his "heart." I always enjoy his work, but I think this is his most "adult" film, despite being the most innocent, because it's all about the things he cares about most: animal rights, finding your family, and loving yourself for being unique or different. That makes it special. And best of all, he lets Dumbo be a hero. The little elephant saves the day. And that's what I'll remember, for a long time.
Sexual Content:
None. A trapeze artist wears semi-revealing clothing.

Language:
Three uses of hell, one almost/unfinished s-word.

Violence:
An elephant becomes belligerent and aggressive to protect her offspring; she manages to bring down the circus tent, and the pole kills the man who was earlier abusing / mocking / prodding her with sticks. We see his sheet-covered body loaded into a wagon. A man punches another man in the face. A horse drags a man around. Scenes of fire imperil the main characters; a villain chases and threatens children. An animal and a human almost fall to their deaths; scary scenes that may upset children include Dumbo being mocked / pelted with peanuts by the crowd, and separated from his mother.
Other:
None.